BBC Women's Footballer of the Year 2018: Lieke Martens profile
Last updated on .From the section Women's Football
We are profiling each of the five nominees for the BBC Women's Footballer of the Year 2018 award. Voting has now closed but you can see all the contenders' profiles and read full terms here. The winner will be revealed on Tuesday, 22 May during Sport Today on BBC World Service from 18:30 GMT (19:30 BST), on BBC World News and on the BBC Sport website.
Age: 25 Position: Midfielder/Forward Plays for: FC Barcelona Femeni and Netherlands
Snapshot of 2017: Helped Netherlands win Euro 2017, scoring three goals in tournament and being named Player of the Tournament
Did you know?
Martens was named Best Fifa Women's Player in 2017 and Uefa Women's Player of the Year for 2016-17

She has scored 38 goals for the Netherlands, including in the Euro 2017 final when they beat Denmark 4-2

She is right-footed but prefers to play on the left wing

She is studying Spanish and taking a Masters in Sport Management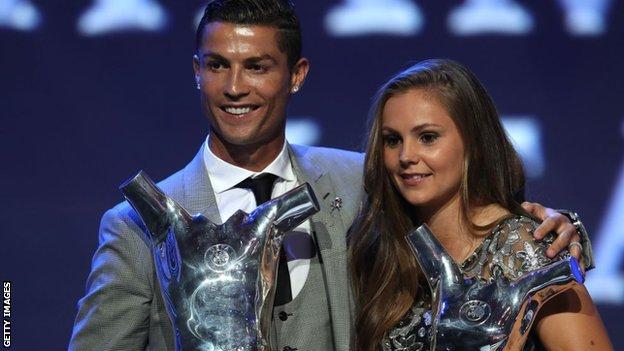 Being nominated
"The past 12 months have been an amazing time for me, being nominated for this award is a big honour. I'm really proud of it but I want to look forwards as well because I'm going to do my best to be a better footballer."
In her own words: Ponytails, tricks & home support
As a kid I always dreamed about playing for Barcelona, I was a big fan of Ronaldinho. I always watched his clips and then I went into the garden and tried those tricks, of course they didn't work every time but I just kept going.
I wanted to challenge myself to be a better footballer and I really watched a lot of him. I really liked his ponytail because I was a girl and he had a ponytail which was cool!
I started to play football when I was five and I still enjoy playing football - I have fun every single day.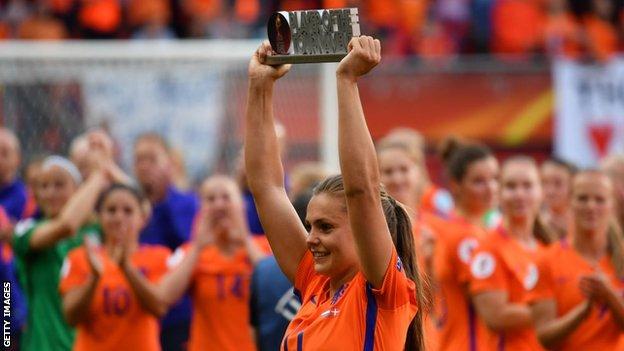 I think it is also a privilege that I can be a professional football player, I dreamed about it and as a kid I always said it. I can't see a life without football.
I'm always looking for challenges in my life, I have been living away from my parents since I was 15 because I want to be the best footballer I can be.
My friends would go out to parties and I would stay home, I felt I have talent and I wanted to use it.
This year everything has come through for me so it's up to me to continue doing what I have been.
Winning the Euros in my home country, in front of a home crowd, was unbelievable. We never expected so many people would be so happy to watch women's football, we felt a lot of support and it gave us a lot of energy.
I always have new goals, I feel I am improving here in Barca, I want to be a champion winning La Liga.
Qualifying for the World Cup is really important for the Netherlands and to qualify for the Olympics as well.