Andy King: Swansea midfielder confident of Premier League survival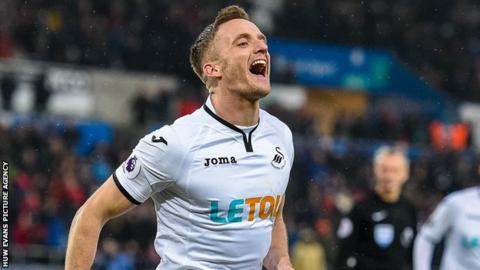 Swansea and Wales midfielder Andy King says he is confident his side will be in the Premier League come next season.
King, 29, joined Swansea from Leicester on loan in January and believes home advantage in three of the final five games will give his side an upper hand.
However, Swansea face the daunting task of travelling to champions Manchester City for their next game on 22 April.
"We need to make sure we're in the mix, if it's in our hands I'm confident we will get through it," said King.
"The performance against Everton, if we keep playing like that then we will be fine."
After Manchester City, who won the league as Manchester United lost to West Bromwich Albion, Swansea welcome Chelsea to the Liberty Stadium.
After a trip to Bournemouth, Swansea have two home games against the two sides who currently sit below them in the league, Southampton and Stoke.
"It could all come down to the final week," said King. "In the last two home games we have created chances and scored goals and we have three home games left to go.
"The atmosphere has been good there, I've really enjoyed it and the crowd have really been behind the team."
Swansea 'under no illusions'
King said Swansea are fully aware of the task ahead of them as they travel to the Etihad to face Pep Guardiola's Manchester City.
"We are under no illusions of how tough that's going to be," said King.
"Fortunately we have put ourselves in a position where we don't need to go there and win.
"We do have a little points gap but of course the sooner we can get safe mathematically the better."
Four wins from their remaining five games would secure Premier League safety with the Swans currently five points clear of 18th-place Southampton, who they face on 8 April.
"We'll take it one game at a time," added King.
"But from our position compared to where we were in December and January to now be five points clear of the bottom three, we would have taken that."