Sunderland relegated: What awaits Chris Coleman's side in League One?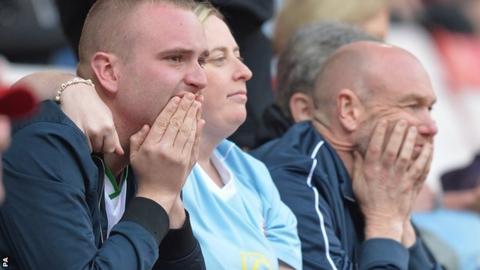 Two seasons, two relegations, too many low points to chart for Sunderland Association Football Club.
The Wearsiders' fate was finally confirmed on Saturday when they were beaten at home by fellow strugglers Burton Albion, a defeat which completed a slow and painful slide into the third tier for the first time in 30 years.
It has been a miserable journey, as fans swap the already fading memories of entertaining Manchester City, Manchester United and Tottenham Hotspur for the reality of visits to Accrington Stanley, Bristol Rovers and Southend United.
BBC Sport assesses the scenarios that lie ahead in League One.
What's the manager's future?
The turnover of managers at Sunderland and lack of consistency has been cited as one of the factors in the decline at the Stadium of Light, with seven bosses in five years unable to change the club's on-field fortunes.
Chris Coleman was appointed in November after Simon Grayson's departure, inheriting a side at the bottom of the Championship with just one win.
He has since picked up a further five victories, while their end-of-season form has suggested there is potential within the current crop of players after a win and three draws in their past six games.
Although Coleman's popularity with the Sunderland support is mixed, the fact he is keen to stay beyond this season is largely seen as a positive.
Most have sympathy with the 47-year-old who, after leading Wales to the semi-finals of Euro 2016, had just one transfer window in which to reshape a squad which was already in the Championship relegation zone.
Detractors will argue he took over in November, thus giving him the games to make changes, and that his January recruitment was not good enough.
"He admits to mistakes but the majority of fans believe he hasn't been dealt a fair hand and want him to stay," BBC Newcastle's Sunderland commentator Nick Barnes said.
"He's pledged to stay and barring an extreme scenario where he's given no help at all in the summer regarding a transfer budget, then he should be at the helm in August."
With a full pre-season and the opportunity to potentially recruit, there is the opportunity for the Welshman to give a truer measure of his progress.
"Whatever was needed I never brought it," Coleman reiterated to BBC Newcastle in the aftermath of relegation. "Over 46 games we've not been good enough. We had a lot of games to get it right.
"I think I'm the right man for the job, but to get it where it needs to be there are certain things I need to do and the club needs to do."
Finances and ownership
The issue of Sunderland's finances is inextricably linked with the ownership of Ellis Short.
Not even relegation to League One with the 'luxury' of a £35m parachute payment from the Premier League will put them in a favourable position.
The debt remains huge, even if player sales and the reduction in wage bill to £35m have trimmed down the last reported figures of £137.3m from April 2017.
To put it into perspective, Uefa's annual report lists Sunderland as having the 13th highest net debt in Europe, more than that of Paris St-Germain, Porto and rivals Newcastle.
Former Manchester City and Everton midfielder Jack Rodwell remains under contract and, although his salary also recedes, it still totals upwards of £40,000 per week. By contrast, the average salary of a League One player is between £1,700 and £2,500.
Any transfer fees or other sources of income such as parachute payments, central funding or television revenues - the majority of which are reduced in the third tier - will go straight towards servicing debt.
What position Sunderland find themselves in for the 2018-19 season could rest on the future of owner Short.
The Texan businessman, who took over in May 2009, placed Sunderland up for sale and then in February further revised the offer to allow someone to take over the club in exchange for taking on the debt.
"We don't know what's happening above us, I can't say 'we've been relegated and this is my plan', because we don't know what the chairman is doing," Coleman said.
"Am I in the plans or not? I came to manage Sunderland, it's a great club and we're in tough times and what's happening round the corner I don't know."
Barnes added: "The chief executive Martin Bain has been tasked with savagely trimming overheads and reducing the club's overall debt which is believed to be in the region of £70m plus a similar figure owed to Short.
"While Short has made an offer to sell the club for a pittance to any interested parties, that offer appears to be mired in caveats and deadlines. There has been interest expressed in taking over the club but the general consensus is that the stumbling block is the debt.
"Interest payments alone are £8m per year and even the remaining two parachute payments will not cover the outstanding money owed to the bank, which has a two-year repayment schedule in place."
If someone does come in to take over the club during the summer, it would likely depend on whether the debts could be wiped out.
Otherwise, transfer funds will again be limited for Coleman and a continued reliance on the loan market required.
The squad
With Premier League squads come Premier League wages, but once a team drops out of the top flight the strain on the budget suddenly becomes far more difficult to manage.
Rodwell, Lee Cattermole and Lamine Kone have remained at Sunderland on top-tier money, while part of the salaries for Didier Ndong, Jeremain Lens, Papy Djilobodji and Wahbi Khazri remain on the payroll.
Besiktas have exercised their option to sign Lens permanently following a spell on loan, but whether those other players remain at the Stadium of Light depends on whether the clubs wanting to sign them are prepared to pay similar salaries.
Experienced centre-back John O'Shea is out of contract, as is last summer's signing Marc Wilson and fellow defender Billy Jones. January acquisition Kazenga LuaLua could also leave at the end of the season after his deal comes to an end.
Young academy talent, coincidentally blooded in the Checkatrade Trophy as part of the under-21s side playing against League One and League Two clubs, could now be the cornerstone of their team.
"Much has conspired against Coleman, such as the blow of losing Duncan Watmore to a second cruciate ligament injury, but on the bright side the emergence of George Honeyman as a potentially long-term midfielder for the club and the promise of forwards Joel Asoro and, to a degree, Josh Maja are a few of the positives from what has been a difficult and wretched season," said Barnes.
"For 23-year-old Honeyman and his counterpart Lynden Gooch to prosper in a team that has been mentally and physically leeched of positivity over the last nine months is a credit to the pair.
"The likes of those two and Ethan Robson, who has been on the fringes of the first team this season, are potentially the fulcrum of the side over the next few years."
The problem Coleman could feasibly face is players he wants to keep being desirable to other clubs, while those he would like to offload fail to attract interest.
Support and stadium
During the Premier League years, Sunderland would pack out the 49,000 seats at the Stadium of Light in derbies against Newcastle United or in hosting Liverpool, Arsenal or Manchester United.
Those crowds have tumbled in the Championship, although they remain the fourth best-supported side in the second tier with an average of 27,597.
Only champions Wolves, Leeds United and Aston Villa have better averages, while Sunderland's cumulative Championship crowd of 607,153 with one home game to play is more than three times that of League One leaders Wigan Athletic.
Not that having such a large support has helped Sunderland, evidenced by just two home wins and seven draws from their 22 games this season. No side has won fewer games on home turf.
Even with their home attendances nudging towards 30,000, skewed to an extent by season ticket sales, there have been large spaces at the Stadium of Light.
"The published attendances in the mid-20,000s have been patently massaged to add gloss to a desperate situation," said Barnes. "In reality the true numbers turning up have been closer to 15-18,000, which in the circumstances is commendable.
"Those that have stayed away can hardly be blamed. Their patience has been sorely tested. Consequently the atmosphere inside the Stadium of Light has been funereal and counter-productive, working to the benefit of the opposition.
"Sunderland are nervy and tentative and on a number of occasions, despite starting brightly, have conceded the opening goal and their brittleness has led to capitulation."
This has prompted the decision to close the upper concourse of the stadium from next season to all but press, directors and hospitality, a move which has also brought criticism from supporters who have to move seats to other areas of the ground.
It is a cost-cutting measure with a view to reducing stewarding and kiosk staff, as well as trying to improve the atmosphere by bringing more fans into the lower bowl.
While a trip to the ground might be a novelty factor for fans of their new peers in League One, it is an increasingly tougher sell for Black Cats supporters.
Reasons for optimism?
Sunderland are not the first, and certainly will not be the last big club to slide down the leagues.
There are a catalogue of illustrious names, from Sheffield Wednesday to Nottingham Forest and Leeds United to Manchester City who have suffered the same fate but bounced back to the Championship at least.
Almost 20 years after Manchester City went on their tour of the third tier they are now the modern-day mega club, while Leicester - a League One side as recently as 2009 - went on to win a miraculous Premier League title in 2015-16.
If Sunderland wanted to look at one other club to give them hope for the future, then Wolves could be it.
The Molineux side were the last to drop from the Premier League to League One in successive seasons but will now return to the top flight four years after their one successful campaign in the third tier.
And, should the Black Cats need further grounds for optimism, then they could look at the fact that with Wigan earning an immediate return to the Championship, it means that in eight of the past 10 seasons at least one club relegated to League One has bounced back at the first attempt.