'St Mirren are Scotland's Leicester City', says chief executive Tony Fitzpatrick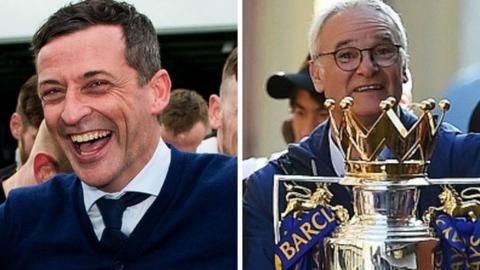 St Mirren's rise from the relegation zone last season to Championship winners is as amazing a story as Leicester City's English title in 2016.
That's according to Buddies chief executive Tony Fitzpatrick.
"When Leicester City won the Premier League, it was one of these miracles that happens in life," he told BBC Scotland after St Mirren secured promotion by drawing with Livingston.
"And I think this is every bit as good a story as that."
St Mirren were bottom of the Championship when manager Jack Ross moved from Alloa Athletic to Paisley in October 2016.
He steered them clear of relegation and, on Saturday, they secured the title with three games to spare, ending three years out of the top flight.
"It's been an incredible journey," Fitzpatrick said. "It is incredible what's happened at the club in a short space of time.
"But we're actually back where we belong. We all believed that at the club and it's just fantastic to realise that dream.
"I don't think this has ever been done before in Scottish football. You are talking about a year ago we were looking as though we were going to be relegated.
"And, within a short space of time, we are back in the Premiership."
Paisley 2021 Stadium was sold out on Saturday for the visit of the side sitting second in the table, 12 points behind the Buddies, and Fitzpatrick says it is another sign of a rebirth for the club and the city that had bid to be a future UK City of Culture.
"St Mirren are becoming sexy, as they say, and major companies are interested in St Mirren and to see what's happening," he said.
"We lost out to Coventry for the city bid 2021, but when that Paisley bid team got together, they gave everyone a lift and the club took that on as well.
"Coventry won it, and congratulations to them, but we were also winners from that because the feel-good factor in this town is incredible."
Sir Alex Ferguson, who led St Mirren to the top flight in 1977, famously made Fitzpatrick his captain at the age of 17 and the chief executive revealed that the former Aberdeen and Manchester United manager had phoned Jack ahead of Saturday's game.
"Jack reads his books on leadership all the time and to get a phone call inspired Jack so much," he said.
Fitzpatrick thought that Jack had "galvanised everybody" in a way that had not be seen since Ferguson left St Mirren Park.
"There was something about him," he said of Ferguson. "He never just built a football team - he built a whole club and built up the surrounding areas, the community.
"Jack has played a massive part and of course he's a top young manager.
"He's galvanised the whole club, galvanised the supporters and Paisley as well, but hopefully the infrastructure the club has now plays its part in that as well.
"Although Jack's the major one, it's a team effort, with the players and staff at St Mirren and the new directors and chairman.
"Jack and the players have done a remarkable job."