Conor Coady: Promoted Wolves are example of how clubs should be run, says captain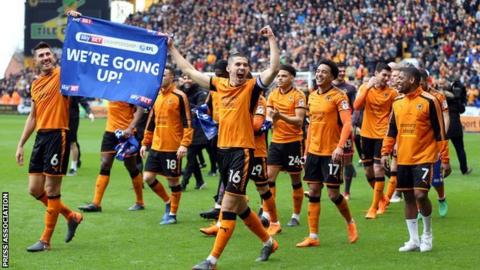 Promotion-winning captain Conor Coady says Premier League-bound Wolves are an example of how any club should be run.
And he is confident that star players Ruben Neves and Diogo Jota will still be at Molineux to help them perform in the top flight next season.
"100% yes," said Coady. "I don't think there's any reason.
"These are top, top players who have come and done the business and I like to think they'll be with us next season."
He added: "As far as I'm aware they're very happy at the club, as it is a brilliant club to play for. They're looking forward to playing in the Premier League as much as we are.
"A lot of people have had a lot to say about us this season, but we've not said a word. We know the club's run brilliantly.
"This is how a club should be run. I've played for this club a few years and played for other clubs and the way this club is run is proper."
The Mendes influence
The Chinese-owned club have come in for plenty of attention from Championship rivals this season regarding their links with Portuguese super agent Jorge Mendes.
Mendes, who also manages Real Madrid striker Cristiano Ronaldo and Manchester United manager Jose Mourinho, represents head coach Nuno Espirito Santo and several Wolves players, including £15.8m Championship-record signing Neves and Wolves' 17-goal top scorer Jota.
A subsidiary of Wolves owners Fosun has a share in Mendes' agency.
Leeds United owner Andrea Radrizzani told BBC Sport in March that he had written a letter to the Football Association, English Football League and Premier League to clarify the link between Mendes and Wolves.
Steve Bruce, manager of Wolves' promotion rivals Aston Villa, added: "Wolves have got some very good players. How they got here, that's another question that I don't want to get involved with."
The EFL responded by saying that they would convene a meeting with Wolves, who immediately announced that they would "comply explicitly" and have said consistently that they do not believe they have broken any rules.
That meeting is yet to take place as the EFL are waiting for further observations from Wolves. An EFL spokesperson said on Monday that "the matter is ongoing".
Promotion fever at Molineux
Former Liverpool trainee Coady has been one of Wolves' key men this season, the former central midfielder flourishing under Nuno in his new role as part of a three-man defence.
His only previous experience of the top flight was one late substitute appearance for Liverpool at Fulham under Brendan Rodgers in May 2013, and he is very proud to have led Wolves back there.
"It's a massive thing for Wolves," he added. "This club has been out of it too long.
"I feel fantastic. I've had two boys but this feeling is right up there with it. It's a culmination of a lot of things.
"You always dream. It's the same every single season, and this time we've had the players to stick at it and be consistent.
"Now we're going on to bigger and better things. It is a time when you can get excited about it. Supporters can get excited about different teams coming here.
"We're not looking too far ahead but this is a huge thing to get back there. It's a real good time for us, and we can now play with a smile on our faces for the last three games."