Garth Crooks' Team of the Week: Kompany, De Bruyne, Salah, Hazard, Zaha, Giroud

By Garth Crooks
Football analyst
Last updated on .From the section Premier League

Manchester City were finally crowned Premier League champions after Manchester United lost at home to West Brom.
Crystal Palace and Huddersfield earned crucial wins in their battle to beat the drop, Burnley kept up their European charge, while Arsenal slumped again to Newcastle.
Chelsea came back to beat Southampton, Swansea shared the points with Everton and Liverpool put three past Bournemouth.
But who did enough to make my team of the week?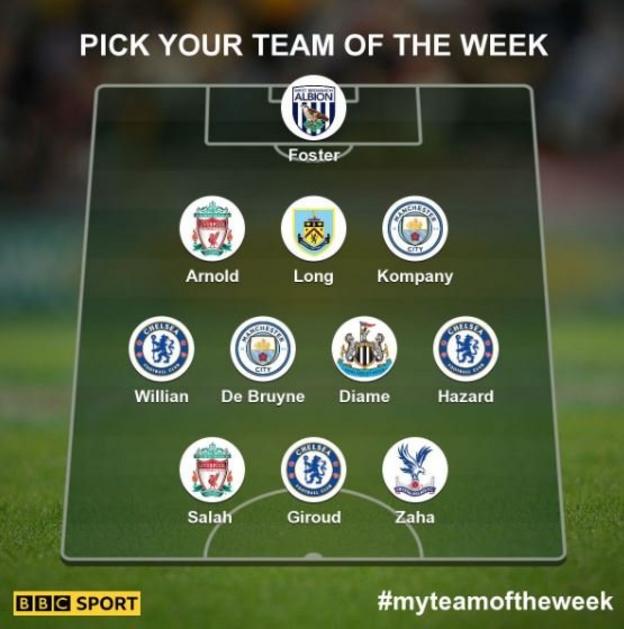 Goalkeeper - Ben Foster (West Brom)
Where was the Manchester United that blasted Manchester City off the park last week?
While you ponder that, the save by Ben Foster from Romelu Lukaku's header was nothing short of magnificent. This performance by the Baggies was also an enormous statement for new manager Darren Moore. Whether West Brom survive the drop or not, the players appear committed to a man who lives and breathes Albion.
Beating United and handing City the title - what a way to start your managerial career.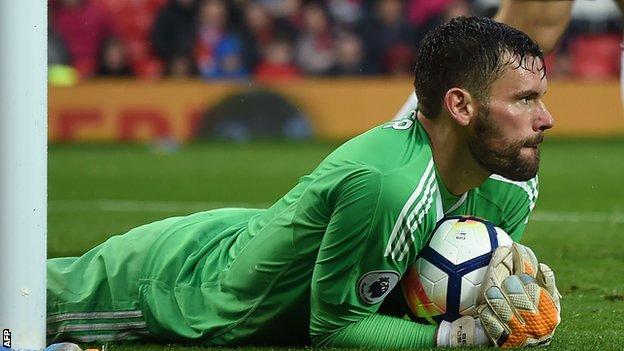 Did you know? Foster made four saves against his former club.
Defenders - Trent Alexander-Arnold (Liverpool), Kevin Long (Burnley), Vincent Kompany (Manchester City)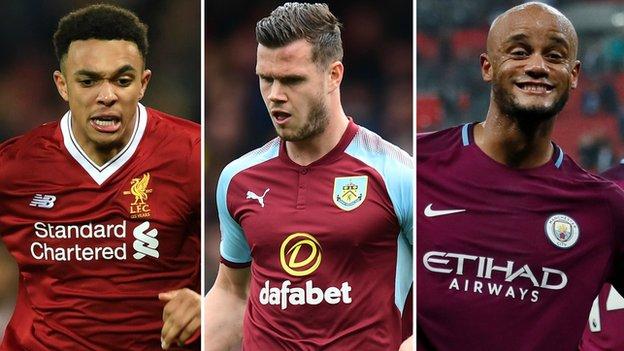 Trent Alexander-Arnold: I said a few weeks ago that the Champions League fixture against Manchester City would be a massive test for full-backs Andrew Robertson and Alexander-Arnold.
Both players came through the test with flying colours, but I didn't expect Alexander-Arnold to have played himself into Gareth Southgate's World Cup plans.
His defensive play has been outstanding recently and the ball for Mohamed Salah to score his 40th goal of the season against Bournemouth was of the highest quality. A future full England international if ever I saw one.
Did you know? No Liverpool player created more chances (four) against the Cherries than 19-year-old Alexander-Arnold, and the full-back set up Salah's goal.
Kevin Long: Long came in for the injured Ben Mee and did a superb job for Burnley against a menacing, pacy Leicester City attack. To pop up the other end and score the winning goal was the icing on the cake.
Burnley have had a magnificent season and now find themselves flirting with the possibility of European football. Just a word of caution: Burnley do not have the resources to cope with the demands of the Europa League and need to approach this concept with great care.
Qualification into this elite group might improve season ticket sales, but knowing when to bin the competition in order to survive in the Premier League might be a very important consideration.
Did you know? Long scored his first Premier League goal in his 15th appearance in the competition.
Vincent Kompany: I was never sure of the wisdom of leaving Vincent Kompany out of the second leg of the Champions League fixture against Liverpool.
If Kompany is fit he should play. Nevertheless, Pep Guardiola recalled his captain for the match against Spurs and the Belgium international was superb. As for the tackle by Ben Davies on Kompany which was missed by referee Jon Moss - it was a shocker. Davies is a lucky boy - not to stay on the field but, by the reaction of Kompany, to have all his teeth.
Did you know? Kompany made more clearances (eight) and tackles (five) against Spurs than any other City player.
Midfielders - Willian (Chelsea), Kevin de Bruyne (Manchester City), Mohamed Diame (Newcastle), Eden Hazard (Chelsea)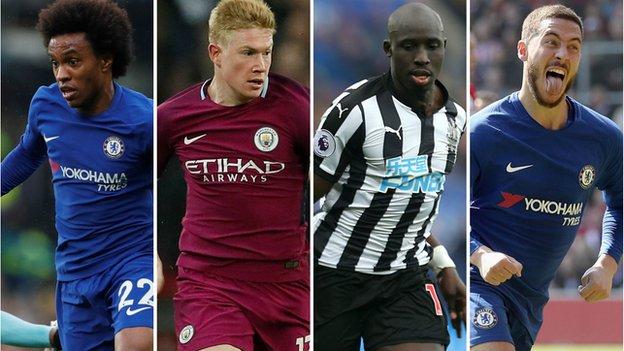 Willian: I think this lad has been Chelsea's best player this season. He provided two assists against Southampton and has been as consistent as anyone in the Blues line-up. Rumours that Manchester United have their sights set on Willian make for interesting reading.
Does this mean Paul Pogba or Juan Mata might be surplus to requirements? The bigger question is whether Chelsea would sell another one of their star players to United. If so, Antonio Conte might as well give Mourinho the contact details of the company which engraves the Premier League trophy while he's at it.
Did you know? Willian created more goalscoring chances than any other Chelsea player against Southampton (six).
Kevin de Bruyne: I have been singing this player's praises all season - and quite rightly. Kevin de Bruyne has been amazing. The pass he laid on for Raheem Sterling - on the volley, with his back to goal and under pressure from a defender - was insane.
Title winner he is, but I expect the players to select Liverpool's Salah for their players' player of the season. It would be fitting, however, if the football writers chose De Bruyne as theirs. That way we get the best of the best.
Did you know? De Bruyne attempted more crosses (eight) than any other City player against Spurs.
Mohamed Diame: I was laughed out of court when I suggested Rafael Benitez has the ability to bring titles to St James' Park. Well, he's not won the Premier League with this group of players - but how he's amassed 41 points with games to spare.
Mo Diame is among the many players Benitez has rejuvenated at Newcastle. Not since his days at West Ham have I seen the Senegal international look so fit and in such good form. Against Arsenal, Diame was outstanding, as were the entire Newcastle team. What a pity the Magpies are not in the hands of someone who really appreciates what this club, their supporters and their manager have to offer.
Did you know? Diame covered more distance than any other Newcastle player against Arsenal (11.5km).
Eden Hazard: If ever there was a game of the proverbial two halves then this was it.
Chelsea had totally lost interest in the first half, but turned it around in the second with a scintillating performance. Eden Hazard was at his petulant worst (doing precisely whatever he liked) in the first half and absolutely brilliant (suddenly realised it wasn't a one-man show) in the second.
Another big question for Conte - should he stay at Stamford Bridge - is whether he can keep Hazard without the lure of Champions League football. I'm beginning to doubt it.
Did you know? Hazard has scored 69 Premier League goals for Chelsea. Only Frank Lampard (147) and Didier Drogba (104) have netted more.
Forwards - Mohamed Salah (Liverpool), Olivier Giroud (Chelsea), Wilfried Zaha (Crystal Palace)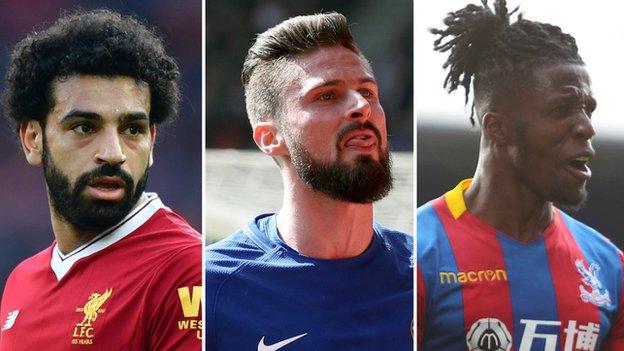 Mohamed Salah: You can't score your 40th goal of the season and not make my team of the week.
Besides, it would be ludicrous not to recognise arguably the best footballer in the league the week before Salah goes head to head with De Bruyne at the PFA awards dinner. I will be there of course and the first on my feet to applaud the eventual winner. My money is on Salah.
Did you know? Salah is the eighth different player to score 30 or more goals in a single Premier League season - he's also the first African to do so.
Olivier Giroud: Chelsea were dead and buried before Olivier Giroud came onto the field. The Blues were lacking in enthusiasm and drive and looked thoroughly fed up at one stage. But on came the Frenchman for the uninspiring, rather sad-looking Alvaro Morata and turned the game on a sixpence. Antonio Conte has an issue now: does he start with Morata in the future and leave Giroud on the bench? Nice problem to have.
Did you know? Giroud has netted 19 goals in the Premier League as a substitute, a haul only Jermain Defoe can better (24).
Wilfried Zaha: Three goals in 25 minutes will give manager Chris Hughton sleepless nights. Neither Brighton nor Crystal Palace are out of the relegation woods just yet, but the two goals scored by Wilfried Zaha have given Palace a lifeline.
When Roy Hodgson walked into Selhurst Park the club were at the bottom of the table and staring at the Championship. Now they look favourites to survive. The big issue for Hodgson now is: can he keep Zaha?
Did you know? In completing his first Premier League double, Zaha netted his first headed goal in the competition.
You've seen my picks this week. But who would you go for?
Choose your XI from the shortlist selected by BBC Sport journalists and share it with your friends.
Pick your Team of the Week
Pick your Team of the Week
Pick your XI from our list and share with your friends.
The Crooks of the matter...
Roberto Mancini has done it. Manuel Pellegrini has also done it. But no-one won the Premier League title for Manchester City quite like Pep Guardiola has.
I honestly didn't think you could win the English top-flight title playing football the way City have done this season.
I was of the firm opinion that our league was too physical and competitive, and the season far too long, for ball players with bundles of ability but less physicality to dominate a campaign the way they have. Boy, was I wrong.
Had Manchester United not won 3-2 at the Etihad earlier this month, City would have totally humiliated their neighbours. That was their intention of course. However, I have never seen United fans applaud a City team off the field before - but that was the response from a small section of supporters who remained at Old Trafford after their side's 2-1 defeat earlier in the season.
During that period, City beat Chelsea away, demolished Liverpool 5-0, put four goals past Tottenham and gave Stoke City such a beating I don't think the Potteries club ever got over it.
As for the performance of Kevin de Bruyne, all I can say is: wow. It is easy to pick out the Belgium international because he has been outstanding - but so have David Silva and Fernandinho. What a trio.
These three players are the nearest thing I have seen to Alain Giresse, Michel Platini and Jean Tigana, who were so effective during the 1980s for France.
And as for the transformation in Raheem Sterling - if Guardiola can teach the lad to finish, he could be the best player in the world.
I have made my feelings quite clear about the difference between the playing styles of Guardiola and Manchester United counterpart Jose Mourinho in my teams of the week during the course of the season.
I have an enormous regard for both managers. The former is a great teacher and the latter a serial winner. However, what Guardiola has done is transform English football into thinking that now you can be a great teacher, a serial winner and still play the most glorious football - and all at the same time.
With better refereeing decisions and a bit of luck it would be City facing Roma - but that's football. The Champions League is merely on hold for now. Guardiola has turned a very good team into something special, and that's why I can't wait to see the sequel.
Congratulations Manchester City. You are worthy champions.