Swansea City: Jordan Ayew says club have set standard to survive
Last updated on .From the section Swansea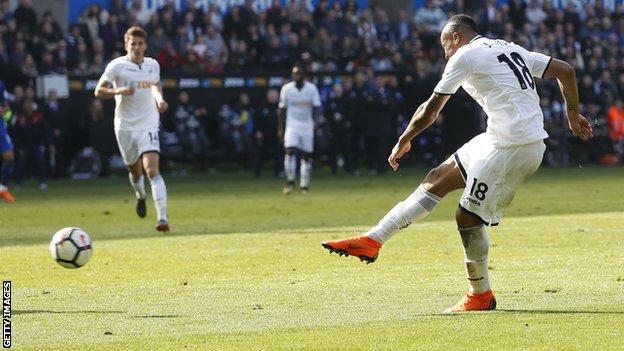 Forward Jordan Ayew believes Swansea have set the standard to survive in the Premier League.
Ayew scored his 11th goal of the season to secure a 1-1 draw against Everton on Saturday in a contest Swansea will feel they should have won.
Swansea now have a five-point cushion above the relegation zone.
"Even though we are moving slowly, it is a positive, and if we keep on playing like this we will make everyone happy," Ayew said after the draw.
"I think is a positive moment for the club and for me because we don't have to forget where we were six months ago," Ayew said.
"We are five points ahead of the bottom three now and this is a step forward."
Swansea had scored only once in the three games top scorer Ayew had sat out following his red card at Huddersfield last month.
But Ayew, who was this week described as one of the Premier League's best forwards and a "beautiful flower," by manager Carlos Carvalhal, gave Swansea a focal point in attack.
"Although the first 10-15 minutes was difficult, I grew into the game and the boys produced a great performance," Ayew said after his 71st-minute goal rescued a point.
"Since I set foot in this club they put me in the best conditions to express myself in the best way.
"When the gaffer came in he spoke to me within a day and said he was counting on me. He asked me where my best position was and everything is OK now.
"Every day I have a smile on my face and work hard when I go into training.
"We still have a bit of a stress, but six months ago we wouldn't have got a draw in this game."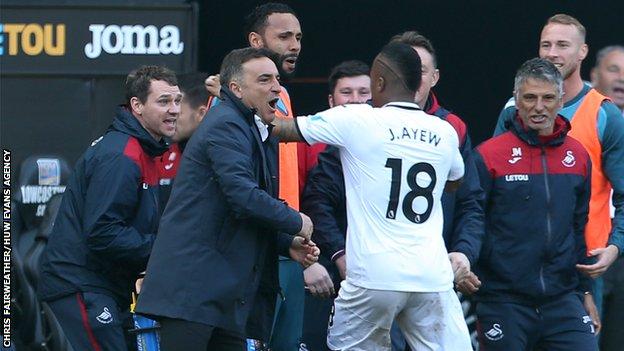 After scoring, Ayew ran to the bench to celebrate with Kyle Bartley, whose own goal put Everton in front.
"We started the season together on pre-season tour to America and we're a fantastic squad who have become like family," he explained.
"We are suffering and our families are suffering. We're under stress and it's not easy for anyone, including the supporters. But we try to put smiles on our faces every morning and to make other people smile.
The most important thing is that we have a fantastic team spirit and I can't complain about that."
He said it had also been a "dream come true" playing with his brother Andre at Swansea City.
"I've been really pleased and really happy because my brother is out with me, pressing the opposition and pushing me hard, urging me forward to score more goals, and to be more effective than ever.
"He is a leader. He's one of the main leaders in this dressing room and that's why they got him back here."
Ayew admitted there has been disappointment over his brother's lack of goals since rejoining, but said he did not score until his 14th game.
"The main thing is that Andre is effective and does well for the team," he said.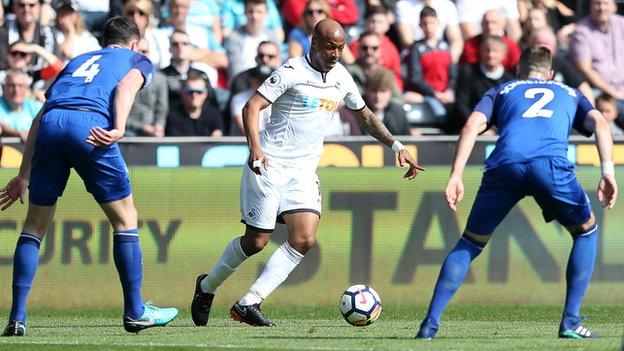 Ayew said playing in the Premier League meant a lot to their family and to Ghana.
"The is one of the best, if not the best league in the world. We try to present our family and our country, and also Swansea City, as well as possible.
"We know that we will always fight and die for this club, because it has given me and my brother so much."
The brothers were cheered on at the Liberty Stadium on Saturday by their mother and nine other family members and friends.
"They are always positive and they give us more energy to fight. Today, we didn't get the three points, but I thought we did a really good job," he said.
Andre has said the best player in their family is their dad. He has won three golden boots and was the best African player three times in a row.
"I'm not here to compare myself to him or anyone else," said Ayew, "I'm here to fight for the club and to make sure we stay in the Premier League.
"You never know, they sky is the limit after that."