Colin Nixon 'didn't feel like number one choice' for Glentoran
Last updated on .From the section Irish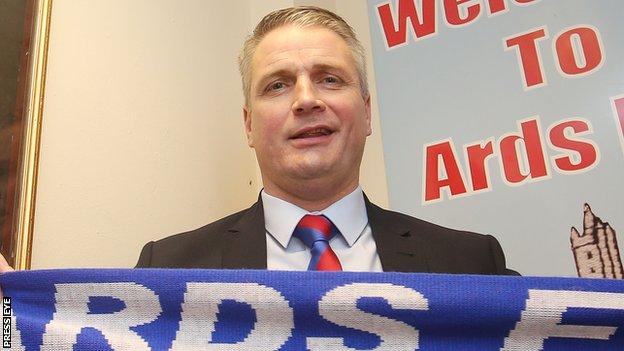 Ards manager Colin Nixon says he did not accept a move to take charge of Glentoran because he never felt that he was the club's "number one choice".
Nixon opted to sign an extended three-year contract with Ards after holding talks with the Glens, for whom he holds the record number of appearances.
"I never felt I had the full trust and to me that's everything," said Nixon.
"If I was going to go in there and re-build a club I need to feel like I was trusted and I just didn't feel that."
"I felt I could go in there and turn it round but I had a club who was doing everything in their power to try and keep me and had treated me well so loyalty came into it."
Nixon played 794 times for Glentoran, winning four league titles and six Irish Cup winners' medals in a distinguished career, but was handed his first chance in Irish League management by Ards in December 2016 when previous boss Niall Currie left to take over at Portadown.
"Ards are a club that has looked after me since they took a chance on me to give me my first role in management in the Irish League and I've really enjoyed my time here.
"I get on well with the Chairman and Board of Directors and they're a good family club - easy to deal with and at no point in my negotiations with them had I any major issues.
"I'm happy with the contract I ended up with and the work we are doing here."
'A rollercoaster week'
The former defender admits however that he endured a "rollercoaster" week after being approached by Glentoran last weekend, adding that he had to make "a very, very difficult decision".
"It was traumatic and it took a lot out of me but my plan was to get the two sides of the story on the table and make a decision from there.
"I agreed to speak to Glentoran out of courtesy and the respect I have for the club - I would never have said no to that and it's something I felt I had to do.
"It's no secret what I feel about Glentoran and not to go there was a decision I didn't take lightly. But when I sat back and thought about it all I decided to stay with Ards."
Nixon's decision leaves Glentoran still on the search for a successor to Gary Haveron, Ronnie McFall having assumed the role on a temporary basis since the former Carrick boss's dismissal in February.
The east Belfast club also sounded out Dungannon manager Rodney McAree but he decided to agree a new three-year deal to remain with the Swifts.