Gianluigi Buffon: Juventus boss Massimiliano Allegri defends goalkeeper's comments about referee Michael Oliver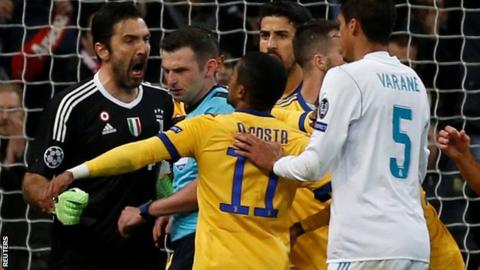 Juventus boss Massimiliano Allegri has defended keeper Gianluigi Buffon's reaction during his side's Champions League exit at Real Madrid.
Buffon, 40, confronted English referee Michael Oliver after he awarded an injury-time penalty and was sent off.
After the game, Buffon said Oliver had a "bag of rubbish" for a heart.
Oliver's wife Lucy has since been abused on social media by some Italian football fans, but Allegri said he "understood" Buffon's reaction.
Juventus came back from losing 3-0 at home to lead 3-0 at the Bernabeu in the second leg of the Champions League quarter-final against Real.
The tie appeared to be going into extra time before Oliver awarded the Spanish side a 93rd-minute penalty for Mehdi Benatia's foul on Lucas Vazquez, which Cristiano Ronaldo scored to send Real through 4-3 on aggregate.
"For over 20 years, Gianluigi Buffon has been a role model both on and off the pitch," said Allegri.
"If on one occasion he said the things he did, in a situation as tough as Wednesday night's, that is understandable and I challenge anyone to react differently.
"It's always easy to judge from the outside.
"The referee had a very good game for 90 minutes, he really did. He then slightly lost his way at the end, but these things can happen.
"I don't know if it was correct or not, I don't care, but Buffon was also sent off and therefore denied the opportunity to save the Cristiano Ronaldo penalty. Gigi's reaction is to be understood."
Real Madrid manager Zinedine Zidane put Buffon's comments down to the keeper being "stressed" and added "you have to respect his point of view but I think we deserved to qualify for the semi-finals".
Reaction 'disgraceful, upsetting and deceptive' - Zidane
Zidane has also been angered by the reaction in some quarters to his side progressing in the competition.
"When people talk about it being a robbery I get angry - it is clear what we are doing annoys a lot of people," Zidane said on Saturday.
"There are people that are anti-Real Madrid, but nobody is going to change that. Nobody can change the history of this club, what it has achieved.
"We are the best club in the world and when you're the best club in the world, there is a certain degree of jealousy."
He added: "To be honest I think it is disgraceful, upsetting and deceptive. Anyone who says it was a robbery, I really don't agree."