Valeri Belokon: Ex-Blackpool director 'will discuss' return to club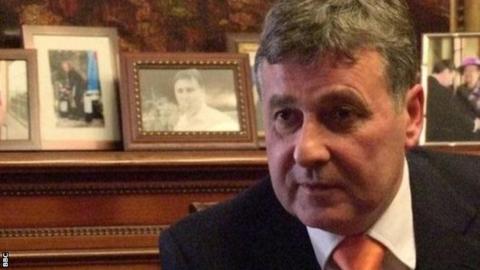 Ex-director Valeri Belokon will discuss returning to Blackpool alongside new owners once the Oyston family have met their legal obligations to him.
The High Court ordered the Oystons to buy out Belokon's VB Football Assets company in November 2017 for £31.27m.
"Once it's done, I will meet and seriously discuss my potential involvement in the club," said Belokon.
Majority shareholder Owen Oyston offered Belokon, 58, ownership of the club last month.
Latvian businessman Belokon said he would be interested in working with "a majority local investor".
"I have no knowledge nor cannot comment about any potential bidders for the club at the moment. Nobody has approached me nor given me any information in this regard," he added in a statement.
Belokon, who bought a 20% stake in Blackpool in 2006, said he had no plans to negotiate with the Oystons to settle the dispute.
"[Owen] calls me to enter into negotiations but I do not see any reason why," said Belokon.
"I will now continue to follow the legal route and do it so decidedly.
"I want him to meet the terms of all court order obligations without unnecessary delay."
BBC Radio Lancashire have contacted Blackpool for comment but are yet to receive a response.
Belokon currently cannot own the club after being given a 20-year jail term in Kyrgyzstan in May 2017 for "money laundering, tax evasion and dishonesty".
He subsequently failed the English Football League's Owners' and Directors' Test in September 2017.
Despite this, Belokon says he is working with the EFL to reverse the decision to disqualify him because it ignores "basic principles of natural justice".