Carlos Carvalhal: 'Champions League emotion' will help survival bid
Last updated on .From the section Swansea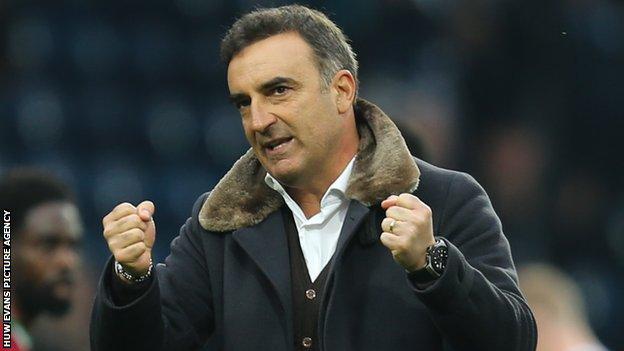 Swansea boss Carlos Carvalhal believes "Champions League emotion" at the Liberty Stadium can help his side's survival bid.
Carvalhal issued a rallying cry to supporters ahead of Saturday's visit of Everton, a game he has described as an important moment in their season.
Swansea are four points above the relegation zone and have won their last four games in front of their own fans.
"The emotional part of the game is important," Carvalhal explained.
"Just look at the Roma and Juventus games," said Carvalhal. "The emotional connection and the push of the fans is a massive part of the game."
Roma overcame a three-goal first-leg disadvantage to beat Barcelona in this week's Champions League quarter-finals, while Juventus came within moments of threatening a similar comeback against Real Madrid in emotionally-charged games.
"You can see how much the emotional side of the game influences matches," the Portuguese manager said.
"Things can be completely different from one week to the other just because of the emotions on the table.
"The way for us is to play our best level and that can make a big impact with the fans at the Liberty."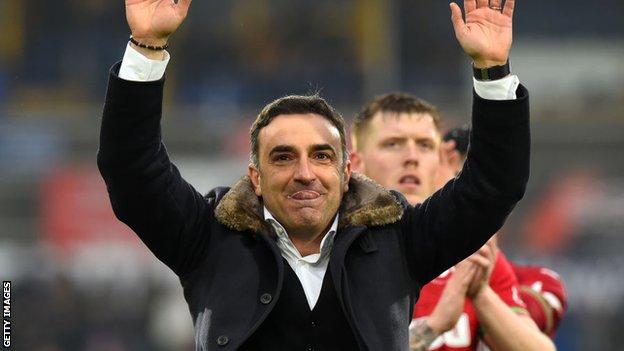 Swansea have already made huge strides under the former Sheffield Wednesday boss, having been bottom of the table and five points adrift of safety when he was appointed in December.
With fixtures against Manchester City and Chelsea still to come, Carvalhal showed his awareness of how key success could be against Everton..
"I want to say something to the Swansea fans, we need to play with twelve players on Saturday," said the 52-year-old at the start of his pre-match press conference.
"We are sure that fans of Swansea, like they have so far, will be part of the game. They know the importance of their support and together we can achieve what we want on Saturday.
"My message is not just for the good things. The big support, the massive support, is when one or another player does a mistake, to reboot them with applause, give incentive to them.
"After the game we will see what answer our players give to that support because I am absolutely sure we need it.
"Let's all do our part: the players, the staff, the manager and of course the fans, who can play also and expect they will play.
"It is an important moment of the season and the players need warm support from the beginning to the end of the game."