Cardiff City boss Warnock acting as 'agony uncle' to his players
Last updated on .From the section Cardiff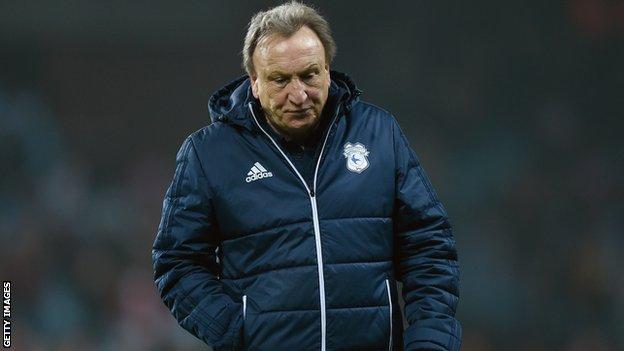 Neil Warnock says he is taking on the role of an agony uncle as he attempts to steer Cardiff City to promotion to the Premier League.
Cardiff are third in the Championship table after losses to Wolverhampton Wanderers and Aston Villa allowed Fulham to overtake them.
The Bluebirds' fate is still in their own hands as they have a game in hand.
Warnock believes mental strength will dictate the promotion race ahead of Cardiff's visit to Norwich City.
He compared himself the late newspaper 'agony aunt' columnist Marjorie Proops in explaining how he is having to manage his bruised squad.
"I know some of you guys won't remember her, but I have got to be like a Marjorie Proops, if I'm honest," he said.
Warnock added: "At this stage of the season football matters are irrelevant really.
"I think its all upstairs [the psychological element].
"They know they have ability because we have pushed people right to the limit so it's all about how you deal with that.
"I think that has been my biggest job this week and probably the next three weeks.
"It's the mental side of it, one-on-one with players and trying to lift people who are a little bit down."
'Stay calm and enjoy it'
Warnock says this is no time for Cardiff fans to start panicking even though defender Sol Bamba admits he "understands why the fans are getting nervous".
Warnock's message to players and fans is to remain "calm and enjoy it".
"I think everybody gets nervous, how can you not be nervous in our situation?
"I have never had a promotion yet where I have not been nervous. I think it's incredible.
"You just have to go through that and enjoy the games really."
He added: "Everybody knows I am after that eighth promotion. Nothing changes in that - and if it didn't happen I couldn't ask any more of the players or the fans.
"I think whilst they will be on tenterhooks, I bet there is not one fan who has not enjoyed the season."