#ItaliaLovesMichaelOliver - Italian fans back English referee after wife abused on Twitter
By Andrew Mullen
BBC Sport
Last updated on .From the section Football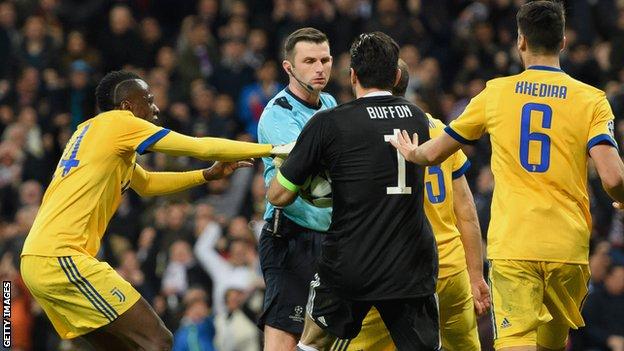 "A great man does not seek applause or place; he seeks truth... this man is Michael Oliver."
Two days ago, British referee Michael Oliver was described by one of the world's best goalkeepers, Gianluigi Buffon, as having "a bag of rubbish for a heart" and vilified by the Italian press for his last-minute penalty decision against Juventus.
Converted by Real Madrid's Cristiano Ronaldo to knock the Italian giants out of the Champions League, Oliver's penalty call prompted some football fans to go as far as abusing his wife Lucy - also a qualified Women's Super League referee - on social media.

However, a case of 'ti amo' has surprisingly developed with other Italian football fans in direct response to the abuse - prompting the hashtag #ItaliaLovesMichaelOliver to become a top trend on Twitter and sending a wave of unexpected affection to the Premier League official from Ashington.

Having started on Thursday with a tweet "Let's let Lucy know that we're not all hunchbacks, away with the hashtag", #ItaliaLovesMichaelOliver has now been used more than 6,000 times.