Jay Rodriguez: Charge of racially abusing Gaetan Bong 'not proven'
Warning: Some people may find the language in this article offensive.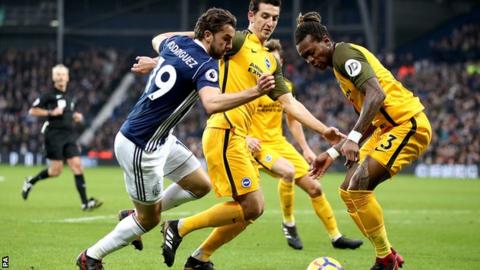 A charge that West Brom forward Jay Rodriguez racially abused Brighton defender Gaetan Bong has been found "not proven" by the Football Association.
Cameroon international Bong said the incident took place during the Baggies' 2-0 win at The Hawthorns on 13 January.
Rodriguez, who has one England cap, appeared to pinch his nose after they clashed and Bong spoke to the referee.
In his evidence to the FA, Bong said he was "100% certain" Rodriguez, 28, said to him: "You're black and you stink."
Rodriguez, who had a personal hearing with the governing body on Wednesday, denied saying this, insisting it had been: "Breath fucking stinks."
The FA employed two lip-reading experts to watch slow-motion footage of the incident.
In the reasons explaining its verdict, the FA said the "essential issue for us boiled down to one question - are we satisfied the player [Rodriguez] probably said to GB [Gaetan Bong]: "You're black and you stink'?
It said the two lip-reading experts "could not help" on this "core issue".
"The player's mouth was obscured, and neither could see sufficient to interpret his moving lips," the FA said.
"After much deliberation we were left in the position where the case distilled to the evidence of each player. We could not say that any of the other evidence or competing arguments lead us to prefer one over the other."
The FA said it was "completely satisfied" 29-year-old Bong's complaint was "made in absolute good faith" and "there has been no suggestion that this was a malicious or fabricated complaint".
It said it "takes all allegations of discrimination extremely seriously and continues to encourage all participants who believe they have been the subject of or witness to discriminatory abuse to report this through the appropriate channels".
Had he been found guilty of the charge, Rodriguez would have received a minimum five-match suspension.
During his hearing, Rodriguez provided character evidence in the form of statements and letters from 11 people, including Tottenham manager Mauricio Pochettino, Bournemouth manager Eddie Howe, Liverpool midfielder Adam Lallana, Southampton striker Shane Long, defender Maya Yoshida and former Saints keeper Kelvin Davis.
West Brom director of football administration Richard Garlick, who attended the hearing, said: "Everyone at the club is delighted for Jay because this has been a trying period for him."
Bong's reaction
Bong said he was "very disappointed" by the FA's verdict and that "despite the lack of evidence" he remains "certain of what I heard on the field".
"I have been in this country for almost three years and this is the first time that such a thing has happened to me," a statement read.
"But in spite of my disappointment I encourage everyone who may also be subjected to a similar experience to stand up and denounce such acts, even if the chances of obtaining sanctions are likely to be very small.
"Human rights are universal rights that are not foreign to any culture and they belong to all countries!"
Warning: Some people may find the language below offensive.
Bong's testimony
The defender's statement to the FA read: "We came face to face and we made a few comments to each other, but it was nothing insulting, just the usual back and forth.
"It's the type of squaring up that you might laugh about with the other player later in the game. I was switching my focus from JR [Jay Rodriguez] back to the game when I heard him say something.
"It wasn't clear to me what he said because I wasn't concentrating on him any more, but it caught my attention so I focused back on him.
"Then JR pinched his nose and said: 'You're black and you stink.' He followed up the comment with a waving gesture in front of his face.
"My instant feeling was that the waving gesture showed that he didn't care who saw that insult, but by covering his mouth when he said the comment, it showed that he didn't want anyone else to hear or see what he said because he knew it was wrong.
"JR performed the waving gesture as I was turning towards the referee to report the comments I had already heard JR say when he pinched his nose.
"I am 100% certain that JR said the words 'you're black and you stink' to me, at the moment his hand was covering his mouth."
Rodriguez's testimony
The forward's statement to the FA read: "GB [Gaetan Bong] blocked me off and caught me in the throat with his elbow. This prompted me to nudge him back and tell him to 'fuck off'.
"GB moved aggressively towards me, and I asked 'what the fuck are you going to do' as he began shouting in my face in what I believe to be French.
"I wanted to stop him shouting so close to me and so said to him 'breath fucking stinks' and made a waving gesture while holding my nose with my thumb and index finger.
"In retrospect, I realise that was childish and inappropriate, but I just wanted to close down the encounter.
"I had seen the gesture before. I remember Thierry Henry doing it. And there was an incident between Diego Costa and Ryan Shawcross last season. I also frequently made the gesture and comment with friends when I was a kid.
"That doesn't make the gesture the right thing to do, I know, but it was in no way racially motivated. It was just my attempt at a put down."
What the referee said
Martin Atkinson wrote an extraordinary incident report and also made a witness statement to the FA.
In his evidence, he said: "In the 58th minute as I awarded a goal kick to Brighton, I was aware of a coming together of two players, Bong and Rodriguez.
"As I approached the two players, Bong pointed at Rodriguez and said to me: 'He has been racist.'
"That is when alarm bells started ringing in my head and I knew I needed to speak to the players.
"Bong was insistent that Rodriguez had said something racist. Bong was talking quickly and was clearly upset about he thought had heard.
"Bong told me that JR had said the word 'black' and then something else, but it was not clear what GB said as he was talking so fast and with such emotion."
After the match, Atkinson spoke further to Bong. The FA reported Atkinson as saying Bong "did not appear upset or angry, just certain and insistent about what had happened".
The FA also said that in cross examination Bong said that "he did not say the words 'black something' to the referee, nor did he tell the referee that he had been called a black anything".