Roma owner James Pallotta does not regret jumping in fountain
Last updated on .From the section European Football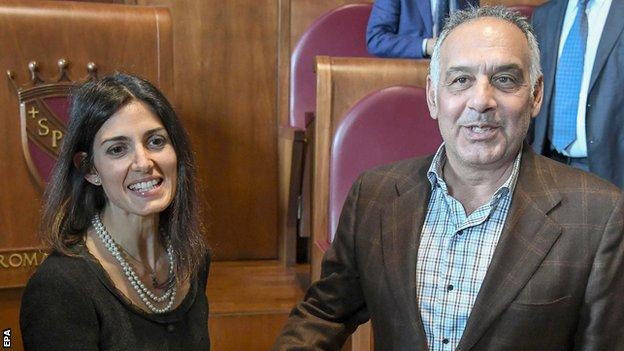 Roma owner James Pallotta sat in his hotel room early on Wednesday morning, reflecting on his team's sensational Champions League victory over Barcelona and the celebrations that followed.
"I don't think you're supposed to jump in the fountains any more," he said to himself. "I'll probably get a phone call and a fine."
Two hours later, the phone duly rang and the 60-year-old American was told to pay 450 euros (£390) for jumping in the Piazza del Popolo fountain.
He agreed, apologised to the Mayor of Rome, Virginia Raggi, and donated 230,000 euros (£199,196) towards the restoration of the famous fountain outside the Pantheon.
It's one way to celebrate your team beating Barcelona 3-0 at home to reach the Champions League semi-finals. But does Pallotta regret it?
"There was no point where I thought I shouldn't have done it," he said, speaking to the World Football show on BBC World Service.
"I have a history of going one step too far, going all the way back to college, so it didn't faze me at all."
He added: "I thought, 'why not start a thing called fix a fountain?' If you jump in one you have to buy or fix one."
'Roma needed and deserved this'
After Kostas Manolas' crucial third goal late on secured a 3-0 victory on Tuesday and progress on away goals, Pallotta stayed in the stands at Stadio Olimpico to "have a bunch of hugs" with fans before greeting each player individually as they came off the pitch.
"I didn't go into the locker room after because it's all about them and I said to them what I wanted to say about how they played," he added.
"I didn't see how crazy they were going in there until I saw some videos later on.
"I'm not one of those owners who think they have to be in the dressing room. In many cases they are going to have much more enjoyment without the owner around."
Pallotta then made his way to Piazza del Popolo before falling backwards into the fountain, surrounded by cheering fans.
Soaking wet, he returned to his hotel with friends and was given some towels to dry off.
"We sat around for another couple of hours shaking our heads," he said.
"What a feeling - the atmosphere in the stadium and looking around at a lot of the people who work at Roma and seeing how much it meant to them as well as the fans.
"I wasn't happy so much for myself. I was happy with what I was seeing and it didn't really strike me until that point how important it was for the city and how Roma really needed it and wanted it and deserved it."
'No choice but to sell Salah'
Pallotta said Roma had "no choice" but to sell Mohamed Salah to Liverpool last summer after the Egypt winger told the club he wanted to return to the Premier League.
"He had one year left on his contract and what were we going to do? Either keep him for that year and then get zero or sell him," he said.
Since joining the Reds in a 39m euro (£34m) deal, Salah has scored 39 goals in all competitions and is the leading scorer in the Premier League with 29.
"Salah has obviously had an incredible year. Jurgen Klopp has clearly figured out how best to utilise him, playing in sort of a different position than here at Roma," said Pallotta.
"We don't have the revenues those other teams have so you have to buy and sell smarter, but when we look at the players that we've sold like Salah, we had no choice."
Pallotta said not many teams other than Liverpool were "banging down the door" to buy Salah.
"A lot of other teams are probably kicking themselves that they didn't take a closer look at him," he said.
"We'll see next year - teams will try and figure out how to play the guy, if they can, compared to how they did only seeing him once or twice this year."