Swansea City: Boss Carvalhal hails 'beautiful flower' Ayew
Last updated on .From the section Swansea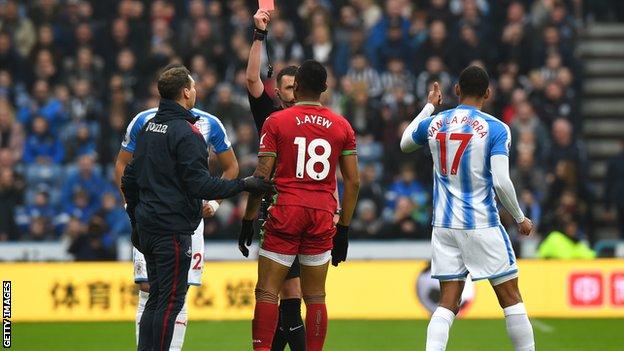 Swansea City manager Carlos Carvalhal says he is delighted with the form of returning striker Jordan Ayew.
The Ghana forward returns for Saturday's Premier League home game with Everton after a three-match ban.
"To me he is one of the best attackers in the Premier League, a fantastic addition to us," said Carvalhal.
Carvalhal also confirmed there has been no contact from Man United for defender Alfie Mawson, despite reports linking him with a move to Old Trafford.
Ayew like a beautiful flower
Ayew, who has been joined at Swansea by his brother Andre, has scored six of his ten goals this season since Carvalhal arrived just after Christmas, having struggled for consistency before then.
Asked what he had done to improve Ayew's form ahead of his return from a three-game ban, Carvalhal joked: "I don't know how good he was before. I kicked him in the neck and said 'let's go!'
"I put him in the correct position and gave him confidence to play… that's what we did to him.
"It is my surprise people were being negative about him before I arrived."
Searching for one of his famous analogies on Ayew, Carvalhal compared him to a flower.
"If you have a flower, if you care with it, correct water and correct sun, it will be very nice. If it has too much sun and water it will die. So we have given the players a nice environment, this is easy and natural in my opinion. This is what we try to do."
Mawson move not in works
Carvalhal denied any contact with Manchester United over defender Alfie Mawson despite reports they are scouting the former Barnsley defender.
Carvalhal is close friends with United boss Jose Mourinho and says he would know if there had been any contact from the FA Cup semi-finalists.
"I'm not (aware of any interest). As you know I have a relationship with Mourinho and Mourinho never talked with me about that," he explained.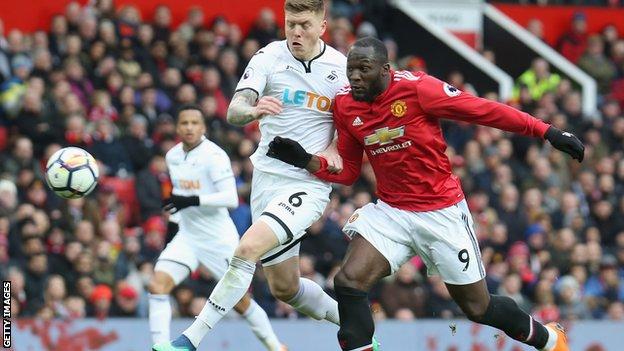 "If Manchester United are interested in him, or City, or Chelsea, or Liverpool, to me it is not a surprise because he is a very, very good player.
"But I look to this in a positive way not negative, I am very happy about that, if the big, big clubs are interested in our players... of course I am happy about that, I'm not worried, I am very happy."
Sanches still away and unavailable
Carvalhal had less encouraging news about Portuguese loan midfielder Renato Sanches, who has been ruled out since the end of January with a hamstring injury.
Sanches has been in Germany receiving treatment with parent club Bayern Munich and was expected back at Swansea this week.
However his arrival has been delayed and he will have another scan in Germany next week to decide whether he can return to training. Carvalhal is still convinced the 20-year-old can still play a part in the club's battle for survival.
"I believe he can be involved, it depends when he starts training and the physical condition and after the games and the opportunities also.
"But if he comes back to training, he can be involved in the last games and we expect that.
"He is desperate to come back, I talk to him often. He is desperate to train, to play and be happy because a player who is not training is not happy."