Man Utd: Sir Bobby Charlton Stand work at Old Trafford not imminent
Last updated on .From the section Man Utd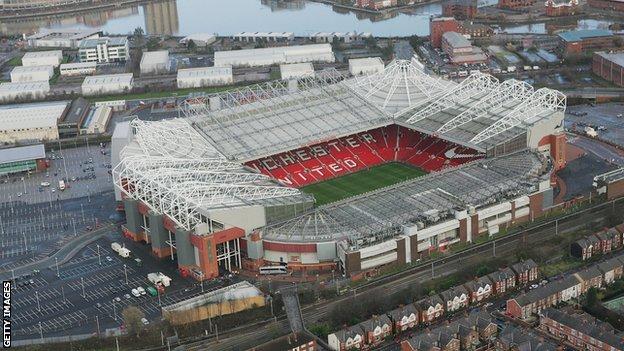 Manchester United have been put off expanding the capacity of Old Trafford "in the near future" because of logistical problems.
Plans have been drawn up three times in the last decade with a view to redeveloping the Sir Bobby Charlton Stand. That would take the capacity of England's biggest club ground to over 80,000.
However, with a railway line running directly behind it, and houses just beyond that, work on that stand is considered hugely complicated.
Unlike Liverpool, who last year increased the capacity of Anfield to more than 54,000 while continuing to host matches, United would probably have to vacate their stadium to allow the work to take place.
Both Tottenham and Chelsea - who will move into 60,000-capacity stadiums over the next few years - have the neutral option of Wembley as a home while work is in progress, but the only feasible local alternatives to Old Trafford are owned by rival clubs.
"It's a very complex engineering challenge to deliver," Manchester United managing director Richard Arnold said.
"It would be a multi-season challenge and it isn't certain that there's a way of doing it which doesn't render us homeless."
From the start of next season, Old Trafford's capacity will fall from just under 75,000 to 73,300 because of work required to accommodate higher numbers of disabled supporters.
Analysis
Expansion of Old Trafford has been on the agenda for a number of years. Indeed, former manager Sir Alex Ferguson joked a higher roof on the main stand would be "somewhere to hang the press from".
The costs involved are enormous, though - probably in excess of £200m for around 10,000 extra seats with limited additional corporate facilities.
Improved technology means there is no longer a requirement to build over the main Manchester-Liverpool railway line that runs along the back of the south stand. But major logistical issues remain.
There is no space behind the stand, so the heavy machinery required for the project has no obvious place to go. Obviously, the pitch is out of bounds and the spaces at the sides of the stand are heavily populated by fans on matchdays. Furthermore, the stand itself holds the changing rooms, the TV gantry, press box and studios, all of which would need to be relocated.