Cardiff City: Neil Warnock happy to be 'hunter not the hunted'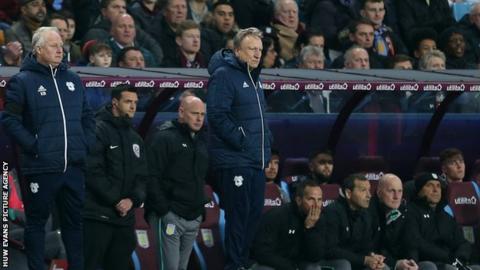 Manager Neil Warnock says he is looking forward to being "the hunter not the hunted" after Cardiff City lost their Championship automatic promotion berth.
The Bluebirds are out of the top two for the first time in two months after being overtaken by Fulham.
Cardiff have lost their past two games against leaders Wolves and fourth-placed Aston Villa, while Fulham are undefeated in their last 20 matches.
"Now we have to regroup and we still have a great chance," Warnock said.
Cardiff started the season as outsiders to win promotion, but have been a fixture of the top two for almost nine weeks with Warnock named as manager of the month for a record 10th time.
Warnock believes the pressure will now build on Fulham with the Bluebirds determined to overhaul them.
"I think it is nice to be the hunter, rather than the hunted," he continued.
"Fulham are a good side, they have been talking a good game, but they are not all simple games and we have got an opportunity.
"We don't need to get too down. You can't decide missing two penalties (against Wolves) and then the (Aston Villa) goalkeeper having a world beater, that's life I am afraid.
"Fulham think they will win every game, but they might be surprised and we have to keep giving the same sort of effort.
"Luck has the habit of evening out, hopefully we will have that in the coming weeks.
"We will keep fighting until the end."
Warnock says he thought his side did enough to secure victory at Villa Park where Jack Grealish's late strike secured a narrow win for Steve Bruce's side.
"I don't know how we have not won with the chances we had. There were so many chances. I can't fault the lads at all," he said.
"It is tough to take but football is a cruel game sometimes.
"You would think Villa had won the World Cup with the way they celebrated at full time. We've come a long way.
"People will say beating us is a fantastic result and that just shows how far we have come."