Manchester City knocked out of Champions League by Liverpool - fans' reaction
Last updated on .From the section Man City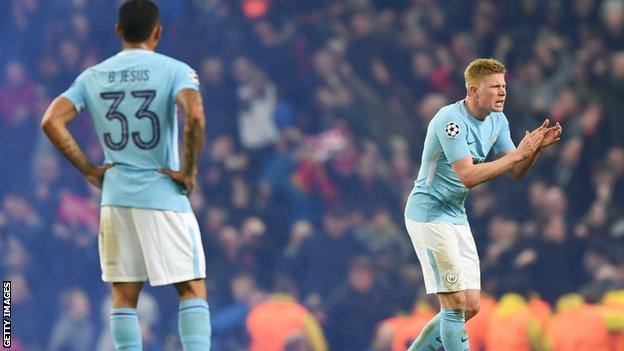 A terrible week for Manchester City was rounded off as they crashed out of the Champions League at the hands of Liverpool on Tuesday, the Reds' 2-1 win at Etihad Stadium sealing a resounding 5-1 aggregate victory in the quarter-finals.
City's first-leg defeat at Anfield last Wednesday was followed by surrendering a two-goal half-time lead in the Manchester derby to lose 3-2 to neighbours United on Saturday.
However, it has still been a fine season for City, who won the Carabao Cup in February and hold a 13-point lead in the Premier League over nearest challengers United, with just six top-flight fixtures remaining for both clubs.
BBC Sport rounds up the views of fans and pundits on the impact the last seven days have had on an otherwise stellar campaign.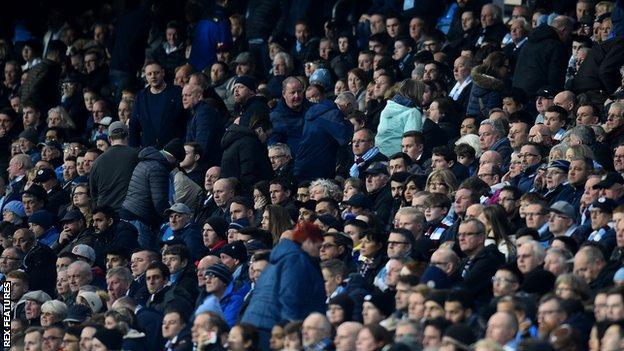 'I feel fans are still questioning Pep Guardiola's bottle'
John Hardwick from Northampton:
I'll be honest, I was hoping to win the Champions League but wasn't sure we would this year. But what has taken the gloss off the season for me is Saturday - we should have been holding the Premier League trophy up in front of the Reds and saying look at this. What happened has spoilt it a little bit.
The title is the most important thing, though, and the Champions League would've been a bonus.
If we drop points against Tottenham on Saturday then it will look like we are limping over the line a bit - people will ask questions and the rest of the teams that we are playing who need points will come after us, and that is going to make it even harder for these guys.
Will City re-write the record books?
With only two league defeats all season, City have amassed 90 league goals and will reach 102 points if they win their last six games, smashing the record Premier League points tally of 95 - accrued by Chelsea in 2004-05 - in the process.
Andrew Bucknall, season ticket holder for over 30 years:
I was resigned to the fact we'd be going out. City being City, you half expected it to end 3-3 and us to lose in the last minute. The interesting thing was to see how we played after losing to Liverpool and Manchester United. That for me is the measure of any team and the measure of a person - how do you respond in a crisis?
I feel fans are still questioning Pep Guardiola and his bottle. They look at it and say 'you've done all this but still lost to Man United and Liverpool' - who I suppose, as the two most successful clubs, remain the benchmark.
It's as though people are trying to cheapen City's achievements this year though - we've just had a bad week at the office.
We've already won the League Cup and are 13 points clear in the Premier League. A lot of Blues are flapping. They are flapping because they still think it could all go wrong, but we're not realistically going to lose five games in the league.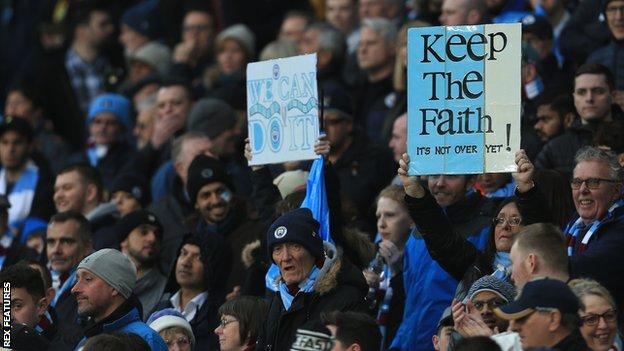 Glenn Brodie from Manchester:
We have to look at the bigger picture. It has still been a brilliant season - we have beaten everyone in the Premier League - winning the Champions League would have just been the icing on the cake.
Julian Hayes, from Hazel Grove:
Losing to Liverpool and Manchester United has taken a little bit of the gloss off the season. It's still a successful year but it would've been nice in the league to wrap things up against United. But it didn't happen because we weren't good enough on the day and the team didn't manage the game well enough when we were 2-0 up.
Somebody had a go at me - another fan - at the derby for clapping the team off at the end of the game. I thought they played OK, particularly in the first half. Obviously the defending was shocking but it was a decent performance and they came back and could have got a draw.
I think we've shown in the Premier League that we can generally bounce back from any setbacks so I've got no real concerns on the back of this.
Andrew Taylor, from Manchester:
It has been a bad week and I think we will struggle against Tottenham at Wembley too. It is a shame that we have not wrapped it up by now, and that we have not done it in style like we have done the rest of the season.
As for the Champions League, I thought we would get to the semi-finals but I didn't think we were good enough to win it.
Sam, lifelong City fan:
I am grateful for what we have and what we do well. People ask why l am not excited about what we are doing and it's almost as if I am waiting for the shoe to drop. There is a sting in the tail somewhere. Decisions went against us but that's football.
We played as good a game as we had and we lost, so congratulations Liverpool.
Man City record since 2010-11

Season

PL position

FA Cup

League Cup

CL

EL

2010-11

3

Winners

3rd round

-

Last 16

2011-12

1

3rd round

Semi-finals

Group stage

Last 16

2012-13

2

Final

3rd round

Group stage

-

2013-14

1

Quarter-final

Winners

Last 16

-

2014-15

2

4th round

4th round

Last 16

-

2015-16

4

5th round

Winners

Semi-final

-

2016-17

3

5th round

4th round

Last 16

-

2017-18

Currently 1st

5th round

Winners

Quarter-final

-
'City are victims of their own success'
Chief football writer Phil McNulty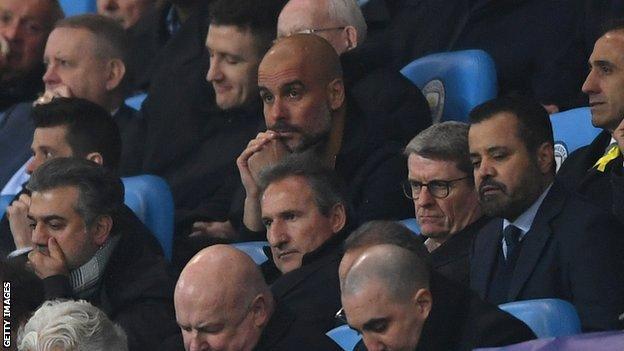 Manchester City's week of misery has led to suggestions that the champagne football Pep Guardiola's team have produced this season might actually end up going flat.
There is no escaping the sense of disappointment that accompanies what was eventually a convincing loss over two legs to Liverpool in the Champions League quarter-final, and the concession of a two-goal lead at home to derby rivals Manchester United on a day when they could have won the Premier League title.
City's loss to Liverpool will be particularly painful given that the Champions League is the ultimate goal for the club's ambitious Abu Dhabi-based owners - but the idea that their season could now be viewed as some sort of anti-climax is nonsensical.
Is the season of the 'Invincibles' at Arsenal in 2003-04, when they went 38 games unbeaten and won the title by 11 points, viewed as a relative failure because they lost over two legs to Claudio Ranieri's Chelsea in the Champions League quarter-finals? No.
Pep Guardiola and his team are currently the victims of the modern trend to jump to instant judgement. They are actually the victims of their own success in making the Premier League title race seem over since they went top in September.
City have taken the excitement out of the title race by their vast superiority. If their season is an anti-climax, how every other club in the Premier League would love one just like it.
Guardiola was brought to City with the intention of eventually bringing the Champions League to Etihad Stadium - and even though it has not happened this season there is enough promise in the team and ambition in the boardroom to offer serious hope this will happen in the not too distant future.
Plenty of City fans - and it is worth pointing out that the team were warmly applauded off by the home supporters even in defeat by Liverpool - are only too happy to point out that they are about to "celebrate" the 20th anniversary of dropping into English football's third tier.
As for this season, City have been spectacularly exciting to watch, have lost only two league games (to Liverpool and Manchester United), drawn just three, scored 15 more goals than any other team and currently lead the table by 13 points. Their coronation as champions is a formality.
This season, in the final reckoning, can be classed as a great success - with Champions League disappointment admittedly - for a team that has graced the top flight and drew comparisons with the greatest the Premier League has had to offer not so long ago.
The comparison was always a little far-fetched given Manchester United's unique treble of title, FA Cup and Champions League in 1999, as well as Arsene Wenger's "Invincibles" five years later - but this season Manchester City have unquestionably produced some of the finest football the Premier League has seen.
Manchester City will be bitterly disappointed this morning but if anyone is tempted to suggest this season is a failure or an under-achievement, it is the sort of failure and under-achievement every other club in the Premier League and plenty throughout Europe would grasp at in an instant.
'City looked jaded' - what the pundits said
Stephen Warnock, ex-Liverpool defender on BBC Radio 5 live:
I feared for Liverpool at the start of the game. It was a terrible start but they showed character. Jurgen Klopp had to have got in to them at half-time and told them it wasn't adequate, it wasn't good enough.
Manchester City looked jaded and Liverpool deserved the win.
Henry Winter, chief football writer for the Times on BBC Radio 5 live:
Pep Guardiola is a very intense, driven individual and he will be at the training ground first thing tomorrow morning looking at what happened, why Nicolas Otamendi has run out of steam because he is making major mistakes at the back. He will analyse this.
On the controversial refereeing decisions:
I do have some sympathy with Pep. Uefa have these Harry Potters with wands behind the goals and Uefa don't believe in the Video Assistant Referee (VAR). So even though VAR has had a difficult season, in terms of getting correct decisions on the night it would have been great.