Rangers: Graeme Murty's future not hinging on Scottish Cup v Celtic - McCoist
Last updated on .From the section Scottish Premiership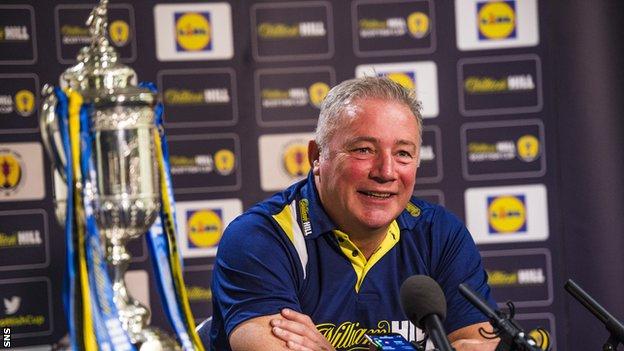 Graeme Murty's future as Rangers manager does not hinge on beating Celtic for a place in the Scottish Cup final, says Ally McCoist.
Murty's side will be aiming to dash Celtic's hopes of potential back-to-back trebles at Hampden on Sunday.
"I don't think the chairman Dave King will be saying he has to win the game or he's not getting the job," said the former Rangers boss.
"I think you have to take a step back and weigh everything up."
Interim boss Murty was appointed manager until the end of the season in December having been put in charge of the first team following the sacking of Pedro Caixinha in late October - the second time in a year he had been caretaker.
"Has there been an improvement in the team and the squad, a better level of player and more consistency? Yes," McCoist suggested.
'There's a lot of pluses'
"So there's a lot of pluses - but the question is: Has the improvement been enough for the board for Graeme to get the job?
"Or do they believe someone else could come in and make a quicker improvement?
"This weekend is a must-win game, as all Rangers games are, but I would say it is totally wrong to say this is Graeme's last chance of getting the job."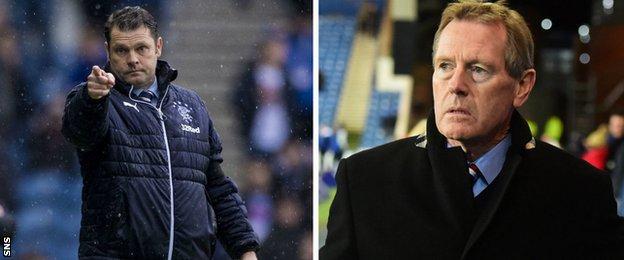 King issued a statement earlier this week, stating that Murty can "be proud" of his tenure as the chairman emphasised Rangers' need to make "the best appointment".
"If you read Dave's statement, I don't think there's an awful lot wrong with it," said McCoist. "Maybe the timing will have surprised a lot of people.
"But, from where I'm sitting, he hasn't said who or who isn't getting the job. He's very aware of the fact that, in most people's opinion, Graeme has done a very good job so far and would certainly come into the running longer-term to get the job.
"I think a lot of people have interpreted Dave as saying he isn't getting the job, but I certainly haven't taken that from reading the statement.
"He's 100% correct when he says it is an unbelievably important appointment. Probably as important as it has been in many, many a year.
"But he didn't say Graeme wasn't getting the job."