Safe standing: 'Fans demonised by law' campaigners say
Last updated on .From the section Football292
All-seater stadium laws "demonise" football fans and "make no sense", safe-standing campaigners have claimed.
That decision has angered campaigners who argue the law is outdated.
"The legislation surrounding standing has always been terrible. It's now ludicrous," said the Football Supporters' Federation's Peter Daykin.
But the government says all-seater stadiums "remain the best means of ensuring the safety and security of fans".
Is the law fit for purpose?
West Bromwich Albion's safety advisory group - consisting of various members, including emergency services and the local authority - supported the club's proposal to apply to the government to be considered for a safe-standing pilot.
The club has said it found the decision not to accept the experts' support "surprising".
"It makes no sense at all, particularly when we know that thousands of supporters are persistently standing in every single ground across the UK," said Andrew RT Davies, leader of the Welsh Conservatives and an advocate of safe standing at grounds.
One of the main drivers for West Brom's proposal, the club says, was to safely deal with the issue of fans standing in seated areas at the ground.
"This legislation was drafted in a different era, to address a different set of problems, and the government's continued opposition to safe standing is actually making it harder for clubs to guarantee supporter safety," Davies added.
The Football Spectators Act was brought in following recommendations made in the Taylor Report into the 1989 Hillsborough disaster, which claimed the lives of 96 Liverpool fans. Under it, all clubs in the top two divisions of English football must have all-seater stadiums.
Davies has previously called for stadium safety rules to be devolved to the National Assembly for Wales so that a safe-standing pilot could be conducted at grounds in Wales.
"The all-seater policy demonises football supporters with a ban that doesn't apply to concert goers, boxing fans, or people out for a day at the races," he said.
"Safe standing is backed by the overwhelming majority of fans and it's time for politicians to listen, and to drive forward a sensible discussion on this issue."
Daykin, who heads the Football Supporters' Federation's safe-standing campaign, added: "The whole tenor of the debate on standing has changed massively in recent years."
What is the government's stance?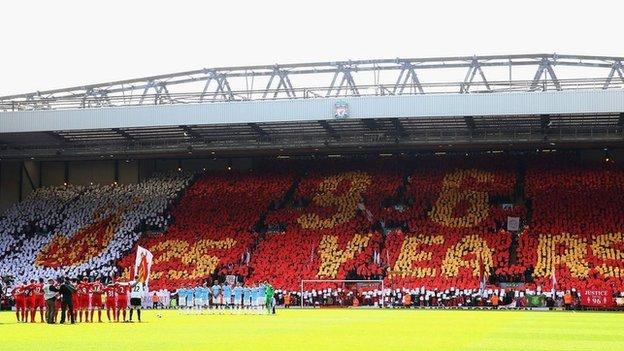 Government policy is that all-seater stadiums "remain the best means of ensuring the safety and security of fans".
In February 2017, it said it was "unconvinced" by the case for safe standing but that it would monitor how it was working at Scottish Premiership club Celtic.
"We have no plans to change our position and introduce standing accommodation at grounds in the top two divisions covered by the all-seater policy," a spokesperson for the Department for Digital, Culture, Media and Sport said in response to West Brom's proposal on Monday.
"Alongside the Sports Ground Safety Authority, we will continue to monitor the issue of spectator accommodation and the use of safe standing where it is permitted."
Do fans want it?
English top-flight clubs have met to discuss the issue. They have tasked the Premier League with examining safety, fan and technical issues, as well as legislative issues - before further discussions take place.
However the topic still remains an emotive - even divisive - one given it arose from the Hillsborough tragedy.
Opposition has been vocal from some Liverpool fans - though last week supporters from the fans' group Spirit of Shankly travelled to Celtic to see how safe standing area worked there. All-seater laws do not apply to Scotland.
"We came away thinking it was a very positive experience," the group's James McKenna later told the BBC.
Spirit of Shankly conducted an online poll last year in which 88% of the 17,910 people who voted said they were in favour of rail seating, a type of safe standing.
Last year, League One Shrewsbury Town were given permission to install rail seating following a campaign by fans who raised the money to pay for it through crowdfunding.
The EFL - which counts the 24 second-tier Championship clubs among its 72 members - wants all its clubs to be able to install safe-standing areas "should they wish" and has lobbied government.
The Liberal Democrats have pledged to introduce safe standing if elected to government, saying 90% of football fans want that choice.
And last month, cross party MPs wrote to Home Secretary Amber Rudd urging a review of the law on safe standing.
Would the law need to change?
Jon Darch, from campaign group Safe Standing Roadshow
The law does not have to change for safe standing to be introduced at grounds in the Premier League and Championship. The way in which the secretary of state exercises the power given to him/her by the act has to change. They can decide on their own merits if they want to allow it and what restrictions they want to impose. Since 1994, the secretary of state has chosen to exercise their power by forcing stadiums of clubs in the top two divisions to go all-seater.
This is not the end of the matter for West Brom, the government has scored an own goal with their decision. West Brom's application was based solely on safety. It is an illogical decision. Had the pilot for the rail seats not worked, West Brom would have been happy to take them out and revert back to being all-seater.
Take the case of Brentford, currently in the Championship, who have terraces at their home of Griffin Park. They are currently playing their fourth year in the division this season, but last summer [then culture secretary] Karen Bradley accepted that it would be an unreasonable expense to ask to them to go all-seater because they are in the process of building a new ground. However, delays in building their new stadium at Lionel Road could mean spending an extra two or three years with terraces in the Championship.
It is completely bonkers, the mess is down to the government and the Department for Digital, Culture, Media and Sport. We could have a situation where Shrewsbury, who could get promoted from League One to the Championship, and West Brom are in the same league - but one has been given permission for rail seating and the other has not.
Analysis - football must unite to force change
Richard Conway, BBC Radio 5 live sports news correspondent
West Bromwich Albion aren't alone in wanting to introduce safe standing, but they and the other clubs who want to install rail seating must first convince the government of their argument.
Significantly, West Brom had the full backing of their safety advisory group - which contains representatives from police, fire, ambulance services and the local authority.
The English game perhaps needs to combine with one voice - Football Association, EFL, Premier League and fans' groups - and present a united position to the government before anything changes.
The next few months may show if a sense of common endeavour exists.
It will happen - West Brom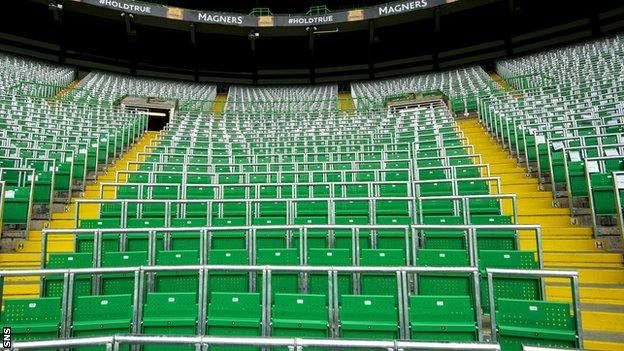 Mark Miles, WBA director of operations, on BBC Radio 5 live
Anybody that goes to football can see there are large numbers of people who go to football who are standing already, and football clubs have to manage those people standing.
We've tried so many ways to do that - information, ticketing, stewards clearing gangways. The one thing we haven't tried is the installation of the rail seating to create the safe-standing areas, which we believe would make it safer for supporters who are choosing to stand.
Trying to get several thousand people to sit down - it's impossible to do. The best way I believe we can do that is by installing the rail seating.
I think the safe standing, the rail seating, will eventually come into football. Unfortunately it won't be here for next season and I'm not sure it will be here in the short to medium term.
But I do believe it will come in and we remain open to discussions with the government.