Man City v Liverpool: Pep Guardiola's team will have shackles off - Jermaine Jenas

By Jermaine Jenas
MOTD pundit
Last updated on .From the section European Football

So far, the biggest week of Manchester City's season has been a failure - but they still have the chance to change the way it ends.
They trail Liverpool 3-0 after the first leg of their Champions League quarter-final but if I was a City player, would I still believe they can get through? In that team, 100% yes.
At their best, City are so good going forward that I think they are capable of getting the result they need on Tuesday night - and that is the mindset they will have too.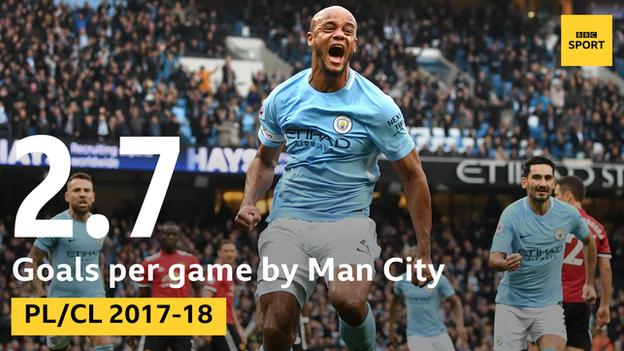 City have had so much disappointment over the past few days but they are not out of Europe yet.
They know exactly what they have to do, and the shackles will be off - they will throw everything they have got at Jurgen Klopp's side from the start.
It will be very interesting to see what Liverpool do in response. Their back-line has been getting a lot of praise lately, but it is going to get a real test at Etihad Stadium.
The first 20 minutes are going to be so important in deciding the outcome - and if City get a early goal their confidence will soar and I think they will go on and get the other two.
Whether they can keep Liverpool out at the other end is another matter, but the basis for any argument City will go out is that Liverpool will score an away goal - not that Pep Guardiola's side won't get at least three.
An ordinary season - or a way of reigniting it?
Clearly it helps Liverpool that City will have to take some risks, and that includes with their line-up.
Guardiola has to put out a side that fits the task they face, which is why I am expecting him to go for it with the type of team he sets up, right from the back.
It would not surprise me to see John Stones and Aymeric Laporte together at centre-half to bring the ball out, and Fabian Delph at left-back and Kyle Walker on the right both getting forward too.
Yes, they will be open to counter-attacks but they have no choice.
We have expected so much from Guardiola's side that if it turns out they go out of the Champions League on Tuesday and only win the Premier League and Carabao Cup, then what might have been an outstanding season will feel like an ordinary one, despite what they have achieved.
I just expected this team to at least get to the semi-finals of the Champions League and it is certainly not going to sit well with their manager if they fall short.
On the other hand, if they do find a way to get past Liverpool then it will be by doing something spectacular that will ignite their season again.
The mental effects of back-to-back defeats - City can't afford doubts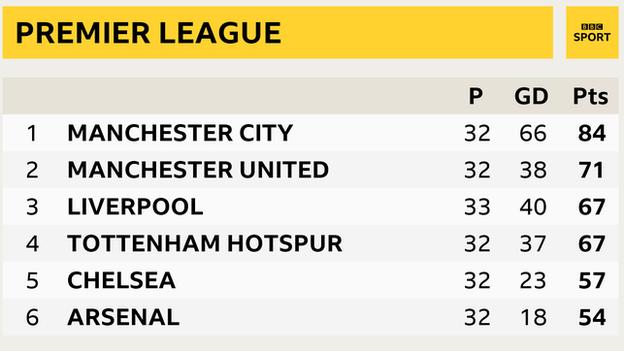 Before last week, City had lost only four out of 48 games this season, and two of those defeats were essentially dead rubbers in the Champions League.
So Guardiola and his players will be hurting after following their defeat at Anfield by losing at home to Manchester United, especially because a win would have seen them crowned Premier League champions.
It is inevitable that they will still win the title because they are so far clear, but they will be devastated not to have done it in the derby.
That scenario is unlikely to happen ever again - it was a special moment for them but the chance is gone now, and this has turned into their toughest period of the season.
They were rocked by their performance and result against Liverpool, initially.
But they had responded to each of their previous defeats this season with impressive wins and, at half-time against United, it looked like they were on to another good thing.
At that stage, when they could have been five or six goals ahead, I was thinking that this is what Liverpool are going to be up against.
However, it all went wrong in the second half when they conceded another three goals. We don't know what those two games have taken out of them mentally - or what sort of reaction they will bring.
Has that result at Anfield affected them more than they thought it would?
That is probably the biggest worry for Guardiola, because he cannot afford for any of his players to have any doubts.
Have City lost their aura?
I would not say that City's first-leg defeat last week made me question them at all, purely and simply because Liverpool could do that to any team at Anfield.
Real Madrid, Barcelona, you name it - they could turn up there, have a bad day and get pumped 3-0.
What happened against United, when City let a two-goal lead slip away, was strange and I don't know if the emotion of being so close to winning the title meant they took their foot off the pedal a little bit in the second half.
But for me, having played in games that have gone the same way, it was not a case of City being found out, or switching off - more that it just wasn't their day.
When I say that, I mean it felt like every single thing that could have gone against City did - without taking anything away from United.
From the penalty decisions they did not get to Raheem Sterling missing chances when City were on top, it was just one of those days.
Sterling will be heavily criticised for his misses but he has scored 21 goals this season and those sorts of chances have usually ended up in the back of the net.
City lost control - can they get it back?
If I was going to break the derby game down and analyse it tactically, then I would say what City were missing was the level of control they have had in most of their games this season.
Usually, when they go a goal or two up, they can just dictate the game, set the tempo and get their players on the ball.
This time, that midfield area was a little bit chaotic. United did really well to create that but they were helped by the absence of Sergio Aguero leading City's attack at the top end of the pitch.
City were without him and Gabriel Jesus and that let them press as high as they wanted to. It meant their midfield got closer to City's players and - like Liverpool at Anfield last week - they did not allow them the space they like to operate in.
Their capitulation in the second half - when they conceded three goals in 16 minutes - was down to a combination of things, but it still throws into doubt whether it will happen against the Reds, and also against Tottenham at Wembley next weekend.
United did it a bit differently but both Liverpool and Spurs are capable of the kind of intense press and then breaking from high positions that causes City problems - and I am sure the Reds will try to do it again at the Etihad.
Going on the attack is the only way both teams know how to play, which is why they are so good to watch.
It would not surprise me if City score a couple of goals to get back into the tie - and I can't wait to see how it turns out.
Jermaine Jenas was speaking to BBC Sport's Chris Bevan.