World Cup 2018: Are England fans put off by Russia or their own team?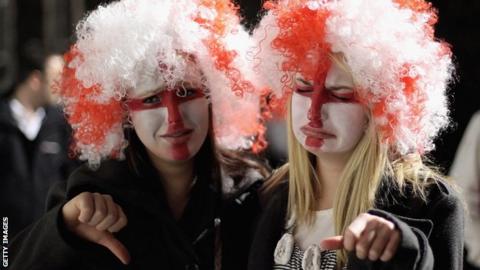 Still interested in going to the World Cup in Russia this summer?
The latest ticket sales phase opened on Wednesday and figures so far show the appetite among England fans is not what it was four years ago.
With 30,711 tickets allocated so far, England fans are only the 11th most numerous of those making the trip from other countries.
During the second sales window which closed on 3 April, there were more tickets taken up by fans from China and India, neither represented at the finals, than from England.
By February 2014, 51,222 tickets had already been allocated to England fans heading to Brazil, making them sixth on the list of countries.
Tickets are allocated by Fifa according to demand. So why the relative lack of interest? Apathy about the football or worries about politics or crowd violence? And are fans' fears misplaced?
Apathy towards the England team?
First and foremost, football fans want to see their team win.
In 2014, England were among the most heavily supported teams, despite a relative lack of success in international football in recent times.
The national team have reached the quarter-finals of a World Cup just twice in their past six attempts, and they have not won a knockout game at a major tournament in 12 years.
So are fans simply losing interest?
Garford Beck, the team manager of England Fans FC, thinks so, claiming that a lot of England fans "reached the end of the road after Brazil, because it was such a poor showing".
And CJ Joiner, a Coventry City fan and member of the FA travel club for the past five years, says that "boring football doesn't help" encourage fans to travel.
He has spent just over £1,000 to buy tickets for each potential England game - seven in total - but can return them and receive a refund should England fail to progress past a certain stage.
"England fans will have to spend a lot of money to follow the side in Russia, but under Gareth Southgate the side lack creativity," he told BBC Sport.
The threat of hooliganism?
Also at the forefront of fans' minds is the possibility of being caught up in violence between rival supporters.
England and Russia fans clashed on the streets of Marseille two years ago, before and after the Euro 2016 meeting between the two nations. There were also incidents inside the stadium on the evening of the game.
The Russian contingent in the port city were smaller in number but arrived prepared for conflict. Indeed, some England fans in a BBC documentary described the onslaught as a "military operation".
In the programme - Russia's Hooligan Army - a group of Russian ultras taunted their English counterparts and warned of violence at this summer's World Cup on home soil.
However, Anwar Uddin, diversity and campaigns manager for the Football Supporters' Foundation, told BBC Sport he expects the hooligans to be on their "best behaviour".
"I was in Marseille and the way the Russians went about their business was methodical - they were there to make their mark," he said.
"Seeing what is reported about some aspects of Russian society, people are going to build up an idea in their heads about what the country is like. It does make you think.
"But I would like to think the Russian fans will be on their best behaviour with the world watching on."
Heightened political tensions?
The nerve agent attack on former Russian double agent Sergei Skripal and his daughter Yulia on UK soil in March, led many to point the finger at Moscow.
The events in Salisbury have severely strained diplomatic relations between the UK and Russia but Beck, of England Fans FC, believes "anti-British sentiment from Russia is nothing new".
And although the last tournament was on another continent, he suggests more fans travelled to Brazil for the South American climate, and because the country "has a better image and is friendlier to England".
While most England fans acknowledge the threat of violence from their Russian counterparts, Beck raises concerns about the local police.
"I like Eastern Europe but when we go over there we do seem to get some poor treatment from the authorities."
Those claims of Russian police being heavy-handed are echoed by Coventry fan Joiner.
He said: "I actually think England fans will be OK in terms of opposing fans, but it's the police I would be worried about."
Official guidelines for travelling supporters from the foreign office state: "Due to heightened political tensions between the UK and Russia, you should be aware of the possibility of anti-British sentiment or harassment at this time.
"If you're currently in Russia or due to travel in the coming weeks, you're advised to remain vigilant, avoid any protests or demonstrations and avoid commenting publicly on political developments."
'We had one of our best trips' - are Russia fears misplaced?
But the recent experiences of Arsenal fans who travelled to watch their side against CSKA Moscow earlier this month for a Europa League quarter-final tie have been positive.
Danny, from Guildford, told BBC Sport: "I feel you're safer going to a sporting event than doing anything else.
"People have been so friendly. The stereotypes you have, so far they've been completely the opposite. Everyone's been chatty and friendly.
"I don't know if you can equate club and country - this is not as high profile. I'm not going to the World Cup but it's been a really positive experience.
"Quite a few of us go in large groups to games and when I suggested this trip they said 'don't be silly', because they didn't want to take the risk."
Sam, from north London, added: "A lot of people told us we were foolish for coming out here but it has been friendly, the city is beautiful, and it's one of the best trips we've been on.
"We've had a good reception from the locals. We were out until the early hours and there was no hostility.
"I was in Marseille when England played Russia and didn't have any problems - it's about where you position yourself. If you keep yourself away from the minority that cause trouble you'll be fine."
The supporters we spoke to said one of their biggest issues was paying £185 for a visa at late notice, although the cost of a visa for an England fan should be cheaper because they buy them earlier.
Racism and homophobia rife?
Last year, European football's anti-discrimination group Fare warned gay fans going to Russia not to show affection in public if they wanted to stay safe.
In January, Spartak Moscow were sanctioned after posting a tweet referring to their black players as "chocolates".
Russian politicians have been criticised for a 2013 law banning gay 'propaganda' - a law the European Court of Human Rights last year ruled was "discriminatory".
But former Chelsea and Russia midfielder Alexei Smertin urged gay and ethnic minority England supporters in March not to be deterred from travelling by fears of racist or homophobic abuse.
Smertin, who is now anti-discrimination chief for the finals, told BBC World Service fans' "minds would be changed completely" about Russia as a country.
Alexei Sorokin, chief of Russia's World Cup organising committee, has also played down safety concerns for UK visitors.
"We will ensure security in equal measures to all, from dignitaries to fans," Sorokin told TASS, the government-owned Russian news agency.
"To us, there is no difference which country people come from or what our diplomatic relations with them are. It is a shame that the games will be played in such circumstances."
However, the Football Supporters' Foundation's Uddin said the threat of racism was "one of the negatives" when weighing up whether to go to the World Cup.
"If you're going to spend a ridiculous amount of money following England you have to weigh up all the pros and cons," said Uddin, who is intending to go to Russia later in the tournament.
"There are a lot of negatives when thinking about Russia and the element of violence and racism is on the list. People have to be realistic and safety has to be a concern."
Could the FA do more?
Some England fans lay part of the blame with the Football Association.
To buy tickets through the FA for any away fixture or major tournament, England fans must be members of the travel club. But Sky Blues supporter Joiner says membership has significantly declined in recent years.
"There were 19,000 official members before the World Cup in Brazil four years ago, but there are only 11-12,000 now," he said.
Joiner also says the FA are not "enticing fans" to become members of the travel club and that there is a feeling among some that the organisation is focused on filling Wembley for home games.
"That's all the FA are bothered about because they generate more revenue from home fixtures," Joiner said.
In response, an FA spokesperson said: "We are always grateful for the travelling support that England receive and acknowledge that there are a number of factors that determine attendance at tournaments."