Cardiff captain Sean Morrison sorry for obscene Derby video - Warnock
Last updated on .From the section Cardiff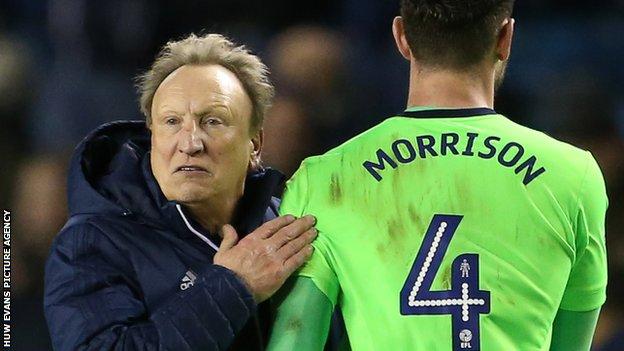 Cardiff City captain Sean Morrison has apologised to manager Neil Warnock after using offensive language to taunt Derby players in a social media video.
Footage showed Morrison claiming Derby's players were "all scared of playing" Cardiff following his side's postponed match against them in March.
Warnock revealed he had also seen a video from Derby's players and described the incident as "banter".
"I've told him I'm disappointed with him and he's apologised," he said.
"Even if it was in jest between two mates in a pub, there's certain language you shouldn't use and you can't condone that sort of thing. I think he understands that, he's really apologetic."
Warnock said there was rivalry but also friendship between the promotion-chasing sides, but has warned his players both about the dangers of social media and for other videos from the exchange - said to have taken place last month - to be kept out of the public eye.
"Whilst I don't condone the language, which leaves a lot to be desired, our lads have got videos of them as well," added Warnock, whose side face leaders Wolves at Cardiff City Stadium on Friday night.
"It was between themselves, a lot of banter.
"When you first hear about that you think 'oh no' but I've seen the videos our lads have got, which we're not prepared to release. You realise it's a lot of banter and a lot of hot air.
"I've seen the one they sent us - there'll be more headlines on that if we let that go out!
"I told Morrison I don't want any of the videos with the Derby lads involved or anything going out there, we don't want tit for tat.
"It's two high spirited teams doing very well and a lot of rivalry and friendship as well. But alcohol's a funny thing.
"I don't understand it but it was in good banter and it was two weeks ago, it's only just come out for whatever reason, one of their lads must have let it out to somebody. I don't want us to get our own back… let's move on.
"Social media is a dangerous thing and they've got to be warned about that. Maybe just a flippant comment on the night but nowadays nothing is sacred, it frightens me to death just answering the phone!"
Warnock had described the postponement of the game on 18 March as "disgraceful".
Opposite number Gary Rowett responded, joking he did not realise Warnock was "a qualified health and safety inspector".
The two clubs will play the rescheduled fixture at Pride Park on Tuesday, 24 April.
'I wouldn't swap many in my side'
Cardiff, currently second in the Championship, can cut the gap on leaders Wolves to three points - as well as extending their advantage over third-placed Fulham to eight points - with victory on Friday night, a game that is expected to attract the Bluebirds' biggest league crowd for 40 years.
Wolves have topped the division since October and this week saw three players - John Ruddy, Conor Coady, Ruben Neves - named in the EFL's Championship team of the season.
Promotion rivals Fulham and Aston Villa also had two players each recognised while Cardiff had no representatives, although the 69-year-old Warnock - aiming for a record eighth promotion - was named as manager.
"There's one or two who are the best in the league but not had particularly good seasons.," he said.
"I wouldn't swap many in my side. You don't realise how good some of our players are until you're coaching them.
"Our main asset is our togetherness. They don't need (any extra motivation). For me they're all player of the seasons."
Banter was 'distasteful' - Rowett
Derby boss Gary Rowett says he has not spoken with his players about the video, but has seen it.
"Having watched the video the language chosen was distasteful. But I think there was a little bit of banter between the players on that day, and some of the players are ex-team-mates," he explained.
"Let Cardiff deal with their own players how they choose to, but there was a little bit of banter flying about on the day and you'd probably have to ask those players in question.
I've not spoken to our players about it - I think our media team have spoken to the players in question.
I've not seen any other videos but I trust Neil (Warnock) is not going to lie in that scenario, but I'm not bothered about it.
I don't think our players will be particularly happy with some of the banter, but unless I see everything it's hard for me to judge. I will stand here and say there was some banter between some of the players who know each other and that's that."