Accrington Stanley owner Andy Holt asked to explain fast food arrangement
Last updated on .From the section Accrington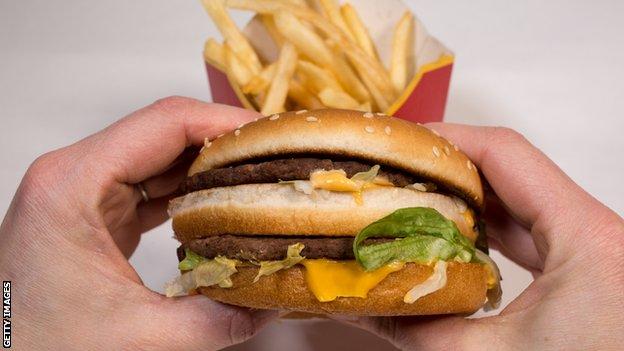 Accrington Stanley owner Andy Holt says he "reserves the right" to buy his players a burger following victories after the English Football League questioned the arrangement.
Holt said he gives the team £200 to get "McDonald's or the like" if they win - otherwise they pay for their own meal.
He tweeted that he received a letter "demanding an explanation" as it is not part of their standard player contract.
The EFL confirmed the League Two leaders had responded to their enquiry.
The burger bonus at Accrington goes against EFL regulation 61.6, which states that "full details of all payments to or benefits paid in cash or in kind on behalf of players must be included in the standard contract".
Bonuses "form part of the contract" and are to be included before the start of each season. However, exceptions may be made if the EFL are written to in advance.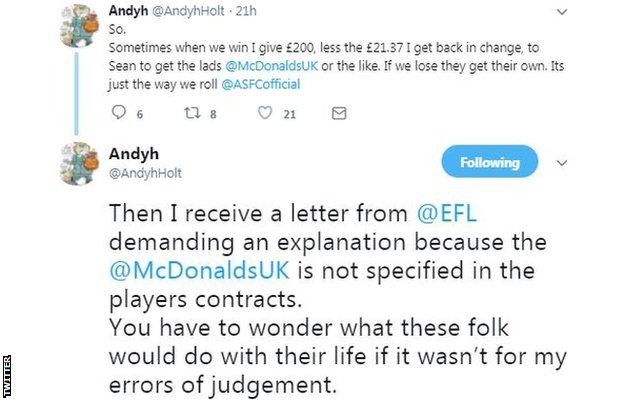 An EFL spokesman said: "As a result of a communication made by Mr Holt in relation to the payment of additional monies, the EFL has written to Accrington Stanley and asked them for their observations.
"The club has provided its response and the matter will be considered further in due course."
In a series of tweets leading up to Easter Monday's home game against fellow promotion hopefuls Notts County, Holt defended his "right to buy anyone a burger with my own money" and said it was "only the same as paying for a pre-match meal".
"You have to wonder what these folk would do with their life if it wasn't for my errors of judgement," he added.
In response to another tweet, he said: "It's my money John, not the club's. I spend it how I want, been known to give a free bar to our fans for 10 minutes too on the odd occasion."
Holt continued: "I don't for one minute think anything untoward in my actions. At least the EFL keep an eye on my twitter feed.
"I'm relaxed about it. Should put an expenses claim in, but I'd have to pay the bill either way."