Liverpool v Man City: Who has edge in Champions League quarter-final?

By Phil McNulty
BBC Sport chief football writer
Last updated on .From the section European Football544
The Champions League quarter-final meeting between Liverpool and Manchester City is not simply a domestic battle for a place in the last four of Europe's elite tournament.
It is a confrontation between two of Europe's most charismatic, high-profile managers in Liverpool's Jurgen Klopp and City's Pep Guardiola.
It is also a confrontation between the two best attacking sides in the Premier League, with 163 goals between them. And Liverpool are still the only side to beat Manchester City in their runaway title success.
So where will the key battles be and who will come out on top?
Titanic clash between Klopp and Guardiola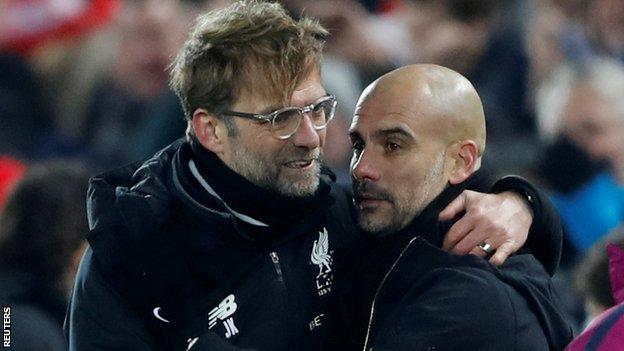 Klopp's record of six victories in 12 games against Guardiola with Borussia Dortmund and Liverpool - in opposition to Bayern Munich and Manchester City respectively - means he has the best record of managerial success against the Catalan.
It hardly makes Klopp Guardiola's nemesis. Guardiola has five wins, and both have had success this season with City winning 5-0 at Etihad Stadium in September before Liverpool came out on top 4-3 at Anfield in January.
Both managerial styles are so entrenched, principles so firm, that neither is likely depart from them even in a game of this importance.
Klopp's Liverpool will go all-out attack, while City will play the possession game bolted on to the pace of a superb attack, which is Guardiola's hallmark.
Former Liverpool defender Mark Lawrenson told BBC Sport: "This will be everything that is good about football. We over-hype many games these days - but this is a game that cannot be over-hyped.
"There are times people expect a classic and never see it, but I would be very surprised if this is anything less than that when these two teams and managers meet with a place in the Champions League semi-finals at stake.
"The hype is justified because they can't play any other way than by going at each other."
"I don't see anyone changing their style," said former Manchester City and England defender Danny Mills.
"City will try to keep the ball from Liverpool. Their defenders are getting better and better but they also have this ability to stop you having the ball.
"If you haven't got it you can't score and this is how Guardiola operates. City can sit deep, pass it around and keep the ball off you. This is the extra defensive strategy they will have."
And former Liverpool midfielder Jan Molby agrees that Klopp and Guardiola will not focus too much on the two league games this season.
"I think the two managers are so set in the way they play and approach games that it almost doesn't matter what happened in those games," said Molby.
"I'm not convinced Klopp and Guardiola are the sort of coaches who revisit games as much as other managers do.
"They look ahead. They know what they've got and believe if they get it right they will be difficult to beat.
"Yes, they will pay some kind of attention but it is about them. I do think the longer you can keep the game at 100 miles per hour from end to end, the better it is going to be for Liverpool - but 180 minutes is a long time."
Who will win the battle of the attacks?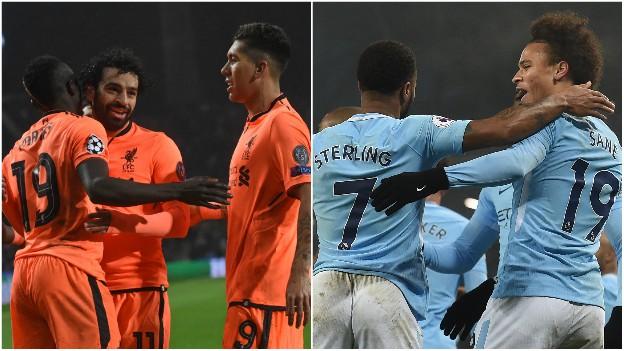 The centrepiece of the strategies of Klopp and Guardiola is an attack that has the potential to outscore any opposition.
Liverpool and Manchester City are the Premier League's top scorers with 75 and 88 respectively - so this Champions League quarter-final provides the perfect stage for the face-off.
Klopp's three-pronged spearhead of Roberto Firmino, Sadio Mane and Mohamed Salah have scored 75 goals in 119 games in all competitions - with Egyptian Salah scoring a remarkable 37 goals in 42 appearances.
City's attacking quartet of Leroy Sane, Raheem Sterling, Sergio Aguero and Gabriel Jesus have scored 76 goals in 149 games between them - statistics that illustrate how heavily reliant Liverpool have been on their big three.
Klopp's pressing game worked with success in the victory at Anfield and, as the below heat maps show, Mane, Firmino and Salah not only contributed three goals in a nine-minute spell around the hour-mark but were also key to putting pressure on City's defence.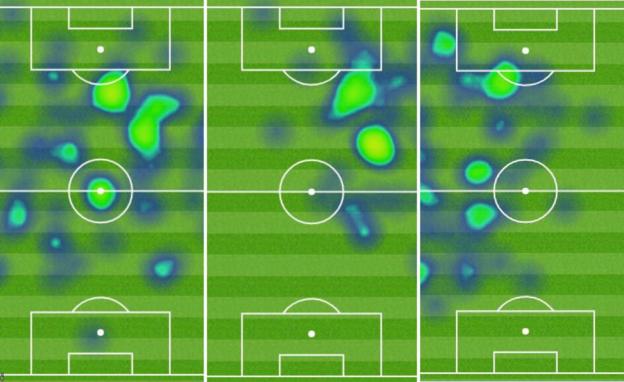 Salah's work is more confined to the opponent's half than the tireless Mane and Firmino and he will carry the main weight of Liverpool's attacking hopes after a devastating first season at Anfield.
"It will give Liverpool and their fans great encouragement that their best players are in such brilliant form," added Lawrenson. "Mo Salah just keeps scoring and seems like he can't miss.
"I've heard people say Mane has not been the same as last season. That's true because he was brilliant then, but he's still been very good.
"But Roberto Firmino has been outstanding as well without getting the same recognition as Salah. If Liverpool are to get through this tie he will play a big part."
It is this trio that Guardiola and City will look to subdue - but Klopp and Liverpool will be presented with a task that will be just as arduous.
Mills believes this is one of the key areas, with Liverpool unlikely to shut out City over two legs.
He said: "We laud Liverpool's three front players and rightly so. They have been exceptional, particularly Mo Salah - absolutely outstanding - but someone like Sergio Aguero has been doing that for the past five or six seasons and they also have Kevin de Bruyne, David Silva, Leroy Sane, Raheem Sterling and Gabriel Jesus."
And Mills is so impressed with the quality, balance and variety of Manchester City's attack that he asks a question many would regard as unthinkable after one man's stellar season at Anfield.
"It sounds daft but would Mo Salah get in Manchester City's team? All the Liverpool fans will say: 'Yes of course he would.' Who would you swap him for? Would you swap him for Sane? I'm not so sure.
"Manchester City have a fantastic balance going forward."
And Lawrenson added: "We talk about Liverpool's front three being able to scare any team left in the Champions League - which is true - but you can say exactly the same about Manchester City. This is the level we are talking about."
Will Liverpool draw confidence from Anfield win?
As Manchester City's brilliance has wreaked havoc throughout the Premier League this season, they will be returning to the scene of their only defeat in the competition this season.
So will this have any psychological impact on events on Wednesday?
Liverpool will gain confidence from their win but it is highly unlikely a team of City's calibre and experience will have theirs reduced.
And yet there is an element of the unpredictable about both league games this season, with Liverpool reduced to 10 men after Mane's first half red card for fouling Ederson at 1-0 in what was eventually a 5-0 loss at the Etihad, while City almost staged a late comeback with two late goals in their 4-3 loss at Anfield.
Molby said: "It is a lot more important to Liverpool knowing they can beat City than it is for City having to play the team that have beaten them.
"I think City are no longer in doubt about their qualities so the way they responded after that defeat was important. They just continued as if nothing happened.
"In terms of Liverpool, if you are playing a team that hasn't been beaten all season then you almost get to the level where you wonder whether it is going to happen but the fact that you have done it - even though some people will view that win at Anfield as convincing and some will not - it will be important for Liverpool to take that in the baggage with them. They know they can beat City."
Mills added: "Liverpool know they can beat City, know they are beatable, know if they get at them they can score goals against them.
"Of course it gives them belief. Liverpool will go into the game thinking they can win it. They have just got to be a little bit more savvy in that midfield and defensive area to shut up shop a little bit. I think the jury is out on whether they can do that.
"City will have the confidence of knowing what they can do. Liverpool will have the knowledge they can win but I doubt City will take much of that game into this one. They've won plenty of games since."
Salah v De Bruyne - the great personal battle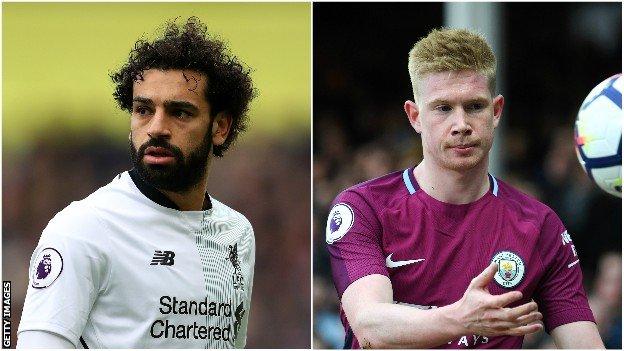 They are vying for the player of the year honours and have been the standout symbols of their team's success this season.
It is fair to expect Salah and De Bruyne to have a significant, potentially decisive, impact on this quarter-final.
Molby believes 180 minutes is simply too long for either defence to keep these two superb operators quiet.
"If you talk about who will have influence, I think it is a massive thing for City that Vincent Kompany is back and fit," said the Dane.
"Who is going to score goals for Liverpool? You can't get away from Mo Salah; he's just very good at what he does. The opposition know what he is going to do but they can't stop him. He is so quick, so alert, so sharp."
And he believes the brilliant Belgian De Bruyne is a central figure in City's gameplan.
He said: "Kevin de Bruyne takes responsibility because City want to play in a certain way. Guardiola trusts him to get that going and that is his contribution.
"He may not have been as sharp as he was earlier in the season over the past few weeks, but it is almost as if their job is done in the Premier League.
"I think there is plenty of time for both of them to make massive contributions."
And on that player-of-the-year debate, Molby is prepared to make his choice.
"Well it looks like Salah will end up as the Premier League's top scorer but we have one of them every year. Kevin de Bruyne has taken Manchester City 16 points clear so I tend to sway towards Kevin de Bruyne."
Who will come out on top?
Liverpool and Manchester City both have heavy attacking weaponry at their disposal and the refusal of Klopp and Guardiola to ever take a backward step makes this a potential Champions League classic.
But who will win it?
"Liverpool - just a gut feeling," said Molby.
"I think Liverpool are better at these games where you have to lift yourself and find yourself against better opposition. I just think there is something in the club's DNA that means they refuse to give in.
"Klopp's record against Guardiola is good and City's recent record at Anfield isn't.
"There are a lot of reasons to be cheerful from a Liverpool perspective, but I just have this feeling. I would not have been as confident had Liverpool drawn other clubs.
"Don't get me wrong, I am certainly not confident they will beat City - but I have a feeling they will."
However, Mills takes the opposing view. "Liverpool are the only team to have beaten them but what's the aggregate score over the two games? 8-4 to Manchester City," he said.
"Liverpool certainly have the ability to beat Manchester City, and they have proved they can do it. Their attacking prowess is second to none.
"The question is do they have the ability to beat them over two legs and play in a way that can get them through the tie?
"I just think about Manchester City all-round - and just look at their league position and the number of points - over two games. I cannot see Manchester City drawing both, or drawing one and losing one.
"So it's definitely Manchester City for me."
My Liverpool and Man City XI