Garth's Team of the Week: De Gea, Vertonghen, Silva, Alli & Mane among picks

By Garth Crooks
Football analyst
Last updated on .From the section Premier League

There were Premier League wins this weekend for Liverpool, for whom Mohamed Salah scored his 29th league goal of the season, Leicester, Manchester United, Newcastle, Burnley, West Ham, Manchester City, Arsenal and Tottenham.
But who has impressed me most? Here is my team for this week...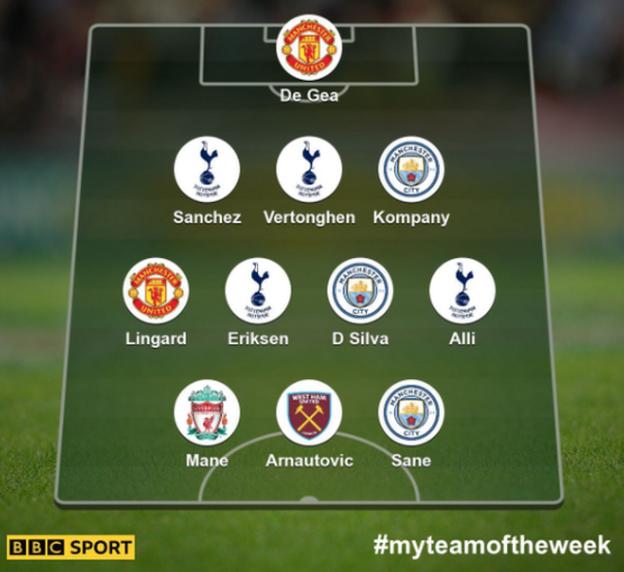 Goalkeeper - David de Gea (Manchester United)
I saw one slip through his fingers in midweek against Argentina but that didn't affect David de Gea one bit. Against Swansea the Spain international was back to his best. Two saves from Tammy Abraham, before which De Gea had had nothing to do, were absolutely magnificent.
The first save De Gea made from the Swansea striker suggested his hand was made of bronze, such was the strength in his wrist. The second save was equally impressive as he had to read the pitch of the ball before it reared up violently towards goal. How he kept the ball from entering the net I will never know. United are winning matches under Jose Mourinho but still not looking great.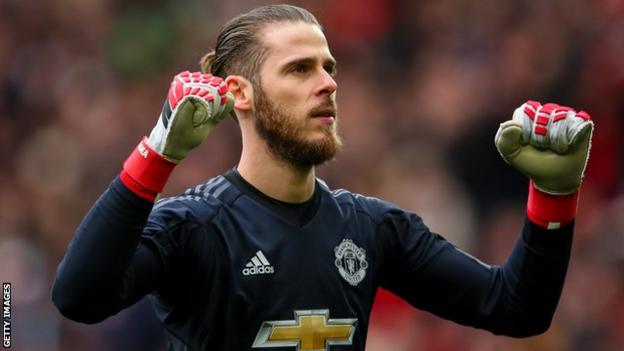 Did you know? De Gea made two important saves as he kept his 16th Premier League clean sheet of the season - two more clean sheets than any other keeper.
Defence - Davinson Sanchez (Tottenham), Jan Vertonghen (Tottenham), Vincent Kompany (Manchester City)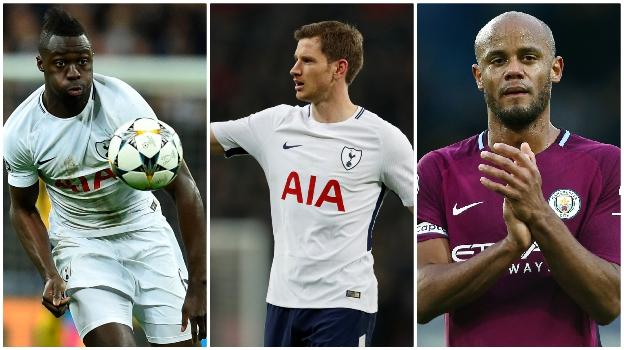 Davinson Sanchez: Not withstanding the mistake by Hugo Lloris for the first goal, I thought Spurs played brilliantly at the back. The performance by Davinson Sanchez was particularly impressive as I have seen him struggle on these big occasions before.
However he seems to have come to terms with playing in hostile environments while retaining a level of composure. Meanwhile, Chelsea look like an unhappy camp and manager Antonio Conte looks the unhappiest of all.
Did you know? Sanchez made 10 clearances in Tottenham's win over Chelsea - four more than any other player.
Jan Vertonghen: I thought Jan Vertonghen was immense for Tottenham against Chelsea. Once Spurs had recovered from that horrendous mistake by Lloris I don't think Alvaro Morata had a kick and Eden Hazard slowly went AWOL.
Meanwhile, Conte refused to answer questions about why Chelsea have found it so difficult to win back-to-back titles. I can offer a simple suggestion. Have they simply run out of money?
Did you know? Vertonghen made five interceptions against Chelsea. No Tottenham player made more in the match.
Vincent Kompany: At Everton, Vincent Kompany came through another fixture unscathed - rather like his team Manchester City. So the scene is set for the champions elect to actually lift the title. For that game to be against their arch rivals Manchester United is something more in keeping with a Hollywood blockbuster than a Premier League fixture in April.
It would be quite wrong if the player who has steered City into becoming serious Champions League contenders over the years was not present to lift the title. And lift it they will.
Did you know? Kompany made five clearances in City's win over Everton - two more than any other City player.
Midfield - Jesse Lingard (Manchester United), Christian Eriksen (Tottenham), David Silva (Manchester City), Dele Alli (Tottenham)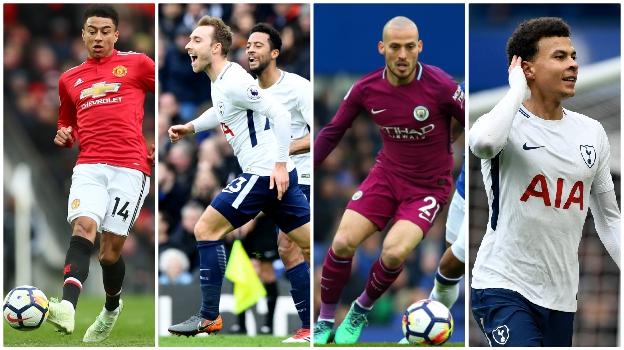 Jesse Lingard: This lad has to be in England's starting XI for the World Cup on current form. Manchester United boss Jose Mourinho has tried to use Lingard sparingly this season but failed. All credit to this young player, he has not only bulldozed his way into United's starting line-up but he's currently running the show.
Lingard was involved in all of United's goals against Swansea while displaying a range of passes in his repertoire. Could Gareth Southgate play both Lingard and Dele Alli in the same England team? Or is it too much like Steven Gerrard and Frank Lampard? Nice thought though.
Did you know? Lingard put in an all-round performance with no United player having more shots (four) or making more tackles (three) than the England international.
Christian Eriksen: The only way this player's season can get any better is if he can add a trophy to it. Eriksen has been in amazing form and he is capping these performances with sensational goals.
His strike against Chelsea was amazing and the shot flew past Willy Caballero from all of 25 yards. Spurs have waited 28 years to win at Stamford Bridge and it wouldn't have happened without Eriksen.
Did you know? Eriksen has scored 16 goals from outside the penalty area since his Premier League debut in September 2013 - the most of any current player in that time in the competition.
David Silva: Manchester City have only been beaten once in their past 38 matches. Having watched their first-half display against Everton I am not surprised. At the heart of this City walkover was David Silva.
If he wasn't forcing Jordan Pickford to scramble across his goalmouth in a desperate attempt to alleviate the danger, he was threading the ball through the eye of a needle for one of his team-mates to exploit. Another amazing season by the Spaniard.
Did you know? Only Eden Hazard (six) created more from open play in the Premier League over the weekend than Silva (five), with two of those turning into assists for goals.
Dele Alli: Tottenham boss Mauricio Pochettino went to some length in his media conference to extol the virtues of Dele Alli. I spent the first hour of the match against Chelsea bemoaning his lack of contribution to the game and then spent the rest of the game choking on my words.
Make no mistake, Alli has struggled this season but his manager has shown great faith in this player and the talent has responded. With Alli coming back to form and Harry Kane back from injury, Spurs suddenly look a force again.
Did you know? Alli marked his 100th Premier League game with his first top-flight double since January 2017.
Forwards - Sadio Mane (Liverpool), Marko Arnautovic (West Ham), Leroy Sane (Manchester City)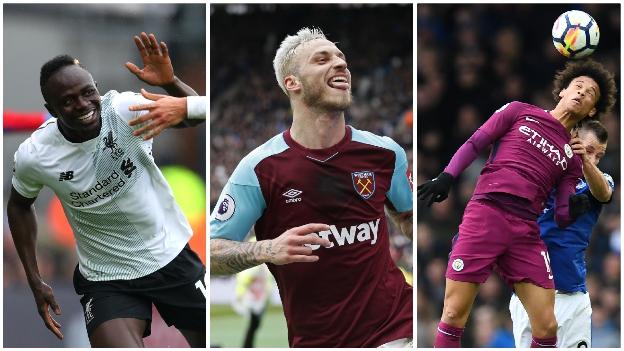 Sadio Mane: For an hour Sadio Mane terrified Crystal Palace. But how Liverpool boss Jurgen Klopp had the brass neck to even suggest the striker deserved a penalty after James McArthur appeared to make contact in the box I have no idea.
How many more times do I have to say this? Contact in the box doesn't automatically mean it's a penalty. A foul does. The delay between the contact being made by McArthur and Mane going to ground was clearly evident and destroyed whatever claim Liverpool could have made.
Referee Neil Swarbrick then gave Mane the benefit of the doubt by not issuing a second yellow card for Mane grabbing the ball. And Klopp had the temerity to criticise the referee in his post-match interview for not awarding Liverpool a penalty?
Mane was lucky to be on the pitch at all. As for Klopp he should just have said thank you and gone on his way.
Did you know? Mane's goal at Palace made him the joint-highest scoring Senegalese player in Premier League history, equalling Demba Ba's record of 43 in the competition.
Marko Arnautovic: Regular readers of my team of the week will know that I warned Mark Hughes when he was manager of Stoke that his criticism of Marko Arnautovic on his return to the Bet365 Stadium earlier in the season was ill advised.
Strikers stay awake at night desperate to stick two fingers up to managers who publicly criticise them. The Austrian international exercised his right to inflict another blow to Hughes' long-term career prospects, this time against Southampton, with an awesome display of finishing.
How ironic. Arnautovic could have a say in both Southampton and Stoke going down. Where that would leave Mark Hughes is anyone's guess.
Did you know? Arnautovic has been directly involved in more Premier League goals this season than any other West Ham player (nine goals, three assists).
Leroy Sane: I saw this lad play in midweek when he led Germany's line against Brazil. He was hot in the international friendly but he was mustard for Manchester City against Everton.
It only took Sane four minutes to get off the mark. And what a volley it was too. Technically brilliant. His assist wasn't bad either. He flicked the ball over a floundering Phil Jagielka in the middle of the park and then proceeded to do the same to Leighton Baines.
He then dispatched the ball to Gabriel Jesus, via Kevin de Bruyne, to head the ball into the back of the net. Sheer class.
Did you know? After scoring City's opening goal, Sane created four chances against Everton.
The Crooks of the matter...
To say I'm astonished that not a single British referee will be on show during the 2018 World Cup is an understatement. It's the first time since 1938 that such a decision has been made.
Fifa has chosen 36 international referees and 63 assistants from around the world and not one from these shores. It would appear on the face of things that our match officials, like our coaches, don't export very well these days.
Yet it's not that long ago that both were the envy of the world - our referees for the quality of their decision-making and our coaches for their sheer professionalism.
No longer, it would seem.
How much of this cold shoulder can be attributed to the envy of the Premier League or the FA's fall-outs with Fifa over the World Cup bidding process is hard to tell.
However, what is glaringly obvious to me is that Fifa wants referees who work very hard to keep all the players on the pitch.
Why? Because it makes for a better spectacle. Two of our most capable referees, Howard Webb and Mark Clattenburg, were leading exponents of this noble art and that is probably why they were the last two Brits to officiate at the World Cup and European Championship respectively.
The second yellow card given to Leicester's Wilfred Ndidi by referee Chris Kavanagh in the Foxes' win at Brighton is exactly what Fifa does not want to see. Referees should take no pleasure in sending players off. After all it is the players who the public have paid to see.
But I get the distinct feeling that referees in the Premier League, in their desperation to eliminate the assassins in the game, are prepared to take some of the artists with them if necessary, and that has served to ruin the occasion.
Fifa cannot afford too many party poopers in Russia and that is probably why British referees have not been invited.