Zlatan Ibrahimovic: I wanted to join LA Galaxy before Man Utd move
Last updated on .From the section Football361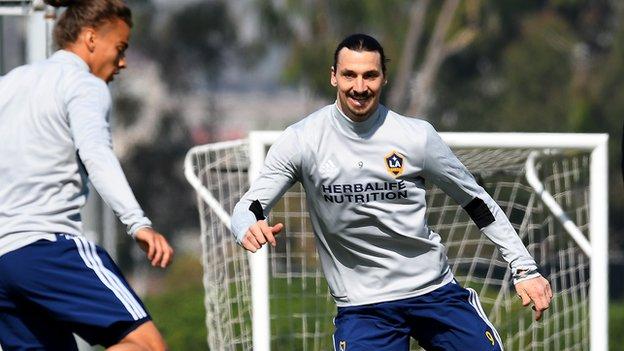 LA Galaxy striker Zlatan Ibrahimovic says he wanted to join the Major League Soccer side two years ago, before signing for Manchester United.
The Swede, 36, joined United in 2016 and scored 29 goals in 53 appearances.
"[The move] was supposed to happen before Manchester United. My head was here. I wanted to come here," he said at his first Galaxy news conference.
Ibrahimovic moved to Old Trafford on a free transfer after four seasons at French giants Paris St-Germain and has also played for Barcelona, Juventus and both Milan clubs.
He made 46 appearances and scored 28 goals in his first season with United. The Premier League club released him in June 2017 after his campaign was ended by early by a knee injury - before re-signing him in August.
However, Ibrahimovic only played seven times for United this season, scoring once.
"Things go like they are not supposed to go, but the destiny said I will come here," he said. "Los Angles called and I answered."
Asked if he planned to come out of international retirement to play for Sweden at this summer's World Cup, Ibrahimovic said: "If I want I am there."
He was also said he is fit to make his debut on Saturday against Los Angeles FC.
'The lion is hungry' - the wisdom of Zlatan
During a lengthy news conference, Ibrahimovic covered a range of topics. Here are some of the highlights:
"I feel young. I feel like Benjamin Button - I was born old and will die young."

"I came to England and they all said I was old. I came in a wheelchair and after three months I conquered England and they said I was flying."

"The lion is hungry."

"If I don't win I feel failure. This move will not change anything. I have come here to win and I am pretty sure I will win."

"I want to smell the grass and touch the ball. Today I finished training and just wanted to shoot some balls."

"I am not arrogant, I am confident."

"I have more goals than players have games. I think I know what I am doing."