Jose Mourinho is the king but Carlos Carvalhal is the master
Last updated on .From the section Swansea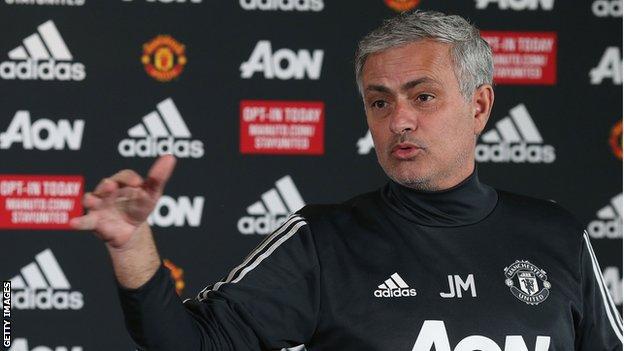 Swansea City manager Carlos Carvalhal may call Manchester United's Jose Mourinho a king, but this weekend he heads to Old Trafford a master.
Carvalhal takes on his compatriot on Saturday for the first time in his long and winding career, one that has mixed academia and analogies and is now threatening arguably his greatest achievement.
Swansea were five points adrift from safety at the bottom of the Premier League table when the 52-year-old Portuguese arrived, yet are edging closer to survival thanks to some shock wins, notably against Liverpool and Arsenal.
His almost eccentric style isn't straight out of the textbooks, but he has been given top marks by Swans fans so far - as well as from his alma mater.
Prior to heading into full-time management, Carvalhal studied philosophy in Portugal before concentrating on a degree on sports science - alongside Mourinho's Old Trafford assistant Rui Faria.
"We studied at the same university and we were colleagues for five years," explained Carvalhal. "Actually, we heard last week the university proposed to give a Master's diploma to the students who did five years. So I am more qualified now - I am a master!"
'I like him very much… he is an inspiration'
Carvalhal says he considers Mourinho a good friend.
"I don't like to talk about opponents, but I make an exception for Mourinho because I like him very much - he is a big manager and the best ever from Portugal," said Carvalhal, who took his Uefa pro-licence with Mourinho.
"He will be someone that, when he retires, people will remember him a long, long, long time.
"He is an inspiration; he is our king in football. He opened the doors to the new generation of Portuguese managers to go abroad.
"It was important to me, all the managers, not just about self-confidence but the way people in general started looking to Portuguese managers.
"He is smart, talks many languages, works in many different countries, good dress, nice face, he gives an image of the modern Portugal to the world and I am proud he belongs to my country."
Mourinho also helped Carvalhal personally, inviting him to spend a short time at former clubs Chelsea and Real Madrid.
"I was there a week each time, so I saw some training and I understand the philosophy," he revealed.
"But I don't follow him, and he would be frustrated if I did because he has his ideas and I have mine.
"Maybe there we have some common things in methodology and we both have strong personalities - but different ones."
You love Jose or you hate him
Mourinho hasn't been averse to an analogy in his time, but there have been more snarls at press conferences this season than the smiles seen from Carvalhal, who has even taken to delivering Portuguese cakes to waiting media.
"He is a different personality in public and private," insists Carvalhal. "In private, he is a very nice guy, very funny.
"I know that his personality is very strong, very controversial. You either love him or you hate him. I know that. But usually the club, the fans at the club love him.
"People (who support other clubs) don't like him. This is the consequence of the personality. He chose this way, he likes it.
"He knows what he is doing all the time, believe me. Sometimes it might not make sense but then after one or two years, if you review what he said in that moment you understand why he said it.
"He doesn't say things just because he likes it. He says it with a big purpose. Especially when he talks in public. It has a purpose to benefit the team."
Mourinho says he appreciates the kind words from his friend Carvalhal.
"I spoke with him last night - he said I was the king of the coaches, not the king of football," the United boss said.
"And he said that since my winning period with Porto, and since the moment I left the country, I opened the door for more Portuguese coaches to leave, which is something that I know is true.
"But I speak with Carlos a couple of times every week. This week was not different.
"So last night we spoke a little and I thanked him for his nice words because one thing is to think, and one thing is to say."