Celtic: Safe standing 'creates better ambience' but 'may not be for every club' - Brendan Rodgers

By Alasdair Lamont
BBC Scotland
Last updated on .From the section Celtic
Manager Brendan Rodgers has endorsed Celtic's safe-standing area but says there may be reasons other clubs prefer their stadiums to remain all-seated.
The issue of standing at games has particular poignancy for Rodgers' former club after the 1989 Hillsborough disaster when 96 Liverpool fans died.
"I know as well as anyone the sensitivity around it," said Rodgers.
"That's why I say it may not be for every club."
'There's a growing consensus... it should happen'
About 30 Liverpool supporters will be at Celtic Park on Saturday, including Hillsborough survivors and bereaved relatives of some of the dead.
The disaster eventually led to English top-flight clubs being legally required to have all-seater stadiums.
But James McKenna, of the Spirit of Shankly Liverpool fans' organisation, who will be at Celtic Park on Saturday, believes that will change.
"Whatever happens at Liverpool is an entirely different debate but I think in the English game there's a growing consensus among supporters that it should happen," he told BBC Scotland.
"I think now we're almost at a point where it's when rather than if. What we were often seeing was that Liverpool fans were being referred to, Hillsborough was being used as a reason not to do it.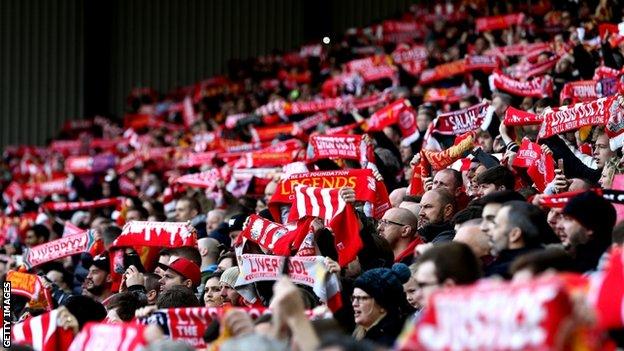 "We had politicians or people in power saying 'Liverpool fans won't like this' and our biggest concern was that nobody had actually asked us.
"If it is going to be introduced then if there's any lesson from Hillsborough, it should be that those people who've experienced the worst pain should at least have their questions answered."
McKenna says in a recent survey conducted by Spirit of Shankly, just under 90% of almost 18,000 respondents were in favour of the introduction of rail seating.
'Does it help create a better ambience? 100% yes'
Rodgers says his experience of it has been overwhelmingly positive.
"I can only speak highly of it. Having been up here nearly two seasons and seeing the impact it has - the guys in that create an incredible atmosphere," he added.
"Certainly for Celtic, does it help to create a better ambience? 100% yes.
"So the group that comes up from Liverpool - their great supporters themselves - will hopefully witness an area that works really well for Celtic."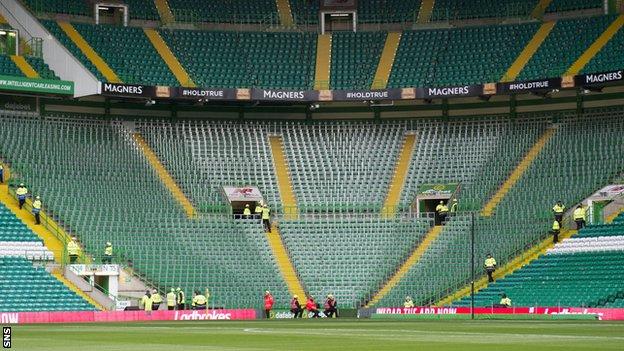 McKenna says the close association between the clubs and sets of supporters will help.
"If we're going to go anywhere to see it, to look and think 'that is most like us, there are people who understand our concerns and questions and are accommodating of them', then it's Celtic," he continued.
The group will attend Saturday's match-day briefing with club representatives, police and stewards before watching the game, some from the safe-standing area.
"Lots of the things around Hillsborough were around how supporters were looked after outside the ground and preventing a build-up. We're going to ask 'does anything stand out for you?'" said McKenna.
"There are lots of sensitivities. We're going to be coming to the game with people who were at Hillsborough or people who lost loved ones, and that's not going to be a nice thing in some cases because it may be the first time they've seen standing at football matches since then.
"So, it's a chance to make sure their voice is heard in this debate. Lots of them have taken part and shared deeply personal experiences so far."