Aron Gunnarsson: Midfielder would be 'daft' to leave if Cardiff go up - Warnock
Last updated on .From the section Cardiff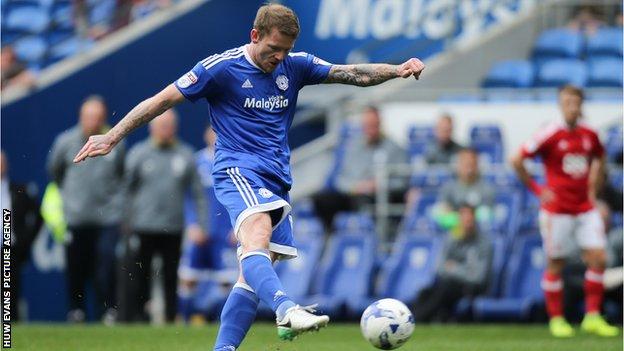 Cardiff City manager Neil Warnock claims Aron Gunnarsson would be "daft" to leave if they win promotion.
Gunnarsson, 28, sees his contract with Cardiff City expire at the end of the season with no new agreement in sight.
Warnock previously said the midfielder is seeking an overseas move, but he believes Gunnarsson should stay in South Wales if his promotion chasing Bluebirds make it to the top-flight.
"I think if we went up he'd stay, he'd be daft (not to)," said Warnock.
Cardiff play Burton on Friday, currently second in the Championship, seven points ahead of third-placed Fulham with a game in hand.
Gunnarsson is in contention to play against Nigel Clough's side having been out since November following ankle surgery.
Last year's player of the season has struggled with injuries this season, making just 12 appearances, however he played 45 minutes for Iceland in last week's friendly defeat to Mexico.
Despite Gunnarsson's future remaining up in the air, Warnock has no doubts over the Iceland international's commitment as they face the final nine games of the season.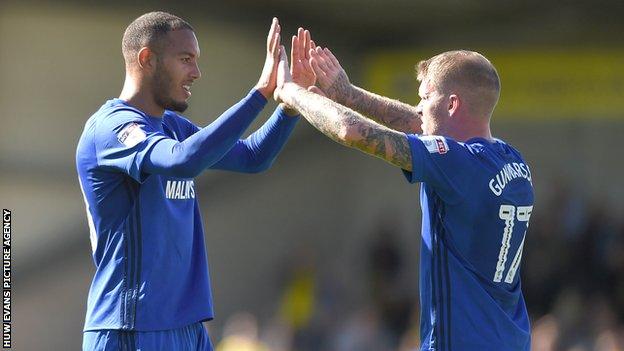 "He came back and looked really sharp. It was a good decision (to send him)," said Warnock, who previously rowed with Iceland over Gunnarsson's fitness.
"Their manager appreciated me letting him go over as well, but it was better than him playing an Under-23 game.
"He wanted to do a bit more but they decided against it in case he did anything after all this time. That was good, that was responsible.
"I think when he came back (from injury) last time, he wasn't right and it showed and he picked up the other injury.
"Then when the surgeon came in, he found a lot of problems in the ankle he envisaged and it's no wonder he was struggling; he needed that ages ago.
"With it being a World Cup year I was a little bit dubious, me being how I am, but when the surgeon went in it was there for everybody to see.
"I'm just glad now because he now has an opportunity to help us get where we want to be and it would help him as well."
My number one midfielder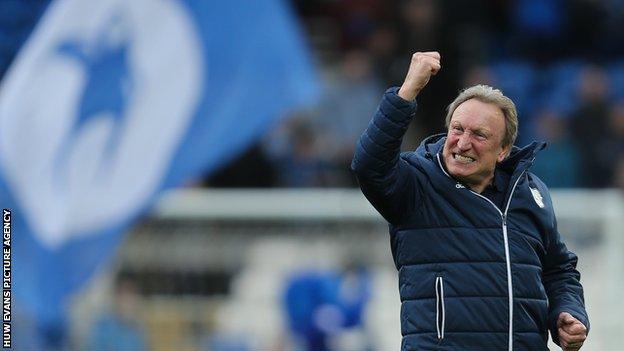 Warnock admitted that Gunnarsson was his first choice midfielder since he became manager, and despite his side's league position the Icelandic midfielder has still been missed.
"We have missed him," said Warnock. "I've fobbed it off and said others have done well and I know he wasn't in the team when I came, but since my day one here, he's been my number one midfielder so I have missed him.
"We'll cross that (his contract) when it comes to it, but one thing I do know is with nine games to go, you need to know who is in those trenches with you and I would like Gunnarsson alongside me because he's a top man and a top player."
It is Cardiff's first game since their Championship fixture at Derby County was postponed because of snow, a decision that prompted the EFL to look into the decision and an exchange of views from both clubs.
Asked for is thoughts on the matter being resolved, Warnock - referencing a jibe made by Rams boss Gary Rowett - said: "Careful, I'm not a health and safety inspector."