Auchinleck Talbot: Entry to SPFL would 'damage club's identity', says secretary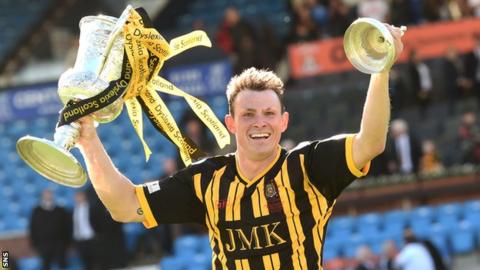 The secretary of Auchinleck Talbot, one of Scotland's leading junior teams, insists his club has "no ambition" to play senior football.
Clubs have voted in favour of plans to allow junior teams to gain access to the Scottish Professional Football League (SPFL) through a pyramid system.
But Talbot's Henry Dumigan believes the proposals would harm his side's identity.
"We certainly didn't vote for it," Dumigan told BBC Scotland.
"We see ourselves as a junior football team, we've no ambition to play senior football. It's fine participating in the Scottish Cup, where we've done reasonably well and competed well with the senior clubs, but we see ourselves as a junior club and that's it.
"We feel there's a strong possibility that it will damage, not the reputation, but the identity [of the club]. We're very proud to be a junior club."
The Scottish Junior Football Association says it will now hold an extraordinary general meeting in June and will discuss the plan with the Scottish FA and SPFL.
Talbot are 11-time Scottish Junior Cup winners, and famously reached the fourth round of the senior Scottish Cup in 2011-12, where they were beaten 1-0 by top-flight Hearts at Tynecastle.
"I wouldn't say it was a lack of ambition but Talbot has been a junior club since 1909 and has never had aspirations to go senior," Dumigan added.
"We play in the junior grade of football and I think that's a good grade. We compete very well with the lower leagues of senior football, but that's where we see ourselves and that's it.
"It's not a lack of ambition, that's where we are."
'There's going to be a big cost'
To be eligible to play senior football, clubs must meet the SFA's "entry level" licensing criteria, which includes requirements for health and safety regulations, the standard of stadia and facilities, and access for disabled supporters.
Dumigan believes the proposals are likely to be ratified, and if so, Talbot will look to excel in the new system despite their objections.
He fears, however, other clubs may struggle to finance the necessary upgrades.
"We haven't got the entry level yet, but we're pretty confident we could get it because we have good facilities and we have the facilities that would help us achieve that level," he said.
"The likelihood is that junior football will move into the pyramid system, and we will move to achieve that entry level and possibly higher.
"Because if we're in there we want to do as well as we possibly can. Although we've no ambitions to do it, if we're going to be going in there we'll be doing as best as we can, and that means our facilities as well.
"There will be a cost implication. For clubs that don't have that level of facilities, there's going to be a big cost. If they have aspirations going higher, there's going to be a cost."