Gareth Southgate: England manager unhappy with Italy VAR penalty decision
Last updated on .From the section England813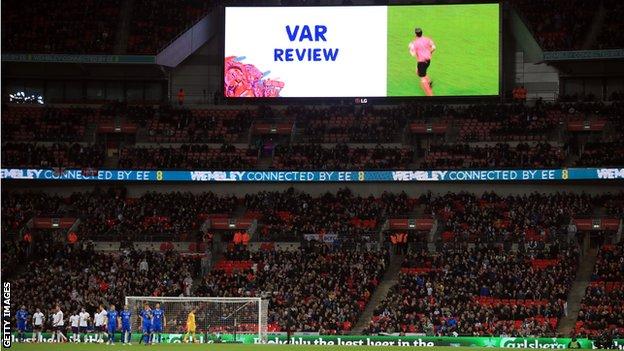 England manager Gareth Southgate was unhappy with the video assistant referee (VAR) decision that denied his side a win over Italy at Wembley.
"I think the ruling is 'clear and obvious' and this is not. It's one you can debate all day," said Southgate.
"I don't think with incidents like that VAR will clear things up."
The penalty came in the 87th minute when Burnley defender James Tarkowski, who was making his international debut, tangled with Federico Chiesa.
"It looks like Tarkowski stands on him but it's during the running process and he is going down anyway," Southgate told BBC Radio 5 live.
"The system can be a success. If we had it in Holland the other night, we would have had a penalty and the opposition would have had a red card in the first two minutes. Here we have suffered from it.
"For me, the two things [about VAR] are whether it is 'clear and obvious' and to have a better way of communicating what has happened and why for the spectators in the stadium."
Tarkowski said: "It's never a penalty. I stood on his foot but I didn't think a lot of it. It is what it is - I'm not going to complain. It's been a great experience this week.
"There's a lot of positives to take. We look forward to the World Cup now."
This was England's last friendly before Southgate names his provisional 33-man squad for the World Cup by 14 May, with the final 23-man selection by 4 June - two days after the next friendly against Nigeria.
"There have been some strong performances from individuals that have cemented - not their place in the squad, 19 or 20 of those were pretty clear - but it's often who are the next ones in if we get a problem in a particular area," said the former England defender.
"The things we've tried, we've learned a lot. What's really pleased me is the guys are solving problems on the pitch themselves: changes of formation from the opposition, patterns of working their way through different pressing tactics."
'You do whatever it takes' - VAR analysis
Jermain Defoe, England striker on BBC Radio 5 live
If there was no contact you would be wondering what he was rolling around for, but there was contact. You do whatever it takes to win games, do whatever it takes to win football matches, it is as simple as that.
There was contact, he's rolling around and obviously that has influenced the referee, they've got the penalty and scored the goal.
For me if I go through on goal, and there's contact, I'll go down. I'm trying to win the game for my team, you are trying to get a penalty.
'Nobody can agree if it's right or wrong'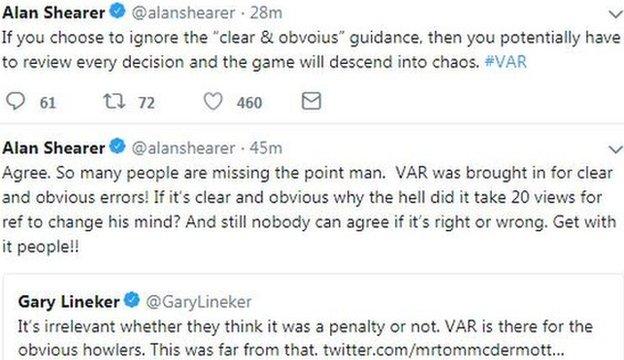 Your views #bbcfootball
Joey Gambles: If the brief for VAR overturning a decision is "clear and obvious" then why did it take the ref so many views to come to that conclusion?
Spindley Bobbins: He STOOD ON HIS FOOT. Anywhere else that's a foul. If the boot had trodden on the other foot and England had been awarded a penalty, would VAR be being questioned so much?
Antony: VAR in football will never work - so subjective! Never a foul by Tarkowski!
Michael: If it's a foul anywhere else on the pitch, then surely it should be a foul in the penalty area? Trod on his foot, accidental or not it doesn't matter.
Von: If that penalty was any softer it would be a marshmallow.
Michael Scarn: Of course VAR is subjective - so is any kind of umpire or referee in any sport. It makes no difference how "soft" a foul was, if it's still a foul in the laws of the game.