Gary Rowett: 'I did not realise Warnock was a health and safety inspector'
Last updated on .From the section Derby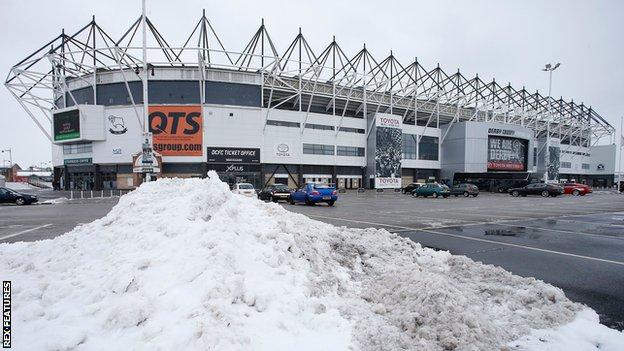 Derby boss Gary Rowett has hit back at Cardiff's Neil Warnock over comments made about their recent postponed game.
Warnock called it "disgraceful" but the EFL backed Derby's decision.
Rowett told BBC Radio Derby: "I know Neil is an excellent manager but I didn't actually realise he's also a qualified health and safety inspector."
Warnock suggested that Derby were happy with the postponement because of an injury crisis in the build-up to the match, but Rowett insisted it was a decision made with the safety of supporters in mind - and he had nothing to do with it.
"Everyone has a right to voice their opinion, everyone has a right to say what they feel," he continued.
"But we just felt from our point of view, the club and all the safety people around have to make a decision they think is right and, without me going in to the importance of safety for the fans, the reality was the decision was made not just by the club and certainly not by me.
"I like to think I have a say in a lot of things at the club but certainly calling games off is not really something I get involved with.
"The reality is that they then chose to make it all public and I think we've tried to keep a dignified silence, which when there's so many interviews going around I don't think there's any point to start trying to counter those and trying to come back with those.
"I'm really pleased the EFL have spoken about the club and said that whilst they spoke about the process, the reality was the decision was the right one to make at the time."