Odion Ighalo: Chinese Super League 'tougher and stronger' than expected
By Stanley Kwenda
BBC Africa Sport
Last updated on .From the section African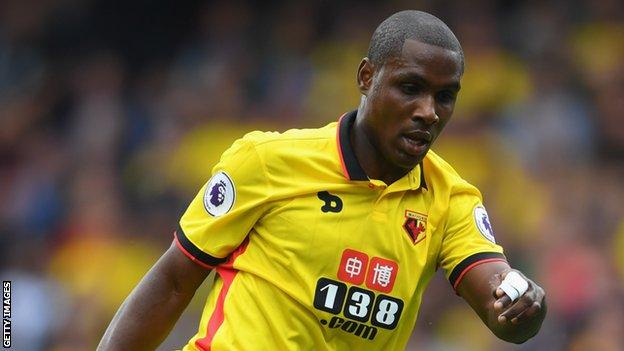 Nigeria striker Odion Ighalo says the Chinese Super League has proved to be tougher than he expected following his move from English Premier league side Watford.
"Before I went there, people were saying the level of the Chinese League is very low and you are going to score a lot of goals," said Ighalo who is currently in London with the Nigerian national team.
"When I got there I saw a different football game. There are a lot of foreign coaches and foreign players improving the league and the league is getting tougher and stronger."
28-year-old Ighalo has kept up his good goal-scoring record in China.
Last year he scored 15 goals in 27 games and has scored one goal in three games so far this season.
"Football in China is still growing. I have played a season and this is my second season. I am enjoying the life there and the football.
"When I went there I was expecting a lower class of the league but when I arrived I saw how tough it is and said this is not what I had heard about.
"This is not what people were talking about. It's tough and it's difficult to score goals," said the Nigerian striker.
Ighalo says that despite the challenges China presents, other African players should consider a move there if they get a chance.
"If the opportunity jumps on them and they think properly about it, they should go because it's an opportunity to make some money, play in Asia and to experience the life and culture there," said Ighalo.
Having played in Nigeria, Norway, Italy, Spain, England and now in China, how does life at his current club compare with his previous experiences?
"Moving from England to China is a different life, the time difference, the way they live, the food, so it's totally different from what I had experienced but for me it's normal.
Every country you go to play, you experience different and new things. I have played in six countries so it's not new to me," Ighalo said.
The Nigerian is currently with the Super Eagles squad as they gear up for the World Cup in Russia in 2018.
They beat Poland 1-0 on Friday in a warm-up match and will play Serbia in London on Tuesday.