London Stadium: West Ham meet Sadiq Khan over safety & finances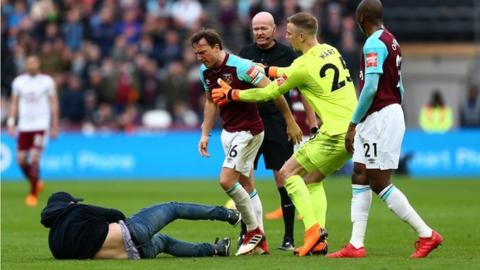 London Mayor Sadiq Khan has met West Ham vice-chairman Karren Brady for the first time to discuss finances and safety at London Stadium.
Khan has been criticised for the delay in meeting given the significance of the club's tenancy at the former Olympic Stadium, which began in 2016.
Twenty fans were given lifetime bans after ugly scenes during the Hammers' 3-0 home defeat by Burnley on 10 March.
Saturday's game against Southampton is their first match at the ground since.
Khan described the events of earlier this month as "a disgrace" and said the trouble at London Stadium had been "apparently planned and co-ordinated", though many West Ham fans have rejected those claims.
In December, Khan announced he was taking control of the stadium after a report established it was losing about £20m a year. West Ham pay £2.5m annually as part of the 99-year lease they signed, which also signalled their exit from Upton Park, a decision which many fans now claim was a mistake.
At the meeting which lasted around 45 minutes, they discussed a range of issues, including improving operator standards and making London Stadium have the look and 'feel' of West Ham United.
"The club remain hopeful that, now dialogue has commenced, it will pave the way to reaching a more constructive communication between the parties in the future," a West Ham spokesperson said.
"Both parties shared a joint commitment to ensuring that London Stadium is safe and secure for all West Ham supporters for the remaining five home games of the season and thereafter," they added.
It is understood Khan has expressed a willingness to work with the club to give the stadium more of a West Ham 'feel'. Currently, there are limited West Ham-related fixtures at the taxpayer-owned venue, with the club having attempts to lay claret carpeting behind the goals thwarted, despite offering to pay the £150,000 for its installation.
Last week, Khan confirmed the stadium operators - not West Ham - would be responsible for meeting the extra cost incurred by the demand for greater security, policing and stewarding in the wake of the trouble at the Burnley game.
A Football Association investigation into the trouble is ongoing but West Ham have been warned by the body responsible for sanctioning fixtures to proceed that any repeat will result in them being forced to play matches behind closed doors.
West Ham are 17th in the Premier League table, two points and one place above Southampton, who occupy the final relegation slot with eight games of the season remaining.