England fans: Russian police witnessed supporters' behaviour in Amsterdam
Last updated on .From the section Football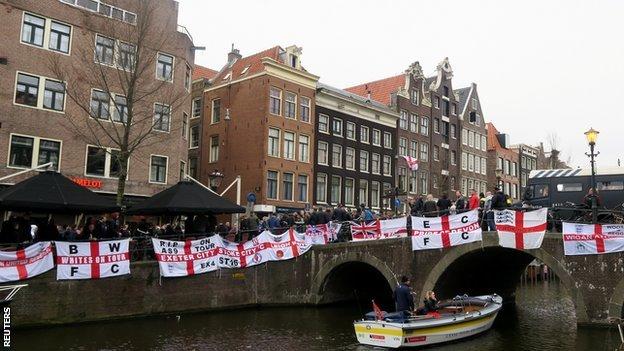 England's football police chief says efforts in the lead up to the World Cup have been "wasted" after Russian police witnessed the drunken behaviour of English fans in the Netherlands.
The National Police Chiefs' Council (NPCC) has been working with Russian authorities to "influence" their dealing with English football fans.
However, more than 100 fans were arrested in Amsterdam on Friday.
"We have to reassure them," deputy chief constable Mark Roberts said.
Speaking to BBC Radio 5 live, Roberts - the NPCC's lead for football policing - said they had been working with the Foreign and Commonwealth offices to help Russian police understand the "difficult dynamics" of English supporters.
"When people behave as they did at the weekend, they not only put themselves at a greater risk, but also other genuine supporters, because it becomes harder for us to try and influence the policing styles," Roberts added.
"They've been engaging up until now in terms of understanding how best to deal with England supporters.
"When we're trying to persuade them that the majority of fans don't cause problems, scenes like that over the weekend really does make peoples' lives harder.
"I am concerned that all the efforts we've made to try and help the Russian authorities understand the difficult dynamics of England supporters have gone to waste."
Jesse Lingard's goal gave England their first victory over the Netherlands since Euro 1996 - ending a run of seven meetings without a win.
But the friendly was marred as Dutch riot police detained 60 people in Amsterdam's red light district, after 25 supporters were held on Thursday.
A number of fans booed the Dutch national anthem before kick-off, an act manager Gareth Southgate described as "unacceptable".
"Countries look at how our supporters behave and think 'why should we tolerate it?'. If the host country finds that behaviour offensive, they will deal with it as they would their own people," said Roberts.
"I don't think anyone would want to be serving time in a Russian prison labelled as an England football hooligan."
Listen to the interview in full on BBC Radio 5 live breakfast from 6am on Tuesday.