2026 World Cup: Fifa boss Gianni Infantino says bid process is 'fair, objective and transparent'
Last updated on .From the section Football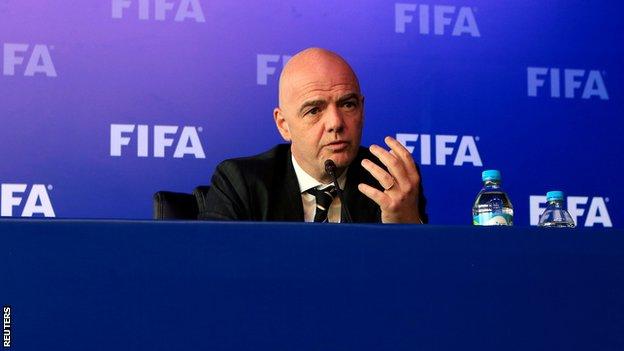 Fifa boss Gianni Infantino has "challenged anyone" to find a fairer or more transparent bid process than the one for the 2026 World Cup.
Previous World Cup bidding processes have been mired in controversy, with allegations of corruption made around the awarding of the 2018 and 2022 tournaments to Russia and Qatar.
It comes as Fifa unveiled details of the two main bids for the 2026 finals.
"The rules have been clear and objective from the beginning," he said.
The football associations of Canada, Mexico and the USA have submitted a joint bid to host the 2026 World Cup, with the Moroccan Football Association also competing for it.
The 2026 World Cup will be the first to feature 48 teams, with the decision on who will host the event set to be made in 2020.
"The rules of the process include the highest standards in terms of ethical conduct, participation and commitment to sustainability and human rights," Infantino added.
"These are necessary steps to ensure that we never go back to the old ways."
Since the 2018 and 2022 tournaments were awarded to Russia and Qatar respectively in December 2010, widespread corruption has been exposed in the global game, including allegations of bribery and payment for votes.
A BBC Panorama documentary claimed Qatar spent £117m on their successful bid for the 2022 World Cup - the first to be held in winter - while former Fifa president Sepp Blatter suggested there was an agreement in place for Russia to host the 2018 tournament before the vote took place.
Prominent figures, including Blatter, have since been indicted.
"Fifa has been heavily criticised for how it conducted the selection of hosts in the past," Infantino said.
"It was our obligation to learn from this and leave no room for any doubt or subjectivity."