David Sullivan: West Ham co-owner 'used club to avoid paying £700,000 tax'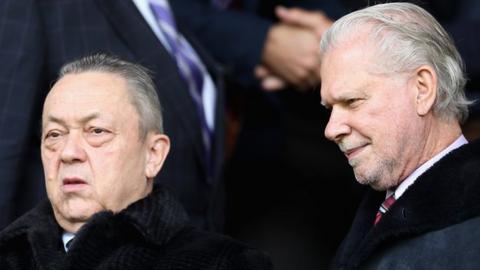 West Ham co-owner David Sullivan used the club to avoid paying £700,000 in tax, a tribunal has ruled.
He has been told to pay back the money after it was found he deliberately tried to benefit from the transfer of £2m from his family business in 2010.
West Ham and Sullivan declined to comment although it is understood he intends to appeal against the decision.
The news emerged at a time when West Ham's board have faced protests from fans unhappy at how the club is run.
Sullivan, 68, was forced to leave the directors' box after being hit by a coin at the club's last home game, against Burnley at London Stadium.
The first-tier tax tribunal heard that Sullivan used his family business, Conegate Ltd, to buy £2m of shares in the holding company that owns West Ham.
On the same day the shares were converted to "deferred shares", which were deemed practically worthless and sold back to the holding company for £1. Conegate then used the £2m loss to reduce its tax bill by £700,000, as first reported by The Times.
Tribunal judge Jane Bailey acknowledged the "overarching" reason for the transactions was to provide funds for the club.
But she added: "It is clear from our findings of fact that there was more than one way to provide funding to the football club and that one of the reasons that Mr Sullivan chose to provide funds to the football club in the specific way that transpired was so that the appellant (Sullivan) could claim a capital loss.
"Therefore we consider securing a tax advantage to have been 'one of the main purposes' of the arrangements."
Penny Ciniewicz, HM Revenue and Customs director general for customer compliance, said: "Conegate built tax structures to avoid paying the tax that was rightfully due."
West Ham say 20 fans have been banned for life following disturbances at the Burnley match on 10 March.
Additional police and stewards are likely to be in place for the Premier League home game against Southampton on Saturday.
The Hammers are currently 17th in the Premier League, one place and two points above Southampton and the relegation zone.