Colin Doyle: Republic of Ireland & Bradford City keeper played two games in 24 hours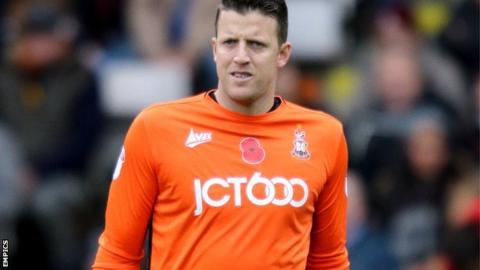 "I had a lovely little fry-up in the hotel with a bit of black pudding, bacon rashers, sausages and eggs. That was my fuel."
It might not be what a sport nutritionist would have advised, but faced with trying to get through two games in less than 24 hours Bradford City goalkeeper Colin Doyle turned to a more traditional pre-match meal.
The 32-year-old helped the Bantams to a 1-0 win over Gillingham on Saturday, having played the full game for the Republic of Ireland in their 1-0 defeat in Turkey on Friday night.
He landed back in England just six hours before kick-off and helped the Bantams to their first win since 1 January.
"By the last 20 minutes I had nothing left. I couldn't kick the ball," he told BBC Radio Leeds.
"I probably got through on adrenaline, to be honest, but it was worth it in the end because we got the three points."
He added: "We always fly back straight after the game with Ireland. We got into Dublin at five and then my flight back to Leeds Bradford airport was at eight. I got home and went to bed for a couple of hours and then got up and came to the game."
The win over the Gills leaves Simon Grayson's side four points outside the play-off places.
Victory also gave Doyle, who joined Bradford for £1 in July 2016, his first clean sheet since 4 November and the club's first since 25 November.
"We needed that win and now things are starting to look a bit brighter again," said the former Birmingham and Blackpool man.
"The lads in front of me put their bodies on the line and we got that little bit of luck too. Who knows? Now we might go on a bit of a run.
"We haven't been conceding too many goals since Simon came in and we've been looking a bit more solid but if you can start keeping clean sheets, it gives you a chance."