Gareth Bale: Wales winning the China Cup would be 'massive'
Last updated on .From the section Welsh471
Gareth Bale says winning his first trophy with Wales would be "massive".
The 28-year-old said winning a trophy for Wales would be even more significant than winning ones at club level.
"To win any trophy is always good, but for your country it is that bit more special," said Bale.
"It would be massive. You have it in your heart, in your blood, you want to make your whole country proud.
"So whether it's a tournament like we are in now, or whether it's a Euros or the World Cup, it's always important to win trophies.
"It would be great to have some more success with Wales and we will try to enjoy it as best we can."
As well as being Bale's first international trophy, the China Cup would also be the first competition Wales have won outright since the British Home Championship in 1937, although they shared the trophy in 1970.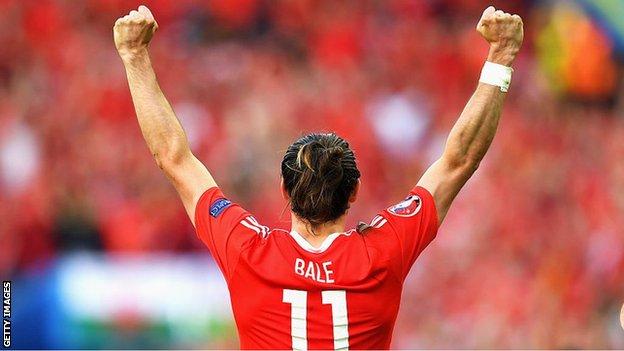 Bale said it was a "massive disappointment" not to reach this summer's World Cup, after an "incredible experience" at Euro 2016.
"I suppose losing and missing out makes us even more hungry to try to qualify for the next campaign," he said.
Bale will be 32-years-old come the 2022 World Cup.
He said: "Every single player will tell you they want to play at the highest level for their country and that's the World Cup or the Euros.
"We don't just wanted to qualify for one or two tournaments, we want to be qualifying for every tournament we enter.
"It's a chance for us to keep building on what we've done, and build a strong squad for the future to keep on qualifying to be competitive in qualification and in tournaments.
'Always a tough opponent'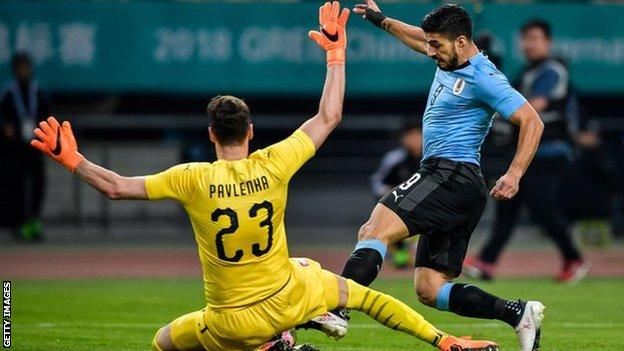 Wales' match against Uruguay will produce some fascinating personal duels, and there will be an element of club rivalry as Real's Bale faces Atletico Madrid centre-back Diego Godin.
At the other end of the pitch, Wales' defenders will have their hands full against Uruguay's stellar attacking partnership of Barcelona's Luis Suarez and Edinson Cavani of Paris St-Germain.
Wales captain and centre-back Ashley Williams' battle with Suarez will be particularly interesting, given his history with the former Liverpool forward.
Writing in his 2012 book, My Premier League Diary, Williams said he disliked Suarez more than any other player because he was the worst diver he had encountered in the top flight and that he wanted to "knock him out".
Speaking before the match against China, Williams played down the significance of his previous comments about Suarez.
"It obviously got blown up a lot bigger than it was. He's always a tough opponent," said the former Swansea City defender.
"I said at the time, he's the hardest striker to play against in the Premier League. I'm expecting a difficult game, as always.
"But these are the games you want to be playing in, against some of the best players in the world.
"We feel confident about the game and we concentrate on ourselves and trying to play our best game. We feel if we do that it will be enough.
"At the same time, with regards to Suarez, I think that he's one of the best strikers in the world, and he's definitely one of the best I've played against."