Scotland: Supporters expect to be let down, says Alex McLeish

By Chris McLaughlin
BBC Scotland
Last updated on .From the section Scotland
Manager Alex McLeish believes Scotland are widely expected to fail by supporters and hopes to help alter the nation's footballing psyche.
The Scots next tackle Hungary in Budapest on Tuesday.
"The expectations are not what they were in the 70s, 80s, 90s when we expected to get to World Cups and Euros," McLeish told BBC Scotland.
"It's more a perspective that we'll fail - that's the kind of, 'Oh, Scotland, they'll let us down again'.
"That's in our psyche now a wee bit and we've got to try and change that - the only way we can change it is on the pitch with top-level performances."
'Hopefully it's not a marathon'
McLeish, 59, was disappointed by an impotent first-half performance against the Central Americans, but says things improved in the second period, during which he introduced five replacements.
"The first half was not to my liking; the second half was a bit better," he said.
"There were always going to be subs coming on, we wouldn't have announced such a big squad if we were doing otherwise.
"If I wanted to include James McArthur and [other] experienced guys, to get some kind of result and have everybody saying, 'Oh, that's not bad, we got a draw or we got a win against a team who finished top of England, Uruguay and Italy's group in the World Cup in Brazil'.
"I'm not making excuses for that but we were capable of beating them in the second half, or at least getting a draw.
"We'll look to give other players a start [against Hungary]. We're at almost an experimental stage. I want to win the same as any other man, but what I want to do is get the right results at the right time. Hopefully it's not a marathon in terms of games before we win but let's say a mini-marathon."
'Of course goals are a concern'
Scotland, McLeish concedes, do not possess a "superstar" player and he fears a lack of potency up front could prove problematic.
Celtic's Leigh Griffiths led the line for the Scots during the latter stages of their unsuccessful 2018 World Cup qualifying bid, but the 27-year-old remains sidelined with a calf injury.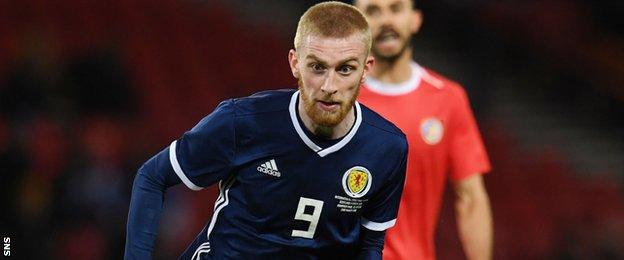 Oli McBurnie, 21, on loan at Barnsley from Swansea City, was chosen to lead the attack at Hampden.
"Of course [goals are a concern]," McLeish said. "We don't have a natural 20-odd-goals-a-season man which we have had in the past.
"We have a few of the older players injured down south - Chris Martin's not been getting a game, Steven Fletcher's been injured, Jordan Rhodes has been bit-part at his club. They're the kind of experienced guys.
"Leigh Griffiths has been injured, he was our main man and broke through brilliantly last season.
"Oli McBurnie didn't do himself any harm, he got into good positions, probably should've executed one or two of them, and it would've been a fantastic debut for him.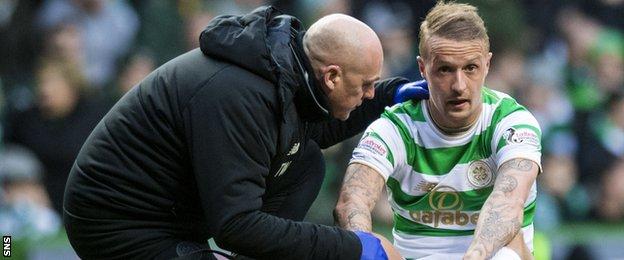 "But he's playing at Barnsley, who are struggling to stay in the Championship. I think there's scope for Oli, there's definitely a player in there somewhere, but he's still only a boy.
'Where are the right-sided centre-backs?'
The Scotland boss, who deployed a 3-4-3 formation, also bemoaned a lack of defensive options on the right.
Grant Hanley was the one right-footed player among the trio of centre-backs that started against Costa Rica but the Norwich player is battling shin splints.
"We are really struggling on the right side," said McLeish, who won 77 caps across 13 years in Scotland's central defence.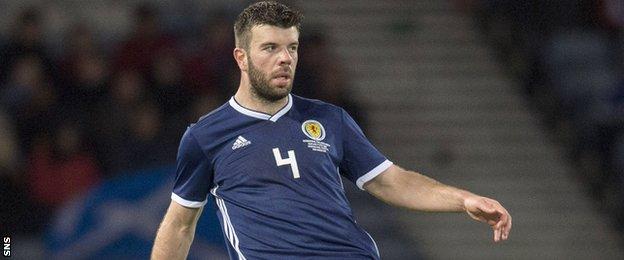 "I know there's John Souttar at Hearts, I'm waiting on a report to see how he did last night for the Under-21s. We don't have a lot of right-footers.
"You don't normally see two lefties playing in a 4-4-2, but we may have to do that if we have an injury to a right-sided centre-back. Where are they? There's not a lot going about. Sure, clubs in the Scottish Premiership have them but, from what I've seen, are they good enough at this international level?"