Evangelos Marinakis: Nottingham Forest owner rejects drugs link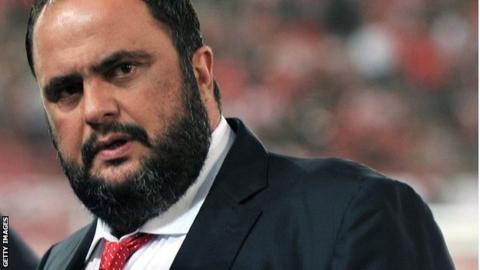 Nottingham Forest owner Evangelos Marinakis has been charged with drug trafficking, according to reports in Greece.
A Greek prosecutor said on Friday the 50-year-old shipping magnate is facing "very serious charges".
Marinakis, who also owns Super League side Olympiakos, said he was "innocent" and "a victim of a plot".
Championship side Forest and the English Football League have said they will not be commenting on the reports.
Marinakis and three of his associates are being prosecuted for drug trafficking and other serious charges, according to Greek newspaper reports.
It follows an investigation into a tanker that was was carrying 2.1 tonnes of heroin in 2014.
Marinakis said in a statement on Olympiakos' website: "The prosecution against me is a product of a plot and it has nothing to do with the truth.
"I have never had anything to do with the acts for which an investigative inquiry is to be conducted, the result of which I am absolutely certain to be the confirmation of my innocence."
The businessman, who bought Forest in May 2017, is also facing trial after being accused of trying to fix football matches in Greece.
Marinakis has always denied any wrongdoing.