Gareth Bale: Wales and Real Madrid forward a huge hit in China
By Dafydd Pritchard
BBC Sport Wales in Nanning
Last updated on .From the section Welsh
The roar and the standing ovation suggest China have scored. The scoreboard tells a different story.
It has taken just over two minutes for Wales to score their first goal of Ryan Giggs' reign but, rather than deflate an excitable home crowd at the opening fixture of the China Cup, it only fuels an already fervent atmosphere.
That is because the Chinese fans have only really come to watch one man: the goalscorer, Gareth Bale.
One of those on his feet to applaud the Real Madrid forward is Zhang Rong Ming, who has travelled more than 2,000 miles from China's north east to the south west city of Nanning to watch his hero.
"I love football and I love Gareth Bale," he says.
"He is a great player for Real Madrid and Wales and we are excited to see him in China."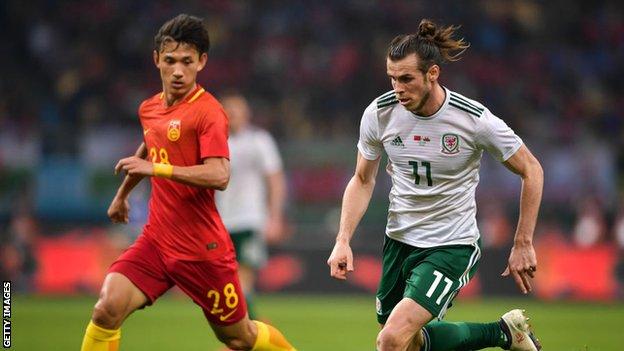 It is a view shared across the 60,000-seater Guanxi Sports Centre, where Bale is cheered whenever he is even near the ball, never mind in possession.
And the reverence is not limited to the stadium, with the 28-year-old's every move in China greeted with fanfare.
On his arrival at Nanning Airport on Tuesday, Bale was mobbed by media and supporters, who had brought with them Real and Wales shirts with his name on the back for him to sign. Even local reporters posed for selfies with their idol.
The same sight greets Bale every day at Wales' team hotel, where temporary additional security gates and staff have been brought in to deal with the scores of supporters waiting for a glimpse of the player for whom Real paid a then world record fee of £85m in 2013.
'Welcomed like a god'
Giggs, who was also worshipped during his visits here as a Manchester United player, was not joking when he said Bale had been welcomed to China "like a god".
The China Cup may only be a friendly tournament but for Wales to be invited to travel more than 6,000 miles for this competition in the world's most populous country - where football is booming - is evidence of their growing status in the sport.
Reaching their first major semi-final at Euro 2016 was a collective effort, but their commercial appeal is largely down to one player. Bale.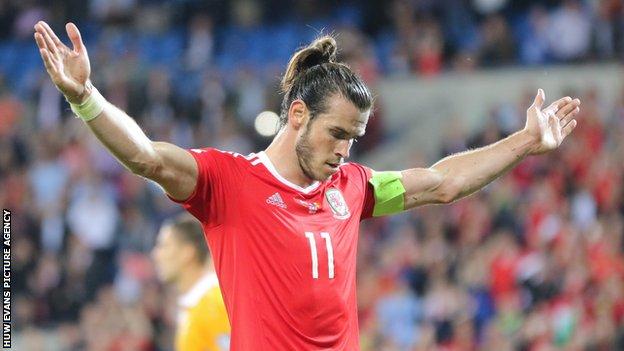 As Giggs has admitted, there are financial incentives for Wales to play Bale in this competition, and he has provided ample value for money.
His hat-trick in the 6-0 thrashing of China made him Wales' all-time leading goalscorer and, when he was substituted after an hour, the rapturous applause from the home fans was another reminder that he is the star attraction of a competition which also features Uruguay's Luis Suarez and Edinson Cavani.
Bale, of course, is too modest to say so himself.
"On a personal note it's obviously great to break the record," he says.
"I couldn't have done it without my team-mates over the years and obviously it's not just an individual thing, it's thanks to the whole team, everyone who I've played with and all the managers.
"Obviously you don't really have time to think of your achievements when you are drained, but yes, it is right up there, if not the best achievement I have done. Anything you do for your country is the pinnacle, it is the biggest honour you can have."
Bale - and Gunter's - super fans
Back at Wales' hotel a day later and the entrance is again lined with fans wearing Real Madrid and Wales shirts with Bale on the back, standing patiently and in hope that their hero might pass through.
There is no doubting Bale is the most in-demand, but his popularity also means some of his team-mates have developed an unexpected following.
Chris Gunter became Wales' second most capped player when he made his 86th appearance against China but, as a defender playing in the Championship with Reading, his profile is a little more modest than Bale's.
However, in Sin Wang and Tianyue Qiao, he has two of the most devoted super fans in China.
"There's a few more enthusiastic ones but I don't think I can compete in numbers [with Bale]," Gunter says with a laugh.
"It's obviously very nice. It just shows in terms of Wales as a nation as a whole how far we're reaching out.
"The enthusiasm generally for us as a team has been eye-opening. So far it's been fantastic."
How does Bale compare to other global stars?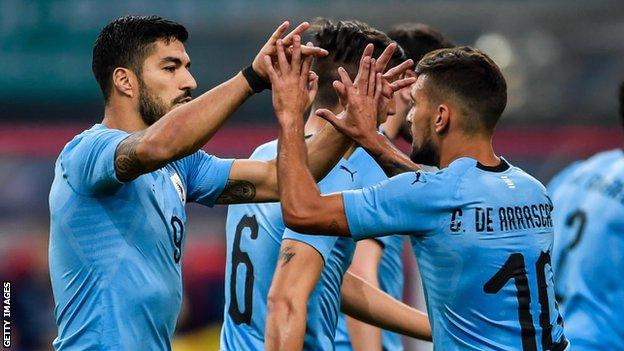 Bale is by no means the first footballing superstar to be exalted in this manner in China, as the sport's biggest club and international teams often travel to the Far East for exhibition matches and tournaments.
However, it is telling that the adulation for Bale this week has far exceeded that for Uruguay's high-profile attacking partnership of Suarez and Cavani, who play their club football for Barcelona and Paris St-Germain respectively.
Since joining Real Madrid in 2013, Bale's profile has rocketed to stratospheric levels.
Several sponsorships, a new contract in 2016 worth around £18m a year and a personal empire which has seen him open his own restaurants and golf courses mean Bale's net worth is now in the hundreds of millions of pounds.
He is a globally recognised brand and, just as Argentina trade on the image of Lionel Messi and Portugal the profile of Cristiano Ronaldo, Wales are reaping the rewards of Bale's status.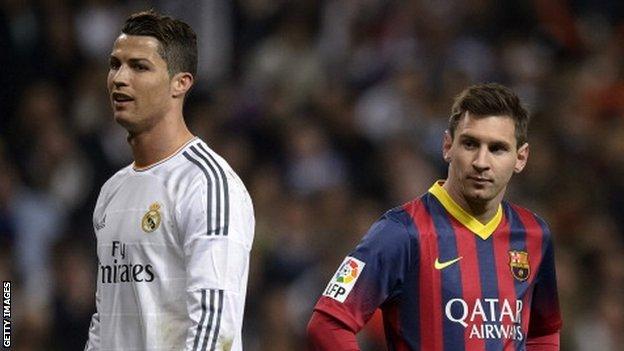 Their participation in the China Cup is believed to be worth around £1m but, beyond that relatively modest figure, their exposure to new markets increases their potential for much larger, wider-reaching commercial ventures.
For all those off-field benefits to bear fruit, however, Bale still has to shine on the pitch - and he has certainly done so in the China Cup with that brilliant hat-trick against the hosts.
Messi and Ronaldo may still be out on their own as the world's best and most wealthy players, but Bale remains a player of global renown and appeal.
And Giggs, who played with Ronaldo at Manchester United, believes the Wales forward bears a striking resemblance to his Real Madrid team-mate.
"There are similarities with Cristiano," he says. "They started out as wingers, and really they are now goalscorers. Any type of goal.
"Every game will be approached differently but of course his team-mates will know it's about getting Gareth on the ball as much as you can. Which position that is, it will change game by game."
'The Monkey King'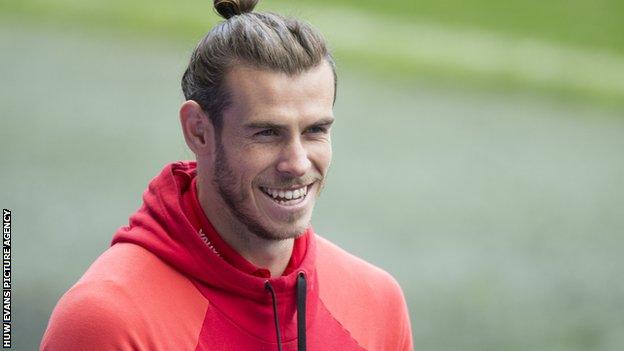 Having dismissed a poor Chinese side on Thursday, Bale and Wales face a markedly tougher challenge when they take on former World Cup and Copa America champions Uruguay in Monday's China Cup final.
It is the showpiece event the tournament's organisers will have dreamed of, with Real's Bale lining up against Barcelona's Suarez and PSG's Cavani.
Uruguay's two leading goalscorers - Suarez with 50 and Cavani 41 respectively - both impressed as they found the net in the South Americans' 2-0 win over the Czech Republic, with Cavani in particular catching the eye with a spectacular overhead kick for his goal.
But they will be support acts on Monday, with Bale the headliner.
Cindy Tang, who lives in Nanning, had only previously been to the Guanxi Sports Centre for big concerts but attended her first international football match when China played Wales.
"I was so excited to see Bale. He really impressed Nanning and all Chinese fans a lot," she says.
"Chinese fans love to call Bale 'Dasheng', which means 'Monkey King' in Chinese, which is not a bad nickname because Monkey King is just like a god for many Chinese people.
"First, Chinese fans notice the cartoon Monkey King looks very similar to Bale, and Bale is so fast and powerful, just like the image of Monkey King in the hearts of Chinese fans.
"Bale is just like 'Dasheng', a key player in the team, taking the whole team to win.
"I think Chinese fans will support Wales [against Uruguay] because of Bale."