Netherlands 0-1 England: Jesse Lingard could be Gareth Southgate's World Cup wildcard

By Phil McNulty
Chief football writer at Johan Cruyff Arena
Last updated on .From the section England437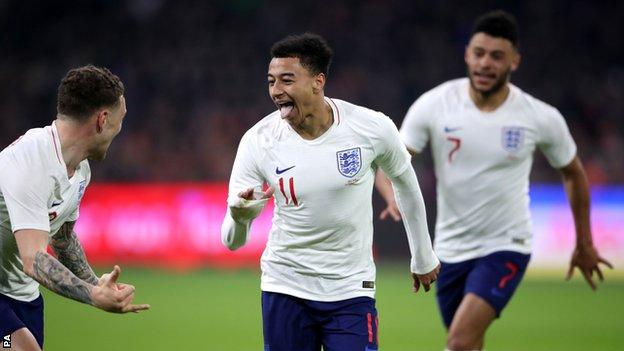 England's World Cup build-up continued with their first away win against the Netherlands since November 1969 on a night of satisfaction for manager Gareth Southgate.
It was a game when Southgate's tactical tweaks - specifically a three-man defence with Manchester City's Kyle Walker on the right - reaped rewards as Jesse Lingard's goal on the hour gave England a deserved victory.
So what did England and Southgate take away from Amsterdam as they turn their attentions to Tuesday night's friendly against Italy at Wembley?
Lingard emerging as World Cup wildcard
Lingard Tweeted that it was "an honour" to score his first England goal on his ninth international appearance to settle this friendly in favour of Gareth Southgate's side.
It was certainly a pleasure for England manager Southgate to see Manchester United's talented 25-year-old transfer the form that has illuminated parts of the season at Old Trafford on to the international stage.
The finish, just before the hour, had all the Lingard trademarks that have brought him 13 goals for United this season.
He was involved in the build-up, made a positive run to the edge of the area and took full advantage of a favourable deflection that sent the ball spinning towards him to beat Netherlands goalkeeper Jeroen Zoet with an opportunist finish.
Zoet should have done better but that will not impact on Southgate's pleasure at what Lingard could offer in Russia.
This was a display, and goal, that put Lingard on the steps of the plane for Russia because, for all the attacking talent England has at their disposal in players such as Marcus Rashford, Raheem Sterling and Jamie Vardy, the team still relies far too heavily on the currently injured Harry Kane.
Kane, before this fixture, has scored seven of England's previous 14 goals and their results coming into this game had been two goalless draws against Germany and Brazil.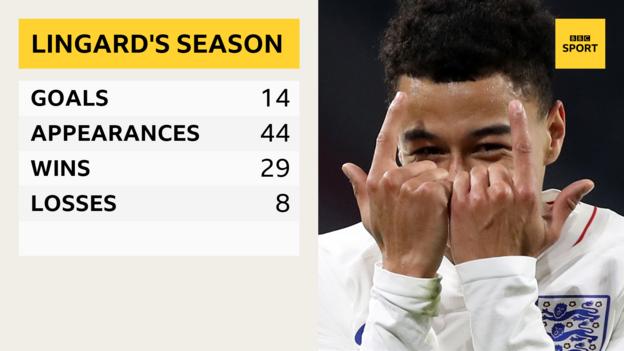 The games before that had been a colourless 1-0 win in Lithuania courtesy of a Kane penalty and another one-goal win at Wembley against Slovenia with an injury-time strike from the Spurs forward.
And even here in Amsterdam, there was still a lack of end product to much excellent work until Lingard stepped up with that right-foot finish.
If there are still question marks about Lingard's place in Russia, that goal and his natural gifts in that department, plus an ability to play in a variety of attacking positions or just behind the forwards, have gone a long way to erasing them.
Southgate will happily pounce on added goalscoring options and attacking versatility as he looks for players of all purposes to name in his squad for Russia.
Lingard, something of a late developer at this level, looks like he fits the bill for England.
Henderson shows England captaincy credentials
Kane is still firm favourite to captain England at the World Cup as Gareth Southgate's main marksman and also with his calm diplomat's air off the pitch - something not to be under-estimated given the tense relationship with hosts Russia ahead of the summer showpiece.
Liverpool's Henderson is the other alternative and he put a series of below-par England displays behind him to excel in Amsterdam.
He showed good tactical awareness and leadership to give England a firm foundation in midfield in a win they fully merited.
And it has been an impressive week for Henderson on and off the field, something clearly appreciated by his manager.
Southgate said after England's win: "We know about all the leaders in the group and Jordan is one of the few guys who is a captain at club level. He's comfortable in that role. He's comfortable in speaking up for the group.
"He has a mind-set for the collective not just self and that is a hugely important attribute for a captain to have and I thought he worked the game out very well too.
"He was the one talking the others through on where they needed to press. He has got some tremendous human qualities and he's certainly a leader of men."
Henderson demonstrated that mindset sitting next to Southgate before the game when asked if he would be disappointed if he was overlooked for the captaincy in favour of Kane.
He said: "Definitely not. Whether I'm captain or not I like to think I lead by example anyway. I do the same things I always do and try to help the group out. I'll always give 100% for the team."
Henderson may still face questions about whether he offers enough creatively in England's midfield but his manager clearly has no doubts about his credentials as a leader and influence.
Kane may still be on course to claim the armband - but Southgate clearly has no worries about Henderson's ability to deal with the job of leading England.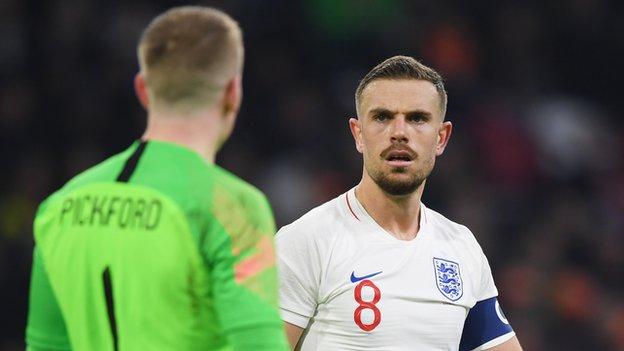 Southgate springing surprises
The England manager offered a smile of satisfaction when told that his team selection of a three-man defence with Kyle Walker on its right-flank had surprised most observers.
There is no doubt Southgate still has many areas to address in his squad before he names the players he will take on the plane to Russia - but this was a pleasing night for his plans.
Not only did Manchester City's Walker adjust well to his unaccustomed role, although it needs to be kept in perspective because the Dutch opposition was so lame, it also opened up new possibilities for the make-up of Southgate's squad.
Walker offers pace and adventure allied to natural defensive instincts but he may also increase Southgate's attacking options.
Southgate said: "In a back three, we knew the position would suit Joe Gomez after he played there in November and it is the same for Kyle. You need to be comfortable defending in wide areas.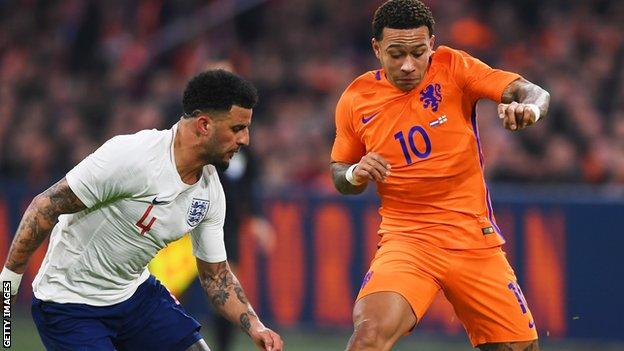 "Kyle's use of the ball was really composed, as well as his pace being a tremendous asset. It is a position where he kind of ends up with Manchester City and of course he has a club understanding with John Stones.
"It was not a difficult decision and another reason for doing it is sometimes when you go to a World Cup you take two players for each position. We don't necessarily want to take six centre backs so if you have people like Kyle and Eric Dier who can fill other positions it may allow us it may allow us to take more attacking players in different positions."
Those tougher tests will lie ahead but it is always satisfying when a tactical twist pays off and on this night it did for Southgate.
Walker may not occupy this position when the World Cup starts but he has shown he has some of the qualities needed and given Southgate food for thought.
Who did Phil pick as his man of the match? Check out the player ratings
England fans mar satisfying victory
It was a sad sideline that Gareth Southgate was forced to discuss the behaviour of England's fans on a night when he had every right to be able to focus solely on the excellent performance of his team.
Ninety England fans were arrested in Amsterdam on Friday, taking the total to over 100 after 25 were arrested on Thursday.
The Dutch national anthem was greeted by disrespectful jeering from England fans, which Southgate described as "unacceptable."
He added: "Without knowing the details, obviously it's not something I want to hear because I think our players have represented their country really well with pride and some style.
"Anything else that takes away from that performance will be a great shame."
Sadly, some of England's supporters did exactly that.
My England starting XI
Choose who you would pick in the England starting XI in Russia - and then share it with your friends using our team selector.