West Ham: Further details of initial investigation into fan trouble are revealed
Last updated on .From the section West Ham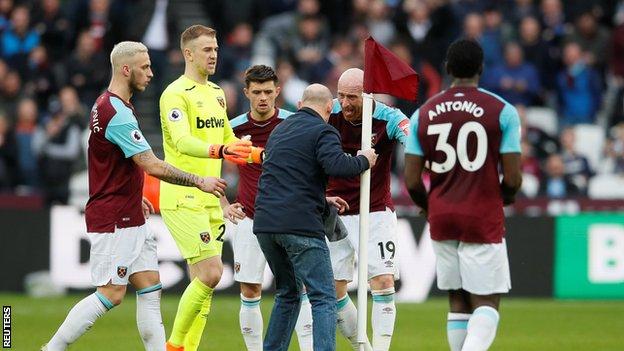 Initial investigations show trouble at West Ham's game against Burnley was "apparently planned and co-ordinated", says Sadiq Khan, the Mayor of London.
Five fans were banned for life by the club for running on to the pitch during the game at London Stadium on 10 March.
Other fans have been banned for life for throwing coins or objects "with intent to injure or harm".
Giving an update on the situation at Mayor's Question Time, Khan said the scenes were "a disgrace".
He added: "I condemn the mindless hooliganism of a small number of people who were intent on disrupting the game.
"Initial investigations show an apparently planned and co-ordinated campaign of disruption."
Khan gave information that had come out of last Thursday's meeting of the Safety Advisory Group.
He said that:
More than a dozen fights had broken out in different parts of the ground between West Ham supporters at the same time

Twenty-six people tried to get on to the pitch. Twenty-two were stopped by stewards and four were successful

There were 150 separate incidents, including 50 public order offences and 40 assaults

CCTV footage shows a co-ordinated move by a known group of individuals to the directors' box

Six of the 56 'persons of interest' have previously served banning orders at the London Stadium or Upton Park
Many West Ham fans have rejected claims the trouble was co-ordinated.
Khan dismissed a claim, which he said had been made in a letter to him from West Ham vice-chairman Karren Brady, that there had been 15% cut in safety and security expenditure.
He also confirmed the bill for additional stewarding and policing, which will be in place at West Ham's remaining home games this season, will be picked up by the taxpayer, not the club. This arrangement is part of the agreement for the Hammers to use the stadium.