Mark Sampson brandished pole while verbally abusing an official at Euro 2017
Last updated on .From the section Women's Football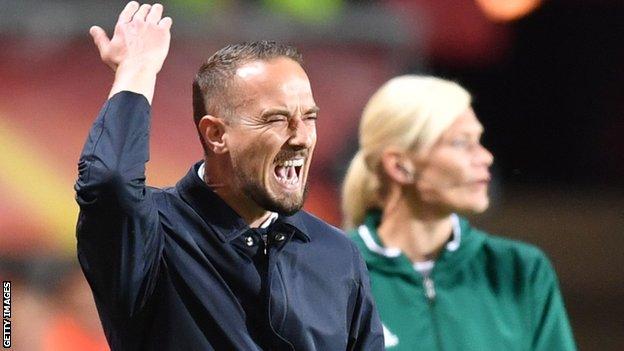 Mark Sampson was being investigated by Uefa for brandishing a metal pole while verbally abusing an official before his sacking as England women's boss.
European football's governing body punished Sampson with a three-match ban for the offence - after he was sacked.
Sampson, 35, was dismissed for "inappropriate and unacceptable" behaviour in a previous role.
Warning: This article contains language which some people may find offensive.
Documents published on the Uefa website contain details of Welshman Sampson's "aggressive and insulting" behaviour towards officials at the match on 3 August 2017.
They say that in the 60th minute, Sampson was verbally abusive to the Uefa venue director, telling her: "You better sit down, you little shit!"
The Uefa report continues: "After the game, the referee liaison officer was standing outside the referee changing room when [Sampson] shouted aggressively at her: 'You're a fucking disgrace, it's a fucking shame.'
"He then picked up a metal pillar raising it above his head aggressively before throwing it down hard against the floor, shutting the door to the corridor, saying: 'I'm going to close the fucking door in your fucking face.'"
The report says referee liaison officer Fijke Hoogendijk was "concerned he was going to strike her".
Uefa said the FA had accepted the charges against Sampson, who had apologised for "any inappropriate language he used both during and after the game".
However, Sampson denied raising a metal pole above his head, and denied saying: "I'm going to close the fucking door in your fucking face."
Former Manchester United defender Phil Neville was appointed as Sampson's permanent successor in January, when he signed a contract until 2021.
On Friday, England women moved up a place to second in the Fifa world rankings, their best ever position and the highest ever by an England team.
'Really unfortunate timing - a distraction'
Before he was sacked by the FA, Sampson was cleared of wrongdoing after England striker Eniola Aluko made complaints of "bullying and harassment" against the 35-year-old.
However, in October the body apologised for racially discriminatory remarks made by Sampson to Aluko in 2014, and to her Chelsea and England team-mate Drew Spence in 2015, as a reopened investigation into the complaints was published.
Speaking on Friday, Aluko said news of Sampson's punishment by Uefa was "really unfortunate timing" because it distracted from "a great start for Phil Neville".
She told Sky Sports: "This morning I woke up to see that the England team has been announced as second in the world and yet again we've got another negative story about the [former] England manager."