Ryan Giggs' first managerial stint left him in 'lonely place'
By Dafydd Pritchard
BBC Sport Wales in Nanning
Last updated on .From the section Welsh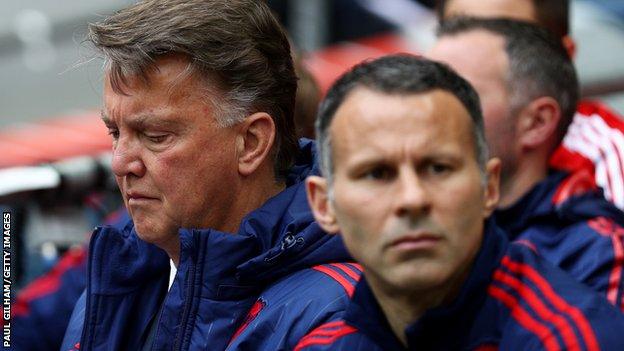 Ryan Giggs admits his first managerial experience left him feeling "lonely" - but he is determined to lead Wales to only a second World Cup in their history.
This is his first permanent role, following an eye-opening four games in charge of Manchester United in 2014.
"I learnt a lot when I was manager for the four games and about how lonely it was," he said.
"When you shut the door of your office and everyone else has gone home, you're on your own.
"Of course it's good to have good people around you who you know and you want those people to be the ones you trust. But it can be a lonely place."
After his short spell as interim boss of United, Giggs spent the next two seasons as Louis van Gaal's assistant at Old Trafford but left after Jose Mourinho was appointed.
The former Wales and United captain said there was never the prospect of working under Mourinho and, having failed in his efforts to secure managerial jobs at several clubs, including Swansea City, Giggs had 18 months out of the game, which he spent travelling the world for ambassadorial and punditry roles.
He made the perfect start to his fully-fledged managerial career as Wales crushed China in the opening game of the China Cup, thanks to a hat-trick by Gareth Bale which saw the Real Madrid forward become his nation's leading goalscorer.
When he was appointed in January, Giggs encountered criticism from some Wales fans who questioned his commitment after an international career in which he won 64 caps between 1991 and 2007 but withdrew from several friendly matches.
Giggs said on the day of his unveiling that he would try to win over his doubters with success on the field, and he has now also admitted there are parts of his personality he feels he needs to improve.
"Just like a player you always want to improve and you look at the best," he added.
"Pep [Guardiola] and Jose [Mourinho] are always looking to improve. Where do I? I am not a naturally outgoing person.
"That's where the pro licence [coaching qualification] and opposition analysis with the United players helps. Everything just comes with that little bit of experience."
Having demolished China, Wales' opponents in Monday's China Cup final will be Uruguay, who beat the Czech Republic with goals from Barcelona's Luis Suarez and Edinson Cavani of Paris St-Germain.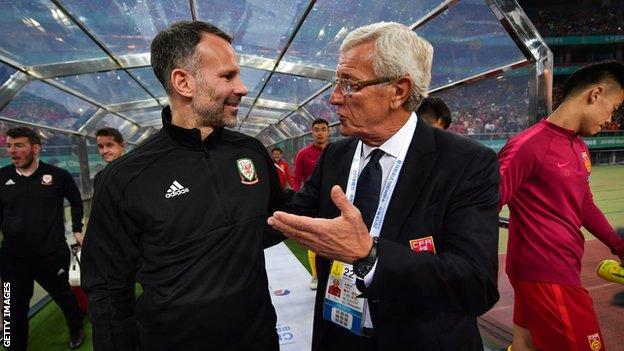 Facing such stellar opponents will be a quantum leap in quality for Wales after they made light work of a dismal Chinese side.
It will also provide valuable experience as Wales aim to recover from the disappointment of failing to qualify for this summer's World Cup, by securing their place at the 2020 European Championship and the following World Cup two years later.
Under Giggs' predecessor, Chris Coleman, Wales reached a first semi-final in their history at Euro 2016, only their second appearance at a major tournament.
Their first was at the 1958 World Cup, where they were knocked out at the quarter-final stage by Brazil, whose goal was scored by Pele.
Given Wales' 60-year absence from the competition and the fact he never represented his country at a major tournament, Giggs dreams of qualifying for the 2022 World Cup as manager.
"It would an unbelievable achievement," he said.
"The Euros was an unbelievable achievement and the World Cup is obviously the pinnacle and to get there would be fantastic for a team like Wales.
"You want to see the best players so you want to see the Bales, [Aaron] Ramseys and Joe Allens. And then you have the younger players underneath coming through."