Hearts owner Anne Budge says 5% rise in season-ticket prices 'fair' to fund rebuilding plans
Last updated on .From the section Hearts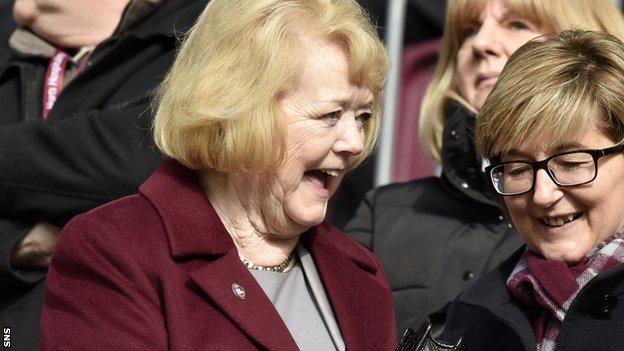 Hearts owner Ann Budge believes a 5% rise in season-ticket prices for next season is "fair" to help fund rebuilding plans on and off the pitch.
Talks are ongoing over a hybrid pitch with a "ball-park estimate of £1m".
And the new main stand, which opened in November, is due for completion "by the end of the calendar year".
Construction delays led to Hearts playing eight of their first nine league matches of the season on the road and using Murrayfield as a temporary home.
"We've already spent around £12m [on the main stand] and we have more to go," Budge told BBC Scotland's Sportsound.
"Yes, we've gone over budget but we've been in the fortunate position that it hasn't caused a problem and I don't intend to let anything cause us a problem.
"How we go will depend on what we do over the summer in terms of strengthening the squad.
"But I'm determined to only spend money that we've got.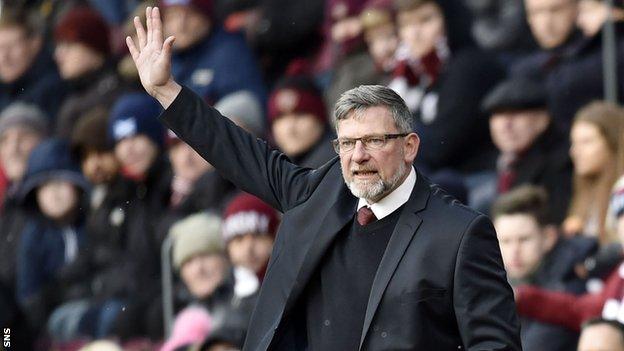 "We held (season-ticket) prices flat for three seasons. The first increase was last year and was in anticipation of what we had to do and I made it fairly clear that we'd have to continue with that.
"The facilities are considerably better, so what we try to do is keep it even and I think it's fair given the investment we are making."
'We're all a bit disappointed'
Hearts, who finished fifth in the Premiership last season with 46 points, 12 off the top four, sacked head coach Ian Cathro in August after failing to progress in the League Cup, with Craig Levein leaving his director of football position to take over.
The Edinburgh club are currently sixth in the league, on 42 points with seven games left, 10 points behind city rivals Hibernian in fourth.
They were also knocked out of the Scottish Cup in the quarter-finals by Motherwell, missing the target set by the owner.
"The majority of supporters I speak to are fairly realistic," said Budge. "We all know when results are not wonderful that a hard core will get a bit disenchanted.
"We're all a bit disappointed. We always set out with the objective to try and reach no worse than fourth [in the league] and we wanted to get to Hampden."
'We will be changing the team again'
Budge confirmed that despite a huge turnover of players over the past three transfer windows, there will be more major change this summer.
Hearts have signed eight players since last summer, and a further six on loan.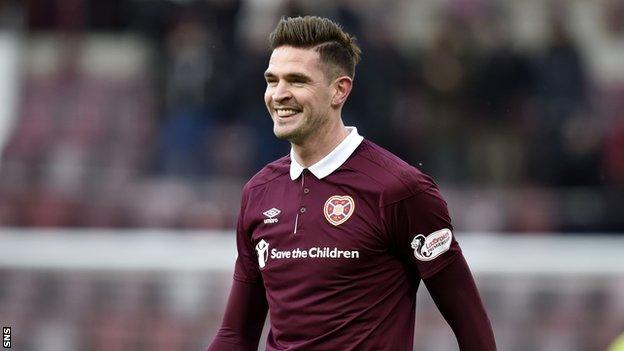 "We will be changing the team again in the close season; essentially we have to get it right," she said.
"We have fantastic supporters but we are a football club looking for success, so it's (going to be) a very important season for us.
"Because we haven't been buying players and because we have a rigid salary cap, it (the large turnover in players) has not cost us financially.
"But every time you make a mistake in recruitment, whether it's in football or any other kind of business, it costs - either with time or with stability."
Cathro's 'ability to communicate... caused biggest problem'
Cathro lasted just seven months in his first management job but Budge remains convinced the 31-year-old "will go on to be very successful".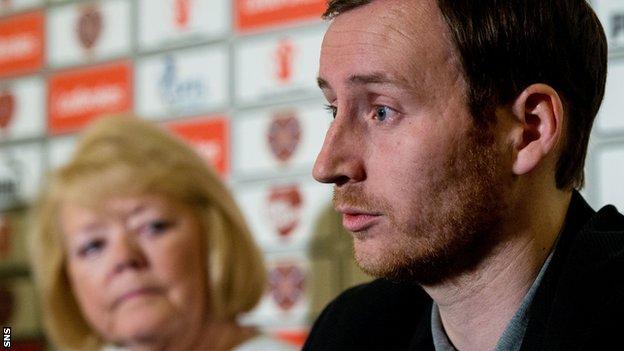 "It was new, it was different, it was taking a risk, but everyone was behind it," she said of the former Valencia and Newcastle coach's appointment.
"He is a highly intelligent young man... but an ability to communicate across different levels caused the biggest problem."
Budge says Levein is "loving what he's doing" but if his return to management is not successful, she will want him to remain at Tynecastle.
"If for whatever reason it didn't work, I would certainly want him back as the director of football," she added.
"To all intents and purposes he is still fulfilling that role.
"Other coaches take training sessions. Not a lot has changed. He can afford to take more time because there is a strong team around him."