Costa Rica manager Oscar Ramirez has good memories of Scotland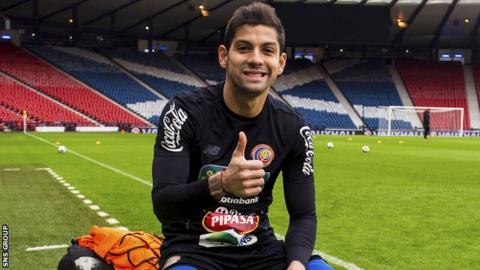 Costa Rica boss Oscar Ramirez is looking forward to a reunion with Scotland manager Alex McLeish when the teams meet at Hampden on Friday.
Both men played at the 1990 World Cup when Costa Rica marked their first appearance at the finals by shocking Scotland 1-0 in their opening match.
Now Ramirez, 53, is preparing his side for their fifth World Cup in Russia.
"It was an important kick-off point for our nation," said Ramirez, recalling the victory in Genoa.
"We did a very good job preparing the team for Italia '90.
"A nation who had never been to a World Cup before, winning that game was a surprise.
"Since 1990 there has been a big development of Costa Rican football and, of course, our more recent reference is what we did in Brazil in 2014 (losing on penalties to Netherlands in the quarter-finals).
"Of course there is some expectation that we win this game. But we have to compromise with that and show some things we will do in the World Cup."
While Scotland have not been to a major tournament in 20 years, Costa Rica were at the 2002 and 2006 World Cups before topping a group that included England, Uruguay and Italy in 2014.
On meeting up with McLeish again, Ramirez explained: "It's the second time this happened. My first game as national team coach was against Brazil, managed by Dunga - who I played against at Italia '90.
"I didn't remember Alex playing on the field that day, so I went back and watched the video.
"I remember a lot of the play on my side in an intense game. It's nice for me to see former players from this game."
Ramirez is planning to play his strongest side as he prepares for taking on Group E opponents Brazil, Serbia and Switzerland at this summer's finals.
"We have most of the team who played in the qualifiers," he said.
"The idea is to play a team very similar to the side we'll pick in the World Cup, with some adjustments and decisions.
"Later in the game you'll see some different substitutes. But the starting XI you will see is probably going to be the same team as we'll see in the World Cup."